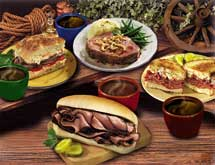 Charlie's Pride Meats is in the roast beef production game for the long haul. Whether it is the more than four decades of family ownership or the large national accounts in the foodservice and grocery store sectors that rely on the Dickmans for their roast beef, the rest of the industry knows it can count on Charlie's Pride Meats for quality roast beef at a reasonable price.
"Whatever level of product – whether it is Kobe beef or choice grade – we're delivering to a foodservice or supermarket client, we want to put out the best quality at the right price," says Jim Dickman, who serves as co-CEO with his brother Robert. "We're known for giving the best quality at the right price."
Charlie Dickman – Jim and Robert's father – founded Charlie's Pride Meats in 1969 in Vernon, Calif. Today, the Dickman brothers oversee the day-to-day operations of the family company, with Jim handling the meat purchasing for Charlie's Pride and Robert running the sales and marketing side.
Charlie's Pride Meats employs 140 across two facilities in Vernon that occupy a combined 60,000 square feet. Charlie's Pride Meats produces roast beef, corned beef, pastrami, foodservice entrees, sauces and gravies. The company also produces deli meats for private label clients.
"Certainly, being here is key," Robert Dickman says. "It's where all the family members are on a day-to-day basis except for travel; we're in every phase of the business from incoming meat to trimming of meat to the injection-curing of meat to the cooking of meat.
"Jim and I and the sales staff taste daily, make suggestions, try new things constantly with the focus of improving the product from inception to all our important customers," Robert Dickman adds.
Realistic Dining
Despite the recession, Charlie's Pride Meats has seen an increase in its sales over the last year. Robert Dickman believes while families might not go out to eat as often these days, grocery shoppers will spend more money on meals at home. He cites the uptick in Charlie's Pride Meats' sales of its higher-end products while the middle line attempts to catch up. This has led to the development of "home-style" items like pot roast that are affordable family favorites.
"We feel even in times like this, people go more toward comfort," Robert Dickman says.
The company employs Head Chef Eric Stein, who works in conjunction with restaurant chain clients and an in-house R&D department to create new flavor profiles. For instance, one of the company's most recent promotions for supermarket service delis was a packet of au jus. To spread the word, Charlie's Pride Meats gave away the au jus with every purchase of more than a pound of its meat products.
"Robert and the sales team looked at our marketing, and our research shows most consumers buy around a half-pound of deli meats for families for lunch," Jim Dickman says. "But this particular marketing tool was for anything over a pound. It was an enticement for the consumer to purchase more."
The promotion worked in the selected supermarkets, and the company has plans to unveil a variety of new products in this way. It was Charlie's Pride Meats' way of giving back to the consumer and the retailer.
"In challenging times like these, we were giving back to the retailer, and the retailer was giving back to the consumer," Robert Dickman says. "In turn, we picked up new business. It was a unique idea during times like these when nobody was giving away free stuff, yet we did."
Future Pride
The future looks bright for Charlie's Pride Meats. The company is actively seeking new retail and foodservice accounts, and intends to introduce new innovative retail and foodservice items.
Robert and Jim Dickman say that the recipe for success of Charlie's Pride Meats is to continue their longstanding tradition of providing excellent service and great products, all at a fair price.