Chicago Bar Shop helps bars and restaurants increase margins with quality crafted designs and smart technology solutions.
People still love the familiarity and romance of heading to their favorite bar for a drink, or checking out the scene at a new place, but margins have thinned for the owners of these establishments, making it harder to succeed in this business. Chicago Bar Shop has the expertise and skills to help clients reverse this difficult trend, and works with clients across the country to enhance their ventures with craftsmanship and market experience.
"We offer soup-to-nuts everything you need to build your bar or restaurant – design, branding, developing the concept, our own architects, designers and construction guys," explains Candace Morgan, co-founder and vice president of operations. "We can consult on menu development for food and beverages, but also help get the right restaurant equipment and behind-the-bar equipment."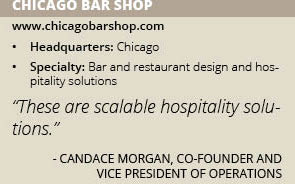 Chicago Bar Shop is the brainchild of Morgan and her partners, Declan Morgan and John Wray. Candace Morgan has been a consultant to the bar and restaurant market for the past 15 years, Wray has 40 years of experience in building bars and restaurants, while Declan Morgan has been doing that for 20 years. Combined, they are a great one-stop resource for anyone opening a bar or restaurant.
"Declan does construction and can walk into a plain, vanilla box space and know exactly how to transform it," Morgan says. "John operates our mill shop and takes care of the wood working and artisan craftsmanship our clients require. It's been great to see that we've been so well received by the community of bar and restaurant owners in Chicago and across the country."
With this expertise, Chicago Bar Shop has built hundreds of bars in Chicago. The company has a showroom in Chicago's Lincoln Park neighborhood, which has become an important resource for business owners and anyone who is looking to outfit their home bar, game room or man-cave. The show room has a functional 24-foot bar, and while some of the showroom pieces can be purchased as is, Wray also is happy to create custom furnishings for those who are interested.
"Clients come to the shop and walk through the showroom to see all the different pieces," Candace Morgan says. "There is a lot to see, but can provide all the necessary resources for opening a bar or restaurant- from bar design and custom artisan woodwork to furnishings, equipment, start-up resources, transition management and more. We ensure they understand the rules and regulations of this market and we work as a mentor with them.
"They can talk to a designer about the actual layout of their space," she adds. "Some just want a bar, while some want a full restaurant or a full restoration project. We tailor the experience for them in a custom way by working with them on drawings, finishes, types of wood and styles, and then turn it all over to our guys in the mill shop. After they do their work, we move to the client's location and finish building the fixtures or do the install."
Innovative Ideas
To further enhance clients' businesses, Chicago Bar Shop has been partnering with firms in commercial-grade electronics to provide cutting-edge technologies and digital signage. For example, the company has partnered with Intel to provide clients with high-performance, low-power IoT solutions that can improve their operations and keep them competitive.
This year, Chicago Bar Shop won a Kitchen Innovations Award at the National Restaurant Association Show for its SinkTech technology, which automates the standard three-compartment sink. SinkTech uses sensors to determine water levels, temperature and cleanliness. This is a modular, plug-and-play system that automatically drains and fills sinks to save time and optimize sanitation. SinkTech is compact, installs without plumbing and doesn't interfere with washing or scrubbers. The system also connects to cloud technology to provide operators with data on usage and compliance.
The company also is developing technology to provide a clearer view of inventory, which can demonstrate consumption trends and save costs.
"With rising operational costs and shrinking margins, it is harder for bars and restaurants to succeed," Morgan says. "We want to help them maximize their profits and increase their margins, and a lot can be done with technology. We are developing these solutions on behalf of our clients. With SinkTech, if the sensors see the water is too dirty, it drains the sink and refills it with the right amount and temperature of water, and the right amount of soap. That way, barware is always washed in temperature-compliant water and soap at all times."
Chicago Bar Shop is proud of the solutions it has developed, but understands there are many more ways in which it can support clients' businesses. It knows the challenges of the bar and restaurant business, and wants to ensure these solutions are attainable to owners of a single establishment or those who are managing something larger.
"These are scalable hospitality solutions, so they can work at a single mom-and-pop place or a business with multiple locations," Morgan says. "People may not think about all this technology in bars, but we have the bar background, so it's easier for owners to talk to us and for us to bring the solutions to them. Intel and the other tech companies trust us to bring this technology to the bars and restaurants, and the bars and restaurants trust us as a peer to bring them worthwhile solutions. There is mutual respect in the industry so we can connect the dots where it matters most. We are increasing profit margins for a lot of customers, and it's great."