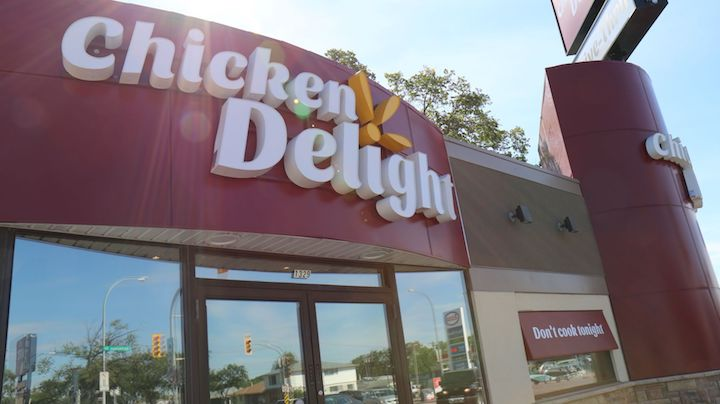 Chicken Delight rebrands its image while keeping its focus on quality food.
Before KFC and McDonald's became the market behemoths they are today, there was Chicken Delight. Not only did Chicken Delight launch the popularity of fried chicken franchises in North America with its delicious recipe, it created the memorable slogan: "Don't Cook Tonight…Call Chicken Delight." The company has been around for more than 65 years, and it endures because of the quality in its menu, as well as its focus on family.
"We have one of the best fried chickens around, but we also offer pizza," Co-owner Jim Cartman says. "Many fried chicken places don't offer pizza, but we've been around a really long time and know what works for us."
"We are a family restaurant and we cater to families," adds Nadine Cartman, co-owner and Jim's wife. "If we don't' want to eat it, we don't want to serve it. We serve real food and locally farmed chickens and not everything is processed. We are really about community here."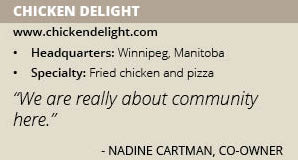 That dedication has kept the company going since its inception in 1952 when Al Tunick purchased some deep fryers from a restaurant that was going out of business. At that time, chicken was primarily pan-fried, steamed or oven roasted, but Tunick coated some chicken in a spicy breading and lowered it in the hot oil, cooking it quickly and sealing the juices inside. Tunick sold his chicken through small take-out and delivery locations, which were successful because it was near the end of the Korean War and women who were working outside of the home had little time to cook. As a result, Chicken Delight quickly grew to more than 1,000 locations in the United States and became the biggest fast-food company of its kind.
Chicken Delight came to Winnipeg, Manitoba, in 1958, and although the chain is no longer prominent in the United States, it continues to hold strong in Manitoba. Jim and Nadine became Chicken Delight's owners in 2012, and they continue the brand's focus on a quality menu, while updating the restaurants' looks and enhancing overall customer service.
"The fact that it was a good business and it's been around for so long, that is what got us involved," Jim Cartman says.
"Chicken Delight had a proven track record and we knew we could improve it," Nadine Cartman explains. "It was to the point it was getting very dated, but we've cleaned it up quite a bit and rebranded with a new image and logo."
A Strong Foundation
The Cartmans were involved in a number of other successful business ventures before buying Chicken Delight. Jim Cartman entered the pizza shop business in the 1970s, and from there got into the video rental business with his family, which is how he met Nadine. "I needed a part-time job and I found a husband," she says. Eventually, Jim's family began to focus on dollar stores, so he went back into the pizza business and owned a waterpark in Winnipeg for about five years. Once they sold the waterpark and pizza business, he and Nadine bought Chicken Delight.
"When we came in, renovation was No. 1 for us," Nadine Cartman says. "But also, the accounting system needed to be new because the old system wasn't kept up. We also needed new computers. We needed a strong foundation at the head office to function efficiently."
Jim Cartman agrees. "It's taken us the bulk of the time to get organized, rebrand with a new logo and have 80 percent of the stores fixed up," he says. "We knew that if we wanted to expand and do it properly, we needed a good base to start with."
Chicken Delight has one corporate restaurant, owned by the Cartmans, and 20 other franchise locations. Most of the franchised locations have been renovated with a more modern design. Nadine Cartman explains the team at the head office worked closely with the franchisees to ensure the renovations were handled properly.
"We were very diplomatic and worked with our franchisees on the budget for their renovations," she says. "We have a great interior designer who goes to the store and works with the franchisees and us to see what will be best for each location. We were conscious of the funds each franchisee had to do the renovation, and we worked with them to come up with a plan that worked. 
"It's working out well," she adds. "The franchisees were self-motivated to do the renovations because they realize being outdated is not going to draw in the crowds. The regulars will come, but we have to think about the young people."
The Cartmans continue to improve Chicken Delight in other ways. On its menu, the company is working with a supplier to develop new items and using its commissary to keep quality consistent. They would like to add more plant-based pizza toppings, healthier items such as wraps and expand the flavors of its chicken wings. To further enhance the business, the Cartmans plan to roll out a customer service program eventually and work with the franchisees to implement it.
The goal, the Cartmans explain, is for Chicken Delight to remain a family friendly icon by providing great food and value.
"We have a really good product and we are really proud of the way the stores look now with the design and the logo and the overall image," Jim Cartman says. "Additionally, we still have the No. 1 slogan in North America for food chains, and people really love it."