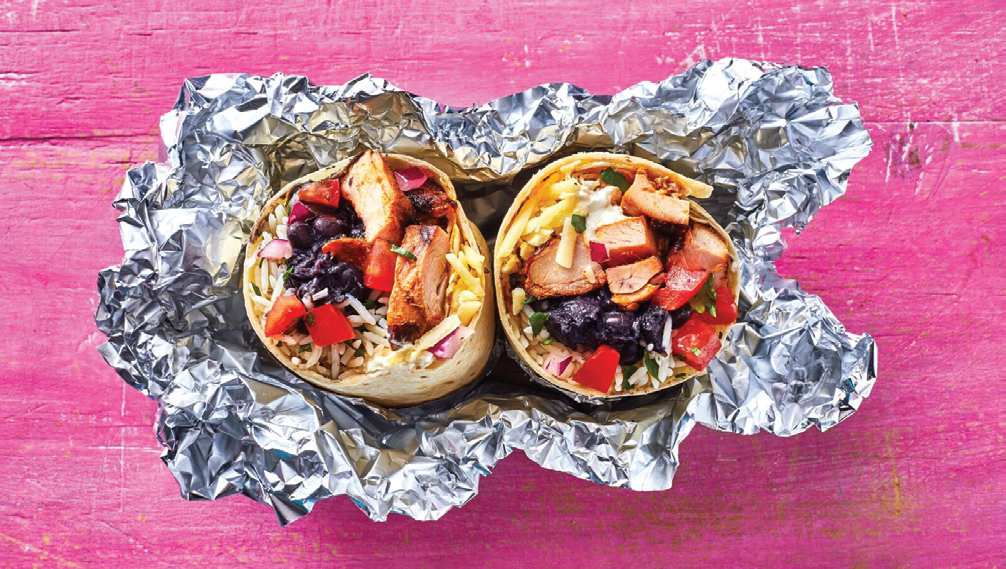 Mexican wave of flavours
Founded by two colleagues who quit their jobs at Skype in favour of pursuing their shared passion for Mexican food, Chilango is obsessed with food quality, brand identity, and the utilisation of
latest technology in its everyday operations
It was in 2007 that Eric Partaker and Dan Houghton opened the first Chilango restaurant on Upper Street in Islington. In order to find culinary inspiration for the offering they crafted, they had taken to criss-crossing various cities and towns in Mexico, as well as Chicago, Los Angeles, and San Francisco (as home to the three of the largest Mexican communities in the USA), where they got to speak with food enthusiasts on every level – from street vendors, to restaurant chefs, family cooks, and fellow foodies.
"We strongly believe that the number one priority for consumers remains the quality of the food. Therefore, our concept has always revolved around the flavours we can offer. We have been working with a lot of renowned Michelin-star chefs to create truly fantastic recipes, whilst also directly sourcing some of our key ingredients from farming communities in Mexico," Eric points out.
In a world where the importance of brand identity cannot be stressed enough, Chilango has worked hard to create a distinguished image of an energetic restaurant whose aim is to brighten its guests' day. "The biggest global brands can be summed up in one word and ours is 'vibrancy'," Eric claims. "Our mission is to see the customers leave our restaurants happier than they were when they came in. In order to do that consistently, we have established an internal culture designed to help our people become the best version of themselves, both professionally and personally, so that they can shine brightly when serving our guests."
Legendary burrito
Eric also underscores embracing technology as a key differentiator for Chilango in the business development process. "We have built our own data warehouse together with a business intelligence tool, which allows us to drill down into various figures in real-time to support our next steps and make our operations more efficient."
Moving on to discuss the most popular items on Chilango's menu, he singles out the grilled chicken burrito, attaching a legendary status to it. "We have sold millions of those burritos and they definitely remain our most ordered product, but our vegan and vegetarian dishes have also met with a lot of success, especially in recent years. These include mains such as the sweet potato burrito, as well as sides like the sweet potato fries.
"The increased consumption of vegan and plant-based foods is one of the biggest macrotrends that are here to stay, as a greater number of people are realising the health benefits associated with sticking to a plant-based diet," Eric adds. "Another big trend that transpires from the figures, is the increased demand for convenient delivery options. It seems that more and more of our meals are now being delivered to our customers rather than consumed within our restaurants.
"We are actually incredibly excited about both trends, because we feel we are extremely well-positioned to capitalise on them," he continues. "In fact, the burrito itself was conceived as a delivery item of a kind. The idea was to stuff some food into a tortilla in the morning and give it to men working in fields miles away to eat it for lunch later in the day," Eric provides some historical context to the dish's origins.
For him, the richness of the Mexican cuisine is a key factor for the business' ability to expand its vegan and vegetarian proposition. "Unlike many other ethnic cuisines, Mexican offers such a wide variety of ingredients, that you can easily come up with exciting and flavourful recipes, even without meat. In this sense, the fact that we are a Mexican food brand allows us to create a strong proposition for any consumer type."
Investment strategy
The uniqueness of Chilango's concept is highlighted by the company's idiosyncratic crowdfunding model that has made it a true people's business. Having realised early on that its guests and fans were interested in taking up investment opportunities with the organisation, Chilango made it possible for them to support the company financially and become part of the story it had begun writing.
"As the company matured, we changed our strategy from selling equity to borrowing money from people for a four-year period under our 'Burrito Bond' scheme, agreeing to pay our investors interest semi-annually," Eric explains. "The first campaign of 2014 was so successful, attracting over 700 people who invested more than £2 million, that we decided to set up 'Burrito Bond 2' in the latter months of 2018.
"The response we received was overwhelming," the CEO enthuses. "We set a £1 million target, which we were able to smash within 24 hours of opening the campaign to the public, and we have now generated just over £3 million. It is important to mention that the scheme remains open for investment until 12 April, so there is still plenty of time for people to get involved."
Eric believes that a combination of factors has contributed to the resounding success the 'Burrito Bond' initiatives have enjoyed. "As we serve over 25,000 people every week, there are quite a lot of them who are keen on getting behind a brand they frequent and love. Secondly, the overall financial health of the company is so strong that it reassures prospective investors that their participation is worthwhile. Finally, our rewards programme is a major driver.
"There are various levels on which one can enter the scheme and each of them leads to certain bonuses," Eric clarifies. "The most popular of these is the Chilango Black Card, which you receive upon a £10,000 commitment, and, in fact, more than 70 per cent of the money we have raised has been in the form of £10,000 investments. The Black Card entitles you to a free meal per week for the lifetime of the Bond and also allows you to enjoy no delivery charges on unlimited Chilango orders via Uber Eats."
Rapid growth in the number of restaurants it operates is in Chilango's sights, as the company aims to double in size within the next three years. "We are opening three new locations in 2019 – two in Central London and one in Birmingham, and our goal is to get to 20+ restaurants by 2021. Further down the road, we would like to have opened even more restaurants and solidified ourselves as a national chain. We are still mainly focused on London, but we are eager to establish a presence in Manchester, Birmingham, and other UK cities, as well," Eric reveals some of the business' expansion plans.
"Within the next five years, we also hope to find the right strategic investor who would not only provide extra capital for us to grow, but also give us access to resources and capabilities that could accelerate our growth both in the UK and internationally," he wraps up.