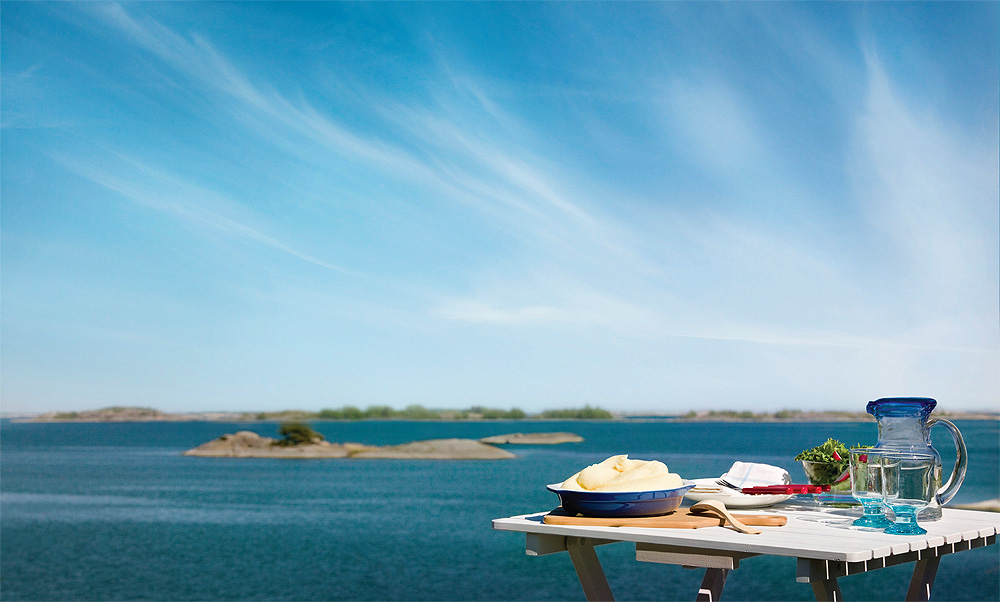 Healthy prospects
With a dedication to the development of new snack and food concepts, Chips is set to tackle the export market
As the first potato chip producer in Finland, with roots dating back to 1969, Chips AB is now the market leader for snack products in the Nordic and Baltic regions and a leading producer of frozen foods in Finland. As part of Orkla, a large Norwegian conglomerate, the company gains benefits from close collaboration with its sister companies and its wide portfolio of brands is spread across the three divisions of savoury snacks, frozen foods and biscuits. The organisation's snack sector covers products such as potato chips, salted breadsticks, peanuts, popcorn and dip sauces including brands such as Taffel from Finland, OLW in Sweden and KiMs in Denmark and Norway, all of which are market leaders in their respective countries. The Oolannin brand of frozen food products comprises predominantly oven-ready French fries and other potato products as well as potato-based ready-meals, while the Kantolan brand covers biscuit products.


When Food Chain last spoke to Chips in June 2009, it was placing increasing emphasis on the export market for its potato-based produce. Pasi Flinkman, country manager for Finland, outlines the company's progress: "In the last year we have actually increased our sales in the export market through connections with our sister companies and partners such as Ikea. Though it still only represents ten per cent of our overall turnover, there is huge potential for this to grow further and we are attending the PLMA (private label manufacturers association) fair at the end of May this year to promote our products to export customers. This is the first time we have branched out of the Orkla and Ikea system and I am optimistic that this event will give us the opportunity to raise awareness of our unique mashed potato product. We hope to gain attention from both retailers interested in the mashed potato itself and food producers that hope to utilise it as a ready meal component."
The fact that Chips' potatoes are produced on an island environment with constant climate and soil conditions means that they have a unique flavour, while the company boasts that its potato products contain no additives or E-numbers. Such credentials are essential for those in the ready-meal market where food content and values have to be published on the packaging to attract the end consumer. A responsible attitude to the endorsement of healthy eating lies at the core of the company's research and development processes. Chips tries to only utilise ingredients that consumers would use if making the product at home and items such as its French fries contain only seven per cent fat and is very low on saturated fats as a result of the company's dedication to the use of rapeseed over palm oil. This also has environmental benefits as rapeseed is native to Finland and Sweden, while all potatoes are sourced from within 15 kilometres of the factory to reduce carbon footprint.


The organisation's overall goal is to gain recognition for its distinctive food offering and to increase understanding of the potential it has in both the home and export markets. Northern Europe is a primary area of interest as many of Chips' sister companies operate in the region, while neighbouring markets such as Sweden, Norway and Denmark are key locations and Germany provides a target for growth. "Our original focus will always be on our native market of Finland as we are a part of a network of companies that deliver similar concepts to nearby regions. We also work closely with our sister companies on R&D and product development so frequently launch similar products, removing the need for us to be export driven. For example, the Danish division frequently serves Germany and the UK; our Latvian operations serve markets such as Kazakhstan, Azerbaijan and Russia, while we regard areas such as Lithuania and Estonia as being part of our neighbouring activity," Pasi explains.
Currently the company is working on a number of new food launches with the goal of challenging traditional category definitions to drive the market forward for the innovation of snack concepts. Rather than taking existing market share from key players in the industry, Chips is looking to forge a completely new niche market that is attractive to consumers. The most recent launch is a new mid-sized snack product that has only been on the market for two weeks and offers a new type of packaging that opens from the side to be more convenient for serving two people. It can either be displayed vertically of horizontally within the shop environment and is designed to fit the needs of the weekday rather than weekend customer. For frozen food products, Chips is hoping to launch more differentiated products in autumn 2010 to help generate the ten per cent of its turnover that comes from new products every year.
"We have had record growth in the snack area of the business this year and we anticipate that this trend will continue for the rest of 2010. For frozen food we were marginally affected by the economic crisis with restaurants facing a number of market challenges, but our influence on the consumer and retail area of the industry has remained successful. I am highly optimistic about the future – we have achieved and exceeded all of our strategic targets this year so far and I predict that we will reach double digit-growth within the next few months," Pasi concludes.