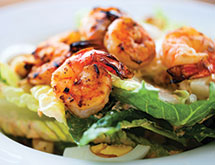 Celebrating 65 years of bringing restaurant-quality cuisine from across the world to tables throughout the United States, Choice Canning Co. Inc.'s ready-to-eat wing, Tastee Choice, continues to hold a significant marketshare of the shrimp industry. "Our longstanding commitment to excellence has built a sound legacy of trust and customer satisfaction," the company says.
Choice Canning is a division of Choice Trading Corp., the first company in India to establish a completely integrated and automated state-of-the-art factory for processing ready-to-eat shrimps in retail bags. O.C Thomas founded the Choice Group of Companies in 1953 as a processor and exporter of canned shrimp.
The Choice Group is one of the largest and highly diversified business conglomerates headquartered in Cochin, India. Its history dates back to the early 1950s and today boasts a vast business profile serviced by more than 1,000 employees. A dedicated team of professionals independently manages each of its 12 business divisions within the group. The Choice Group believes its success can be attributed to its spirit of innovation and commitment to excellence.
When canning technology became outdated in the 1960s, Choice Canning adopted freezing technology and added value to the company in 1990 by building processing plants. "With my feet planted firmly on the ground, I guide a team of committed individuals to aim at the stars," Managing Director Jose Thomas says. "Our ultimate objective is to position the company as a world leader in the food processing industry. We are marching towards this goal with dedicated zeal."
Tastee Choice
Tastee Choice first brought raw and cooked shrimp to the U.S. market more than 60 years ago. "Even sized, ready-to-cook shrimp that are peeled, deveined and flash frozen are available as tail on and tail off," the company explains. "Tastee Choice Raw Shrimp adheres to the most stringent quality checks to bring [our customers] freshness at its best. Our cooked shrimp have been hand graded to ensure even sizing, and have been peeled, deveined and delicately cook to retain flavor and texture."
The brand's website makes using its product easy by including preparation and cooking directions, as well as recipes. Tastee Choice recently introduced Bayou Cook'n Dinners that includes two Creole-style soups: Creole Gumbo and Seafood Bisque.
"Our longstanding commitment to excellence has built a sound legacy of trust and customer satisfaction," the company says. "Tastee Choice products can be found on shelves across the best supermarkets in America and have earned a reputation for themselves in the hearts and homes of Americans."
Every meal is created with freshness, flavor, safety and overall taste in mind through consistency and commitment to quality. "Tastee Choice's growth has been fueled by expanding our meal kits to include chicken in addition to our shrimp meals," the company says. "Some of our most popular products include Shrimp Scampi, Sesame Chicken and Chicken Alfredo."
Tastee Choice skillet/microwavable entrees are available in Asian, Mediterranean and Italian blends of shrimp, chicken, vegetables, rice, noodles and pasta with sauces such as oriental, marinara and roasted garlic alfredo. Pasta, rice and noodles are pre-cooked for convenience and the sauces are made from natural ingredients. Every meal is created specifically to Tastee Choice's specifications by its in-house chefs.
Choice Canning began operations earlier this year in its state-of-the-art custom packing and new product blending facility in Quakertown, Pa., which was designed to become an extension of the plant in India. An in-house USDA inspector monitors production in the plant and warehouse. This facility made Choice Canning the first Indian shrimp supplier to have custom packing capabilities in the United States, according to Seafood Industry News. "The Choice Group pledges itself to an everlasting commitment to uncompromising quality consciousness and a humane attitude of caring," Thomas notes.