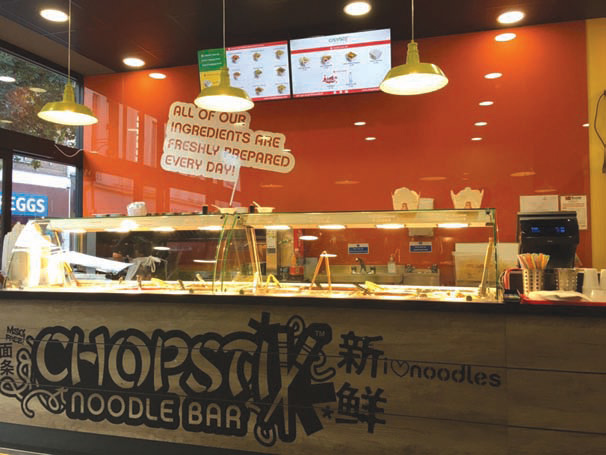 Fast fusion food
Chopstix Group is a take away restaurant brand with over 58 sites across the UK and Ireland,which provides fast and fresh Oriental food
For a long time the fast food industry has been dominated by those offering burgers, sandwiches, pizzas and fried chicken, however Chopstix's success demonstrates the desire within the market for an alternative. The start of Chopstix and its journey was discussed by chief operating officer Max Hilton Jenvey: "Although the concept of Chopstix was conceived over a decade ago, it has picked up pace and rapidly expanded in the last six years, and it focuses on fresh, nutritious, tasty, accessible Oriental cuisine from the finest ingredients and most innovative and authentic fusion recipes. Since the first major shopping centre branch opened at Bluewater in 2010, Chopstix has become a staple in shopping centre food courts."
There are two key demands that continue to increase within the food market, and that is for faster food to keep up with busy lifestyles, and healthy food to keep people well. Both of which are central to the company's values and ambitions, and have been a key factor behind its level of growth. One way that the company engages the customer with the food is by having a public cooking process, which Max highlighted: "Chopstix delivers accessible Oriental fusion diversity, delivered through live chef theatre at the front counter, and customers can see exactly how their meal is prepared; in the wok, right in front of their eyes. We believe that it is a combination of values that set Chopstix apart, quality products cooked live in front of the guests so that they receive the freshest food possible – there are no microwaves in our business – all at a great value price. We really offer something different but in a fast casual dining setting."
Faster and healthier
The company is also always looking for ways to improve and expand, and one constant way it does this is through developing accessible Oriental fusion recipes for its guest's tastes, an example of which is its new Duck in Orange Sauce. Another development process that has also been underway is by the company's NPD team, and this has been initiated with the objective of creating even healthier options for younger customers – the outcome will be unveiled by mid 2017. However, what underpins everything that Chopstix does is its commitment to making customers happy, and this was a point that Max presented: "Our guests depend on our fast casual dining and service times that take under a minute. Also, 43 per cent of our guests want to see their food prepared for them and increasingly want to know what ingredients are used. Once again we can appeal to these customers with our use of fresh well sourced ingredients that are used to prepare every dish right in front of their eyes."
It is no wonder then that Chopstix' offer of faster and healthier Oriental cuisine has taken off, and has been the ideal option for those that want a quick snack, lunch, or dinner option. The distance that Chopstix has already gone in the market is impressive, and as a result was recently named 25th in the 50 best and most profitable franchise opportunities in the UK.
The company has already doubled in size, bought a new office, adding a new restaurant every month, and it looks set to continue this trend: "There are currently 58 Chopstix Noodle Bars that operate across the UK and Ireland which includes ten franchised sites. Also, four corporate sites will open before the end of the year, including a flagship restaurant on Oxford Street in London. And another two corporate sites are planned for Q1 of 2017. Another five franchise sites will open by Q1 of 2017, which includes two sites in Germany and two in Northern Ireland. The Oriental QSR market is set to increase by 19 per cent by 2019 and Chopstix is very well positioned to maximise the popularity of this trend," Max said.
Expanding abroad
The company is also aiming to appeal to the market with a new version of its stores that will offer an express option, which Max elaborated upon: "The focus is on expansion within the UK and Ireland, and entry into the European market. We have also developed two formats of Chopstix – Chopstix Express Noodle Bar and Chopstix Metro Noodle Bar. The Express brand offers operators the same great Chopstix experience focusing on our bestselling toppings while Metro takes guest interaction and chef theatre to the limits, where guests can select their ingredients and our chef will cook to order. Both brands are designed for lower footfall locations targeting specific parts of the day, and will maximise revenue generation from smaller footprint and lower staffing costs; ideal for smaller petrol stations, multiple retailers, contract caterers and convenience stores."
The success of Chopstix is not restricted to just the UK market either, and the company is also looking to take its fusion food to more areas withinEurope. This will mean developing a presence in Poland, France, Spain, Italy, as well as the Benelux and the Scandinavian countries. Therefore, whether it is in Europe, or the UK and Ireland, Chopstix will continue to bring its faster, healthier, and tastier Oriental fusion cuisine to an ever-greater number of hungry customers.