Chris Candies supports its customers with private-label products and experienced staff capable of navigating emerging trends.
Chris Candies strives to be seen as its customers' "secret ingredient." For more than 70 years, the chocolate manufacturer has been known as a quality producer of private-label and contract chocolate products. As a private-label manufacturer, Chris Candies' success is tied to its customers' sales. "We've had a lot of people launch a lot of products here and they often come back and thank us for our support," President Tim Rogers says.
Over those 70-plus years, products made at Chris Candies' Pittsburg facility have earned countless awards and recognitions for the company's customers, which include many of the largest national and international chocolate makers. The honors are a source of pride for Chris Candies, even if non-disclosure agreements prevent the company from being recognized directly. "I can almost guarantee that anyone who reads this article has enjoyed our products at one time," Rogers says. "They just don't know."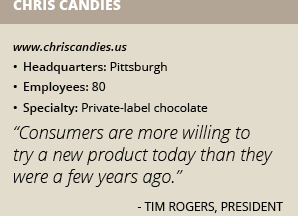 Catering to Customers
Chris Candies took its name from founder George Christ, who lopped the "T" off his name to avoid religious connotations. The company rose to prominence after landing a private-label contract with Whitman's Chocolates in the 1960s and was sold to a group of private investors in the 1980s. The company specializes in custom molded chocolate products, pieces or bars with soft centers, seasonal novelties, organic products and nutritionally fortified chocolates. One of its core competencies is adding dry ingredients to the chocolate such as fruits, cereals, nuts, probiotics and other nutritional ingredients.
In addition to many of the major chocolate companies, Chris Candies has several agreements with large supermarket chains and national marketers who sell to club, grocery and specialty stores channels. Some companies come to Chris Candies with a set idea and a finalized formula for the product they want, but most, Rogers says, need some help tweaking the end product. "Ultimately, it's the customer makes the decision [on the product]," Rogers says. "We will provide any support that they need."
All of Chris Candies' products are made at the company's manufacturing facility in Pittsburgh. Chocolate is delivered to the plant via liquid tankers or solid blocks and chips. It is then melted down and prepared for the tempering and molding process. The facility runs 24 hours a day, five days a week and sometimes on Saturday. At full capacity, Chris Candies can produce 60,000 pounds of finished goods every 24 hours. "We like to say we go from liquid chocolate to retail ready and on the pallet in 40 minutes," Rogers boasts.
Chris Candies has invested in state-of-the-art equipment from the tempering process to molding and packaging, but Rogers credits much of the company's flexible manufacturing abilities and success to its people. The key management team's average tenure exceeds 15 years. That critical experience allows the company to efficiently develop new products and adjust its manufacturing processes to fit what its customers want. "If someone is a quality person and wants to learn they're going to be able to do well at Chris Candies. We are truly fortunate to have a great workforce," Rogers says.
Wholesome Chocolate
Consumer tastes change with the times and companies such as Chris Candies must adapt. The confectionary business is mirroring other food and beverage markets such as the craft beer movement. Conventional brand names are losing ground to innovative and trendy startups. "Consumers are more willing to try a new product today than they were a few years ago," Rogers says. "The flip side is it better be good or they're not going to try it twice."
Health-conscious consumers are demanding less sugary and more wholesome alternatives to their favorite treats. As a result, Chris Candies is seeing a growth in dark chocolate, which can lower blood pressure, according to a 2011 Harvard study, and requires less sugar since it has a higher cocoa content.
Chris Candies' foresight has allowed it to stay ahead of the healthy foods trend. In the mid-1990s, the company became the first U.S. chocolate producer of organic chocolate bars. "We've ridden that a long way," Rogers says. "We continue to produce a tremendous amount of organic product." Today, the company sees a growing interest in nutraceutical products – chocolate with vitamins, protein, probiotics and supplements. Rogers says chocolate is a popular choice for consumers and food companies alike because the taste is loved by all, is relatively inexpensive, portable and can mask the taste of additives.
To meet the variety of its customers' production requirements, Chris Candies has achieved a number of certifications, including SQF 2000 Level-3, Kosher Certified (OU-D) and Organic Certified (CCOF). It is also Gluten Free, non-GMO and Vegan Certified. "Our quality program is exceptional, which enables us to confidently deliver a high-quality, safe product for the consumer to enjoy," Rogers says with pride.
The company's capabilities continue to expand. Two years ago, the company invested $1.2 million into robotic packing at its facility and increased the capacity of one of its molding lines by 40 percent. Going forward, Chris Candies is investing in better equipment with more accurate weight control and improved safety. "We're investing inside the building instead of expanding the building," Rogers says.