With only the freshest, hand-measured ingredients, Christie Cookie Co. has produced gourmet cookies and brownies for more than 30 years.
The scent of cookies baking in an oven is timeless. Christie Cookie Co. re-creates that memorable scent with each batch of its classic gourmet cookies. Founded more than 30 years ago, the company still uses the original recipes created by its founder to produce a quality bakery item every time.
While the food industry begins to trend toward products that are natural, simple and preservative-free using non-GMO ingredients, Christie Cookie was already there in most cases. The company boasts no substitutes and no shortcuts for every product, using real butter, chocolate chips, Heath toffee crumbles, raisins, vanilla extract, brown sugar and macadamia nuts imported from South America and South Africa.
"We compete in the upper tier of the cookie dough, cookie and brownie category," Vice President of Sales Jay McKnight says. "What makes us unique is the quality of the ingredients we use. We're using ingredients that consumers want today: simpler, real, natural. We do everything we can to deliver on that and have with the same recipes for 30-plus years.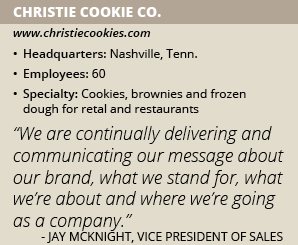 "Our bakers are actually hand-measuring ingredients that go into our batches," he continues. "For a company doing that on our scale, that's pretty unheard of. The care and our hand-crafted production process, as well as the commitment to only using the highest-quality ingredients, really sets us apart."
Once Christie Cookie's product is manufactured, the company either sells directly to distributors in the foodservice industry or ships its product directly to customers in the retail grocery and hospitality industries. One of Christie Cookie's largest customers is DoubleTree by Hilton hotels. "When a guest checks in, they are greeted with a warm, fresh-baked cookie and we make that cookie," McKnight notes.
Thanks to its success with the DoubleTree, the company is aggressively pursuing new customers in the hospitality market, along with the in-store bakery, fast-casual market. In addition, Christie Cookie is always innovating new cookie flavors and plans to launch three new ones in the second quarter of 2016.
"We're in a competitive environment," McKnight says. "There are a lot of players in our category that make it a challenging market to compete in. But we're working with the growth we've enjoyed. With growth comes challenges and it's been a fun, exciting place to be in terms of working through those challenges."
New Connections
For the eighth year in a row, Christie Cookie will be exhibiting at the National Restaurant Association Show at McCormick Place in Chicago. "It's a chance to express what our brand is all about, who we are and how we're different," McKnight says.
At the NRA Show, the company plans to meet new customers, solidify relationships with current customers and introduce the brand to others in the industry, such as ingredient suppliers, distributors and industry experts.
The company wants to show potential customers how Christie Cookie helps the end-user customer and retailers better market its product to purchasers. Its foodservice program offers retailers full support by supplying free merchandising materials like display units, packaging materials and branding messages that Christie Cookie hopes will not only sell more of its product, but also help the customer's brand. With the proper merchandising in place, Christie Cookie predicts its cookies will fly from the shelves.
"Our No. 1 focus is to service our current customers as effectively as possible," McKnight explains. "We do that by maintaining an excellent standard of quality and quality assurance and making our products easily accessible through the various distribution channels. We are continually delivering and communicating our message about our brand, what we stand for, what we're about and where we're going as a company.
"Our mission is to be Americas' favorite cookie," he adds. "Everything we're doing day-in/day-out is with that goal in mind. We're proud of our culture as a company, the products we make and the people that – many of whom have been here for a long time – make our company what it is today and the solid foundation we've created to grow in the future."
Cookie Flavors
With 14 delicious cookie offerings and three more to come in 2016, how can a customer possibly choose? Christie Cookie's current flavors are:
* Classic Chocolate Chip
* Oatmeal Raisin
* White Chocolate Macadamia Nut
* Peanut Butter
* Sugar/Snickerdoodle
* Rocky Road
* Chocolate Chunk
* White Chocolate Cherry
* Triple Chocolate Brownie
* Blondie Brownie
* Southern Butter Pecan
* Cran Apple Oatmeal
* Peanut Butter Chocolate Chip
* Triple Chocolate Blonde