Fast-growing Chronic Tacos is branching out its international taco empire.
Most head honchos will tell you that they are extremely dedicated to their company or organization. But not many will tattoo their company motto on their body.
Meet Randy Wyner. Being the founder of Chronic Tacos, one of the fastest growing restaurant chains in the franchise industry, he has the words "taco life" inked on his knuckles.
"The taco life is about creativity, individuality and customization," Wyner says. "We make your food how you like it." Chronic Tacos promotes a culture that values creativity, progressiveness and fun – supported by sound operating practices.
"We call it 'the taco life,'" CEO Mike Mohammed says. "The pillars of the taco life include authentic third-generation recipes, laid back southern California service, art and music. It makes us unique."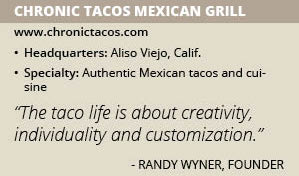 A fast-casual restaurant chain, Chronic Tacos offers high-quality Mexican cuisine based on third-generation recipes and made from locally sourced ingredients.
Founded in 2002, the California inspired Mexican grill started franchising in 2006. "It was an organic growth at first," Mohammed says. "It was mostly in California. Then in 2010, we expanded into Canada but the company wasn't really prepared for growth in franchising. In 2014-2015, we really started looking at franchising and we began franchising on a more scalable level."
Gaining Momentum
Since then, Chronic Tacos has shot up in popularity and the demand for its authentic tacos and cuisine has grown. Its taco movement has gained momentum on an international level.
The chain has 54 locations throughout the United States, Canada and Japan. In the United States its tacos are known in Alabama, Arizona, California, Florida, Georgia, Hawaii, Nevada, North Carolina, Utah and Washington. It has plans to expand into Montana, Oregon and Tennessee within a year.
In Canada, it has existing locations in British Columbia and will be opening a new one in Alberta this year. In March, Chronic Tacos opened its first location in Japan and will be adding two more locations this year.
"We don't want to grow too fast but we want to open more stores each year compared to the previous year," Mohammed says. "We want to continue to grow the taco life all over the world. So far, we've had great success both nationally and internationally. We're really happy with the direction we're going."
This year, the chain expects to open between 15 to 20 new locations. By next year, it hopes to exceed 20. In a few years, the goal is to open 50 new locations annually.
Extraordinary Elements
Chronic Tacos considers itself a fusion between food and art. A graffiti artist paints murals at each of its locations. In addition, original works of art are created for each new restaurant.
When it comes to food, the company prides itself on offering quality food with a significantly lower wait time and at a lower price point than more traditional full-service restaurants.
In 2016, the company expanded its menu to include all-natural meats and started offering vegetarian options. This year, it also added a grass-fed beef steak to its menu. But its menu is always evolving.
"We're always going to offer our third-generation recipes, but we like to add new elements to the menu," Mohammed says. "We like to get creative. This year, we introduced a California Burrito. Instead of rice and beans, it has fries and guacamole in it. People love it."
If an item does well during its "limited time only" testing period, it will become a permanent menu item – like the California Burrito.
Aside from tacos and burritos, the restaurant's menu offers tostada bowls, tortas, taquitos, flautas, salads, carne asada (steak), pollo asado (chicken), carnitas (slow-cooked pork), al pastor (spicy marinated pork) and fresh pico de gallo and guacamole. For those that prefer of the sea, it can whip up grilled, beer-battered or Baja-style fish and shrimp.
Investing in Tacos
Entrepreneurs wishing to open a Chronic Tacos franchise must have at least $125,000 in liquid assets and a net worth of $250,000. The company charges a franchise fee of $40,000 per location – with discounts for multiple locations. It also collects an ongoing royalty fee of 6 percent and a 2 percent ad fund charge.
The initial investment, including build-out cost and franchising fee, ranges between $400,000 to $500,000 depending on location. Its average restaurant encompasses roughly 1,800 square feet.
New franchisees undergo a comprehensive four-week program at the company's corporate restaurant in South Orange County, Calif. It covers every aspect of the Chronic Tacos franchising system including marketing, scheduling, management, finance, product knowledge and customer service.
Furthermore, they receive assistance with site selection, build-out, design and have access to a network of Chronic Tacos partners, vendors and suppliers.
Once the new location is ready, Chronic Tacos trainers will assist the franchisee for an additional three weeks to help with organization and training. "We're very hands on," Mohammed says. "And we have a very good franchise support team."
When choosing a franchisee, Chronic Tacos looks for an individual with good business sense. But most of all, it looks for passion. "We want someone who is looking to live the taco life," Mohammed says. "Someone who understands our culture is most important."