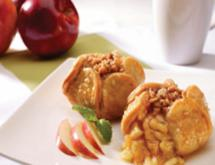 Pick-your-own fruit or vegetable farms these days have become quite trendy. People enjoy getting outside on a farm to gather their own produce. It's part of the know-where-your-food-comes-from movement sweeping North America. However, back in 1968 in the greater Toronto area, the Chudleigh farm was providing Entertainment Farming for city folk who needed to stretch their legs and breathe some fresh air.
While Dean and Scott, third generation Chudleighs, still own and operate the apple-picking farm, they've made a name for the company in restaurants and home freezers across North America. These days, Chudleigh's creates and sells desserts to retail outlets such as Costco and Safeway and restaurants like Red Lobster. So, how did apple farmers become one of the more dominant forces in frozen desserts? In a word innovation.
When the Chudleigh family was only running the entertainment farm, they noticed the customers were hungry and thirsty after their adventures in the orchard. The family started slowly, offering cider and apple pie at first. In the early 1980s, Chudleigh's was delivering pies to restaurants and grocery stores. As demand increased, the family built itself a full-fledged bakery that could keep up with the booming business.
The company doesn't jump on trends. We're not a me too company, says Scott Chudleigh, executive vice president of marketing. We like to put our twist on a familiar item. WeÕve solved portion control problems with dessert items to create them in single servings.
One of the company's innovations came in the form of a challenge from a client. The client wanted to sell four molten lava cakes for $5.99. While many of these decadent desserts were selling for $10 in restaurants, Chudleigh's accepted the challenge and delivered a delicious treat at the desired price point.
Who Wants Dessert?
Since meeting the challenge of creating single portion desserts, Chudleigh's has gone on to create more treats by twisting the familiar into a whole new product. Recognizing that people might want apple pie, but probably won't eat a whole pie, Chudleigh's created the Apple Blossom, an individual-sized version of apple pie. The company now creates Blossoms in a variety of flavors including Bumbleberry a blackberry, blueberry, raspberry and apple blend as well as Traditional Apple Cinnamon, Apple Caramel and Apple & Maple.
Other innovative desserts include Chudleigh's spin on pineapple upside down cake, an individual portion that combines carefully specified, high quality pineapples with vanilla cake and caramel sauce to create a sweet and unique dessert experience. Apple and Bumbleberry crisps, apple crumbles and the Chocolate Pocket Cookie which is molten chocolate inside chocolate chip cookies also are offered as frozen individual desserts. The company still makes its signature pies, too, in apple, Bumbleberry and pumpkin.
Chudleigh's recently developed its own version of an Italian dessert, the Panna Cotta. The Panna Cotta is cooked cream that tastes just like ice cream, Chudleigh says. However, it's refrigerated and you don't have to worry about it melting. The Italian treat is offered in vanilla, blueberry vanilla and raspberry chocolate.
Dessert isn't something you can have every day, Chudleigh explains. People look at it as reward at the end of the day, and it has to taste great. We fill that need. He adds that the company didn't really take a hit during the recession because it provides comfort at the end of a long day.
However, even though it has been tried, man cannot live on dessert alone. That's why Chudleigh's has developed a savory component to its offerings. Frozen mini quiche tarts, also in individual servings, are among the first savory product lines. Chudleigh says the company has some surprises in tart form that it will release to the public soon, as well.
Down on the Farm
Chudleigh says the demand for the company's products, especially the Apple Blossom, forced him to get back to the farm. We had to [go] back to our roots, he explains. We had to buy more land and plant more trees. He adds that the company added 20 third-party growers in the area as reinforcements.
With the company peeling 250 apples per minute, it needs those apples. This process happens every day, and the peeled apples are stored in an oxygen-free room where Chudleigh describes them as in a state of suspended animation. We have dozens of these rooms, he explains.
For all of the Chudleigh's apple dessert products, the company uses the Northern Spy variety. Chudleigh says this particular variety, along with the soil it's grown in, create the perfect apple to use in the company's recipes. It has a unique taste and we don't have to add any spices, he notes.
Chudleigh's Charities
The Chudleigh family is very concerned about the children of its community. We base all our sponsorships around kids, Chudleigh says. The big ones are health, education and sports. The company is very active in the local school district where it provides healthy breakfast for kids, sports equipment and even books.
Chudleigh adds that the company is a sponsor of the Relay For Life cancer foundation and has sponsored the local hospital and even purchased lifesaving equipment.
Recently, Chudleigh's sponsored a local skier who participated in the Winter Olympics in Vancouver earlier this year. We paid for about half of his training costs, Chudleigh says. He didn't win this year, but we expect to hear more from him next time. SIDEBAR Northern Spy. According to Chudleigh's the Northern Spy is a large, red apple with slightly yellowish flesh; it is very crisp and juicy. They are wonderful dessert apples and perfect for baking and cider. Northern spys are an excellent apple for storage.
Where to Buy
Chudleigh's products are available at:
A&P
Albertson's
Aldi
Costco
Dominick's
Genuardi's
Giant Eagle
Hannaford Brothers
Market Day
Meijer
Omaha Steaks
Randall's
Restaurant Depot
Safeway
Sam's Club
Supervalu
Trader Joe's
Vons
Walmart