With its treasured recipes and fresh ingredients, Chudleigh's delivers a farm-to-table experience – the family's farm to consumers' homes or restaurant tables.
Scott Chudleigh explains fresh ingredients were always his mom's rule for goods baked at the Chudleigh farm, and that rule has not been changed now that the company sells its goods farther than down the road. The company's from-scratch, 120,000-square-foot bakery upholds the family's dedication to quality, which is why Chudleigh's hand-crafted pies, cakes and other treats continue to find their way into various restaurants and the homes of consumers throughout North America.
"Our flour is milled close by our facility – it's a special flour we helped to develop with our own custom blend of grains," Chudleigh says. "The flour is milled never more than a day or so before it's delivered to our bakery. The shortening also is a recipe we helped develop that blends perfectly with our flour. We use Northern Spy apples, which are grown in Ontario and the United States, and they are peeled fresh every day. We do not add water to our filling, so it tastes very fresh. You can't get it any fresher or cleaner than what we do. Many of our products don't have any preservatives because they are flash frozen right after baking. This is the only facility I know of that peels its own fresh apples and puts them in the pie in the same day, every day, all year round."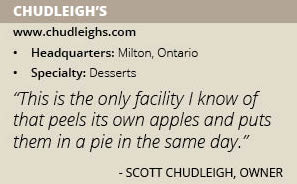 The Chudleigh family started welcoming people to its apple farm in Milton, Ontario, in 1967, and the family began selling fresh apple pies so visitors could take a piece of the farm home with them. Word spread, and eventually some restaurants and retailers wanted the quality desserts for their own businesses. The company served the private-label market for more than 25 years, and with this experience, it entered the retail market with the Chudleigh's brand. The family's signature "Apple Blossom" is its key offering, but Chudleigh's also produces crumble pies, miniature cakes and blossoms, which are like small pies filled with fruit. Chudleigh's takes a lot of pride in its products because "if a treat isn't special, it isn't really a treat," the company says.
"Because we're a from-scratch facility, everything we develop has a story," says Lela Colangelo, vice president of sales and marketing. "These are simple, traditional, family-style recipes. Many of our customers are major chains, and they come to us asking what else we can do where we take the same sort of care in our products. Our products are operator-friendly and quick to serve, but look like they were was made in the back of the house."
'Picky Bakers'
Chudleigh's puts its family name behind every product it creates, so it is important that quality and care go into all it does. Scott Chudleigh notes there are about 200 full-time employees who are dedicated to the family's recipes and traditions, and many of its staff members have grown with the company, adding another level of quality. Colangelo, he says, started in customer service and worked her way up, and she is just one example of someone who has been a long-term member of the family's team. By the time anyone talks to a customer, they have learned a lot about the company, he explains, and ensure its service matches the quality in its treats.
"Our company is fairly young in the scheme of things – we span 50 years and three generations of our family," Scott Chudleigh says. "But we succeed in part because we listen to our customers more than most. We listen to what they say and take all of their behaviors and opinions to the top. Many of our clients have been with us for more than 20 years, and almost all of them have been working with us for more than 10 years."
He stresses the company has a "culture of picky bakers," which was established with his mother. Most of the recipes come from her recipe box. This culture yields high-quality treats and a consistent level of quality through a combination of traditional methods and fresh ingredients, and a state-of-the-art operation that is BRC AA certified.
"If we wouldn't sell it at the farm, we won't sell it," Chudleigh explains. "We focus on things that are simply good. Our operation keeps up with the times but we still hold onto those nostalgic patterns and feelings of innocence. It's fun to be able to bring our farm and this food together with all we do."