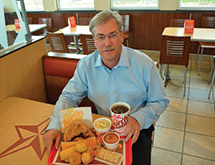 Church's Chicken implemented a multi-tiered strategy to revitalize the brand and become centered on the total guest experience. To do so, the company a few years ago began perfecting its operations, increasing its exposure to guests and renovating its facilities. "We are putting all the polish back on the brand," President Jim Hyatt notes.
George W. Church Sr. founded Church's Fried Chicken-To-Go in 1952 in San Antonio, Texas and opened more than 100 fast-casual restaurants in the decade that followed. Today, Church's has 1,700 restaurants around the world and about 80 percent of them are franchised.
The company attributes it success to serving what it says is the best chicken in the world. "At the center of the menu is exceptionally good fried chicken," Chief Marketing Office Mark Snyder says. "That's the thing we do best. Customers tell us they are willing to wait for our chicken to be prepared a little longer than at any other QSR because it's fast-food with a slow-cooked taste."
Church's offers bone-in and boneless chicken that is hand-battered and made in small batches all day long to ensure every piece is crunchy on the outside with juicy chicken on the inside.
Operational Initiatives
Church's Chicken listens to what its guests say the company needs to improve on and its internal restaurant teams determine which operational initiatives need to be implemented. In 2013, the company learned from its guests and franchisees that it needed to tighten up on consistency and delivery of food, and on problem resolution with guests. "So in 2014 we rolled out initiatives targeted at solving for these issues," says Joe Christina, executive vice president of U.S. operations. "We cooked better chicken and handled problems of customers effectively."
The company received its highest marks ever later that year when it was evaluated on taste, friendliness and problem resolution. "We are excited that listening to both internal and external feedback is driving results," Christina notes. "Last year we focused on being more consistent with the quality of food and handling guests' problems. The next thing we are focused on is speed."
Speed is paramount for a quick-service brand such as Church's, so the company implemented a proprietary cooking procedure to be more effective. "Although we are doing a good job, we could be faster and friendlier," Christina notes. "On every one of our local street corners we are fighting against significant competitors and we see speed as an opportunity."
To increase its speed and total guest experience, the company realized it needed to start with its people. Church's developed a training program where field teams are sent out to visit each store four times per year and focus on cleanliness, greeting, food quality and speed. "We are driving all our training in 2015 around continuing to be effective in consistency and delivery of food, problem resolution and speed," Christina says. "During our four- to six-hour visits, we ask for engagement from the restaurant leaders to come up with a plan for what needs to be done."
In the fall, Church's will host its first-ever conference for general managers that will feature training, skills building and fun activities. The general managers conference will be held every other year.
"We look at all the data and listen to the end-users, and we have become more effective," Christina says. "We are engaging franchisees in helping us design and implement enhancements in our restaurants. The general managers also help with operational implementation and new products. I think the engagement and overall teamwork between the Church's corporation and franchisees is at an all-time high. We care about what happens and they feel they have a voice to drive initiatives."
Have the Love
Church's wants to draw in a larger community of customers to the brand and is engaging its audience in a variety of ways to accomplish that. It recently launched a mobile app – it says it is the first domestic chicken QSR to do so – that delivers value through offers and coupons to customers. "The bigger thing for us with the app is the meaningful engagement we have in real-time with the customers about the experience they are having," Snyder says.
From the mobile app, Church's can gain a further understanding of its guests' purchasing patterns, including what time of day they most often visit a location, what offers they use, and if they are using family coupons or discounts for individuals. "This helps us fine tune and give information to the marketing and operations departments, and allows us to deliver targeted offers to customers based on the part of the menu that is most important to them as individuals," Snyder adds.
Church's has a significant presence on Facebook and is approaching one million followers, globally. The company engages with its guests by monitoring the site 24/7. If someone expresses a problem through a social media channel, the company knows the importance of having a "real person" to provide a response or action for that person right away. "It's critical that guests know that they are being heard and cared for by a real person when they have a problem at one of our restaurants," Snyder explains.
The company recently partnered with Made, an advertising agency based in Boulder, Colo., which helped it develop the "Have the Love" campaign. Church's campaign focuses on how it puts love into every box of fried chicken it makes. "Food made by someone who loves you always tastes better than making the same thing for yourself," the company says.
Church's is looking to emphasize the quality of its chicken to reach new customers, but a majority of its customers define value in two ways: price and piece count. The one part of the equation that was not being recognized, however, was the quality of the chicken and the care that goes into the preparation of the chicken. "That's a piece of who we are," Snyder notes. "We want to make sure the quality and care with which we prepare the chicken comes through and that helps us expand our reach to new customer segments."
Product development is also a way the company expands its reach to new customers. Church's research and development team of about 12 food scientists and culinarians are always looking for the next new product. The team collaborates with franchisees and vendors to create products that will resonate well with customers.
Its most recent successes include chicken and waffle bites, and Oreo biscuit bites. "We make our biscuits from scratch every day," Snyder says. "We mix up the batter and drop them on a pan several times a day and brush them with honey butter out of the oven. For the Oreo biscuit, we took the batter and blended it with Oreo cookie crumbles to create a new sweet treat. We introduced this product last November and it took off like a shot heard around the world."
The company is working hard to maintain its momentum in innovation. In fact, Church's expects to have more new product introductions in 2016 than it has had in the past five years.
Complete Package
The total guest environment plays an integral role in the brand. A clean and inviting exterior, interior and parking lot are critical for repeat patronage. "That was probably the weakest part in our guest experience was our facilities," Chief Development Officer Tony Moralejo says. "We had to make improvements and it wasn't a quick fix. We have been working on our facilities for two years."
The first phase consisted of developing Church's image and staying true to its history and Texas roots. The brand image is centered on the Texas star, an iconic gold star that customers can identify with the Church's brand going forward, Moralejo says. It then developed a new prototype that improved its relevance and made the most economic sense.
Church's adopted the new prototype in six of its stores and renovated a number of locations. One of the main challenges with renovating its existing facilities is that a lot of buildings were converted from another brand so the company had to develop an image-friendly approach to make them all look like they belonged together.
"It took more than a year to develop solutions, but we led the way in testing, retesting and value engineering solutions in many of our restaurants," Moralejo recalls. "More than 60 company restaurants were remodeled before we asked franchisees to remodel."
At the beginning of the year, Church's had remodeled five percent of its facilities – most being company owned – and by the end of 2019, it expects 100 percent of its domestic facilities to be remodeled. The company will look to remodel its international locations last.
The new Church's restaurants will have a new front counter, modern lighting, receding walls and new doors. The building will be outfitted with a new metal façade and LED lighting that will brighten up the restaurant.
Digital menu boards are going into all company restaurants to improve customer interaction.
Restaurant seating will be more family friendly and because most customers come in with their families, every restaurant will receive a new décor and seating package.
"Creating seating and décor to facilitate the family having a meal in a restaurant will make a big difference," Moralejo says.
Looking to the future, Church's plans to open 16 restaurants this year with its new image and expects to see continued growth in Southeast Asia and the Gulf states. "We are trying to put all that polish back on the brand and our franchisees are telling us we are on the right track for a bigger and stronger brand," Hyatt adds.