Ciao Bella Gelato Co., Inc.
Ciao Bella Gelato prides itself on making unique gelato and sorbet products from natural, clean ingredients.
Ciao Bella Gelato specializes in making unique gelato and sorbet products with the highest-quality ingredients. "We've always played around with different flavors that you wouldn't expect," says Carlos Canals, CEO of the Boston-based company.
The company is known for one-of-a-kind sorbet flavors such as Blueberry Passion Fruit, Sicilian Blood Orange and Alphonso Mango; and gelato flavors, which include Caffé Macchiato, Sicilian Pistachio and Chocolate Mascarpone. "We try to surprise the customer as much as we can with our flavors," he adds.
The ingredients used in Ciao Bella's products are just as unique as the gelatos and sorbets it makes. The Blood Orange sorbet is an intense blend of three blood orange varieties that are imported directly from Sicily; and the Mango sorbet uses only the finest and ripest Alphonso mangos which are widely regarded as the best variety in the world. And in the Caffé Macchiato, the company uses a unique, aromatic blend of Arabica coffee beans, espresso and cream. "We try to come up with the best ingredients we can for our recipes," Canals says.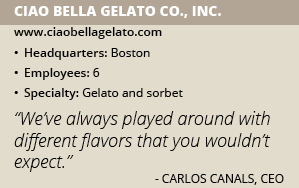 Ciao Bella's flavors are created by its head chef, Danilo Zecchin, who draws inspiration from his childhood in Torino, Italy, as well as his experiences traveling and cooking around the world. "We are committed to the original flavors that he creates, and find the best ingredients we can to keep close to those flavors," Canals says.
Sorbets are considered the simplest interpretation of fruit, by only adding water and sugar, to provide an unbelievably accurate and delicious flavor profile. Gelato is made mainly from milk and cream resulting in a much more intense and decadent flavor. A slower churning process guarantees the creamier, smoother and silkier texture gelato is known for.
The company is committed to using only clean and non-artificial ingredients in any of its products and prides itself for their clean labeling. While all of the sorbet products are currently certified non-GMO, Ciao Bella is pursuing non-GMO verification on its gelato products as well, a process that includes ensuring it is only buying milk from farms that do not use genetically modified grains to feed cows, he notes.
Product Evolution
Ciao Bella was founded in 1983 in New York City as a small producer of authentic Italian gelato and sorbet for local restaurants that wanted to offer their customers a more progressive dessert than ice cream. Soon after its founding, the company opened a storefront scoop shop in the city's Little Italy neighborhood, where it sold gelato and sorbet to walk-in customers on the main floor while also hand-packing pints in the basement that it sold to bodegas and other neighborhood stores.
Today, the company's products are available nationwide in Whole Foods stores as well as regionally in major retailers including Albertson's and Safeway. Ciao Bella Gelato products are made by a premium ice cream manufacturer in northern Michigan, which the company contracted with three years ago. The plant includes a production line that is specific to the company which allows for swirling flavor ingredients and mixing chocolate or nut pieces. Most of Ciao Bella Gelato products are manufactured in small, seasonal runs, Carlos Canals notes.
Ciao Bella's sorbets and gelatos are currently available in 14-ounce containers., In early 2017 the company's packaging will change to 16 ounces, to finally make it a true pint. The larger package will be available at the same suggested retail price – $4.49 – as the smaller version. All products come in a recyclable plastic pint package with a screw-on lid that can be re-used or recycled, he adds.
Going National
Ciao Bella continues to develop unique new flavors. The company's newest flavors include the Strawberry Chocolate and Blueberry Passion Fruit flavors.
The company hopes to have its products available in more retail channels in the coming years. Ciao Bella has a roughly 10 percent market penetration nationwide, a figure it looks to greatly improve upon by moving its products from regional into national channels.
"We have a product that has tested well in different parts of the country that we think we can expand," Canals says. "We believe we have what it takes to become a national brand."