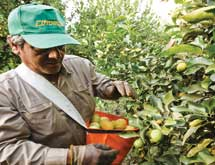 Citromax Group of Companies
Citromax Group of Companies does not make lemonade from its lemons. However, it does extract the concentrated juice and oils that other companies use to make not only lemonade, but several food, beverage and industrial products for the everyday consumer. Officially established in 1964 as an Argentinean flavor and fragrance house, Citromax is now headquartered in New Jersey and is parent to five companies all with ties to the lemon and blueberry industries.
Its oldest company – Fritzsche – dates back to the late 1950s and serves the Argentina market with oils and flavors used for flavor, fragrance and also for industrial purposes such as household cleaners.
Then there's Citroil, which began in the 1960s as a U.S. equivalent to Fritzsche but morphed into an essential oils producer. In Brazil, Citromax Essencias LTDA caters to the country's taste for savory and tropical flavors added to everything from juice to sausages. Berrymax is Citromax's new­est company. Also based in Argentina, this 400-acre orchard benefits from vertical integration that allows it to grow, harvest, package and globally distribute fresh and frozen berries.
New Venture
Before Berrymax was added, Citromax's President Vivian Glueck launched the com­pany's return to the U.S. flavor-producing market with Citromax Flavors (CF) six years ago. Today, she says it is one of the conglomerate's fastest growing companies.
"My decision in the last six years to reenter the U.S. market as a flavor house has led to the incorporation of a new company with the name Citromax Flavors to service the North American market," Glueck says. "CF is building on [Citromax's] well-known reputation as a producer of high-quality lemon oil and concentrated lemon juice since companies that tend to purchase lemon oil and juices also purchase flavors."
According to Glueck, the reentry into the U.S. flavor industry was not driven by any market change, rather by the simple desire to return its U.S. interests back to the roots that her father Jacob Glueck began. Jacob Glueck, a Hungary native, represents the family's second generation involved in the food industry. He began expanding in the late 1980s when Vivian Glueck left her NASA career to join the family business. In 1997, she inherited the day-to-day operations and lives by her father's rule of putting the client first regardless of its size.
"I brought us back into the industry for two reasons," Glueck says. "One is because we're nimble, flexible and can accommodate both large and smaller clients. A customer can literally call us and say I have a new project, and we will take that project and turn it around in a day or two."
The other reason, Glueck notes, is the same reason CF is able to accommodate short-notice requests in the first place – vertical integration.
The New Jersey-based CF may operate from a state-of-the-art flavor lab, and it may also benefit from its association with Citroil – of which it was once a division. But CF, similar to its lemon-based sister companies, owes much of its success to the 12,000 acres of lemon-producing land owned by its parent company in Tucuman, Argentina.
"We start at the nursery level with our carefully selected genetic material, planted in our own orchards and tended to by our team of agronomists and horticulturists," Glueck says. "Having our own orchard means that we can exactly control what fertilizers, herbicide and pesticides are used both pre- and post-harvest so that we meet the most stringent quality control standards in the industry."
The vertical integration affords this woman-owned company a non-bureaucratic environment in which its R&D department can respond quickly to clients with a variety of flavor and fragrance solutions, of which lemons are often vital. "I wanted to get back to this business and be very responsive and driven to what our custo­mers want, and I think we have," Glueck says.
CF produces more than just citrus flavors. It supplies clients with a range of tastes from minty to tropical for use in products such as beverages and snacks whether traditional or organic because as Glueck stresses, it's whatever the clients who keep CF in business want.
"I think this is a great business," Glueck says. "It's inventive. It's fun. It's challenging, and it's intellectually stimulating. I want to grow my business. I don't want to sit on my laurels or stand still. I think every business has a natural dynamic that it wants to grow and for us it's Citromax Flavors."