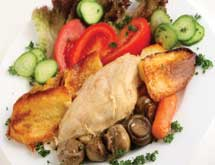 In its chicken processing services, C&L Foods provides a level of service that is not offered by most of its competitors, President and owner Cindy Cox says. "There's not really anybody that does exactly what we do in Dallas-Fort Worth, [Texas]," she says.
C&L Foods not only specializes in poultry processing, but also sells beef, veal and pork products. Cox founded the company in December 2001 after gaining extensive experience in the meat industry.
This included working for her father's meat company, which he operated for 26 years. "I worked there during the summers and college," Cox recalls. She later joined the company's offices full time after graduating.
Although her father sold his business in 1998, "I stayed with the company for seven years," Cox recalls, adding that she later worked for a wholesale pork company for five years before starting her own firm in 2001.
When C&L Foods first began operations, "I represented about 40 percent of the [pork] company's sales," she recalls. "Going into it, I had a commitment from my biggest customer, which had 22 restaurants."
Client-Oriented
Today, Cox says, C&L Foods employs a staff of 46 and sells its products to restaurants, hotels and country clubs. In addition, "We sell [to] our competition," Cox says.
She adds that C&L Foods' clients include local meat distributors in Dallas, along with Cowboys Stadium and Houston's Restaurant.
Cox says that C&L Foods can process any kind of chicken product for its customers, including such products as airline breasts, skinless breasts or whole
de-boned chickens. "We will size [our chicken products] into whatever people want," she says.
Continuing Success
Next year will mark C&L Foods' 10th anniversary. After nearly a decade of managing the firm, Cox says she has enjoyed the relationships the company has formed its with clients.
"Many of the customers we started with are still our customers today," she says. "That's a big deal. You can lose a customer on price, but you can't lose a customer [with] quality.
"We're very proud that our customers stay with us, because we feel that definitely [reflects] their happiness with us," she says.
C&L Foods has maintained these relationships by providing a strong level of customer service, Cox says. "Every single person here is committed to making the customer happy," Cox explains, adding that the company also tries to maintain close relationships with clients.
For instance, every time a customer calls C&L Foods, they speak with a real person, Cox says. In addition, the customers have "our personal phone numbers," she says. "They pretty much have access to myself and a couple other [managers] here."
She notes that one person at the company that has especially excelled in the area of dealing with clients is Vice President Steve Loving, who has extensive restaurant experience. "He had his own restaurant for a while, and he worked for T.G.I. Friday's for many years," Cox explains.
"He definitely has been a major part of the success of this company," she says. "He has great relationships with his customers and [is] very people oriented. [He is] available any time we need him."
On the Right Path
Last year, C&L Foods had sales of nearly $11 million, Cox says. "It was closer to $13 million the year before," she admits. "It looks like this year, we'll be on that path again, [since] the market's picking up a little bit."
She accredits this improvement to consumer confidence, which keeps increasing every day. "People are feeling more safe in this economy now, so they're spending more money," she says, adding that demand is also high for all of the company's products.
"Normally, we'll see one [item] high at one time," she says. "[This is due to] Russia, Korea and China coming in and buying and exporting a lot of products."
She also predicts future growth for the firm beyond Dallas. "[We'll] keep growing," she says. "[We] possibly just could expand into Houston, San Antonio and Austin, [Texas]."