Eating a healthy diet is a goal many consumers aspire to, and they'd achieve it more often – if only they had the time. The same goes for foodservice providers who face mealtime rushes and the ensuing time-crunches that make it a challenge to serve up fresh and freshly prepared treasures from the good Earth's bounty.
Enter the convenience of fresh-cut produce, pre-packaged and delivered to the retailer, ready for supermarket produce displays, restaurant kitchens and foodservice packs. The growing popularity of pre-washed, pre-stemmed and pre-cut fruits and vegetables is a testament to the fact that saving time equals the possibility of a better diet for the health-conscious grocery shopper and restaurant patron.
To further expand its growing business, Class Produce Group of Jessup, Md., a Mid-Atlantic wholesaler, opened a new facility last November dedicated to processing fresh-cut fruit and vegetable products. The eco-friendly 60,000-square-foot facility, located next door to the Class Produce Group warehouse, has the capacity to process more than a million pounds of fresh-cut produce each week. The new product line is known as TGD Cuts.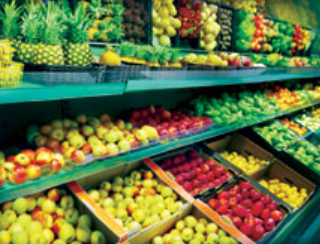 Class Produce is not new to the fresh-cut market segment, however. For about seven years, Class Produce sold fresh-cut products supplied by other companies. The opening of the new plant allows Class Produce to be more responsive to its customers with customized ingredients, packaging and cut sizes.
A Class Act
It's just the latest innovation made by a company founded in 1936 by William Deemer Class. These days, Class Produce is headed up by Deemer Class' grandson, Bill Class, and Bill's brothers Jonathan and Robert.
The Class Produce story began with a single stall at the old Baltimore Marsh Market. When the business outgrew that location, Deemer Class moved it to the Pulaski Highway Market in the 1960s, moving a second time to the Jessup-based Maryland Wholesale Produce Market in the 1970s.
Class Produce offers a range of products, from organics to specialty items, including tropical produce. To address supply chain challenges posed by extremely perishable items such as bananas and by extremes in climate and weather, Class Produce maintains relationships with hundreds of growers.
The company also houses 36 pressurized ripening rooms, where ethylene gas is used to bring bananas to the perfect stage of ripeness. Having three-dozen rooms allows Class Produce to meet market demand for bananas and to promise readiness to ship within a single day after an order is placed.
In addition to the ripening rooms, the 160,000-square-foot warehouse encompasses refrigerated storage, loading docks and state-of-the-art packing and sorting equipment. Here, a variety of packing services are offered. The warehouse is FDA registered and complies with Department of Homeland Security regulations and bioterrorism laws.
Distribution services are carried out with Class Produce's fleet of 60 refrigerated trucks that can deliver anywhere on the East Coast, any day of the week.
Organic and Local
Fortunately, not all fruits and vegetable require a tropical climate to grow and flourish. Many items can be grown much closer to the company's home. One of the largest distributors of American produce on the East Coast, Class Produce is committed to delivering as much locally sourced produce as possible, whenever conditions permit.
Locally grown produce, company leaders maintain, has more than a few selling points: It helps support local economies, it's fresh and it creates a smaller carbon footprint because it isn't shipped great distances. These benefits of using locally sourced foods are behind Class Produce's commitment to minimizing "food miles" through the company's many relationships with local farms.
Class Produce is a Certified Organic Produce Handler, as designated by The Maryland Department of Agriculture. The company culture puts an emphasis on health and healthful eating and its offerings of organic produce epitomize that emphasis. The company's leadership team believes organic farming helps reduce the toxic load on the environment, mitigating pollution not only on farms but in the environment at large. Organics protect future generations by lessening parents and infants' exposure to toxins; they also help build a healthy soil base. And, the company says, they offer a better and truer flavor.
The company, which employs about 300 people, also highly values food safety. With a food safety program that requires mandatory training for all employees, Class Produce has the highest level of HACCP certification and an excellent rating from Primus Labs.
As a third-generation fixture on the Mid-Atlantic produce wholesale scene, Class Produce places a premium on maintaining its good name through best practices applied to shipping, repacking and providing merchandising services. For customer convenience, online ordering is featured on the company's web site at www.classproduce.com.