Clearwater River Casino & Lodge is freshening up its foodservice options with locally sourced ingredients and healthier options.
When Melecio Dacanay took over as executive chef at Clearwater River Casino & Lodge last year, the resort already had a reputation as one of the largest and most popular in the region. However, Clearwater River's food and beverage program wasn't up to the standards it typically enjoyed. As Dacanay explains, the casino and lodge was without an executive chef for about a year before he arrived, and the foodservice options had fallen below the standards the resort had enjoyed traditionally. Over the last few months, Dacanay has overseen a major transformation of Clearwater River's foodservice program, placing greater emphasis on fresh, adventuresome fare that honors tradition while offering something new at the same time.
Dacanay has been a professional chef for nearly 40 years, and before joining Clearwater River had been an executive chef at Washington State University for five years. Before that, he spent time as a chef for Norwegian Cruise Line's Pride of America in Honolulu; the McKinley Grand Hotel in Canton, Ohio; the Stoneleigh Hotel in Dallas; the Radisson Hotel Cincinnati; and the Radisson Hotel Stockton in Stockton, Calif.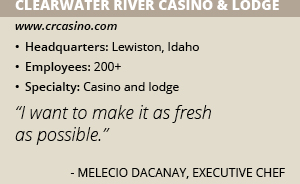 Owned and operated by the Nez Perce Tribe, Clearwater River Casino & Lodge is one of the largest in Idaho, with more than 600 video gaming machines and a 50-room lodge. The property also is the site of the oldest campground in Idaho, and features an RV park as well as an 11,000-square-foot events center that hosts live music as well as indoor sporting events. The facility also features three dining options: the upscale QEQIIT, the more casual Yaw win ma Café and Stadium Sports Bar.
Fresh and Flavorful
One of the first things Dacanay focused on when he arrived at Clearwater River was to overhaul the dining options to include a greater array of fresh ingredients. "When I came in, I began making foods all fresh again," he says. "I do not allow frozen vegetables anymore; I want to make it as fresh as possible."
That meant switching to a more local supplier base, which includes produce purchased from local farms as well as from the organic farm on the campus of Washington State University. Dacanay says the new program also includes some locally sourced proteins.
"I purchase my seafood from an Indian tribe out of Olympia, Wash.," Dacanay says. The Nisqually Tribe supplies Clearwater River with wild- and native-caught seafood.
Along with a greater emphasis on locally sourced, fresh ingredients, Dacanay says Clearwater River's foodservice program has become more focused on providing healthier options than it has in the past. He says the menus have been expanded to include more salads, roasted vegetables and wraps, and the children's menus have been revised to include more healthy options as well. Dacanay says the daily specials for breakfast, lunch and dinner now always feature a healthier choice for guests to enjoy. Although there has been a lot of positive change already, Dacanay says the healthy options at Clearwater River won't be limited to the dining rooms.
"We have an events center that holds about 1,400 people, and we run concessions out of it and I'm introducing more healthy options, not just hot dogs," Dacanay says, adding that concession options now include fresh rice bowls in addition to the traditional fare.
New Options
Introducing new menu options and new processes to a busy kitchen environment always presents challenges, and Dacanay says one of the biggest was getting staff back on track with preparing meals fresh instead of relying on frozen ingredients. "It was kind of rough for them for a while and it took them a while to adjust back to the regular ways of cooking," he says.
Introducing the new healthier options to the casino's regular guests also has been a little challenging, Dacanay says, due to the area's culinary traditions. "They're used to the meat-and-potato-type food items, so they love chicken-fried steak and steak bites," he says. "My biggest goal is to try to introduce different types of foods and more healthy types of foods to our local customers." Dacanay says casino staff has been distributing free samples of the new menu items to guests to give them an opportunity to taste them without risk.
A lot has changed at Clearwater River, and Dacanay says things will continue to change from a foodservice perspective. One of the biggest initiatives yet to come is the renovation of a former bar area into a new buffet area next to the casino's main restaurant. Dacanay says the buffet area will give Clearwater River greater opportunities to present more themed meal options as well as more authentic ethnic options. Dacanay says that once these changes are made, Clearwater River will further solidify its place as one of the region's premier destinations.