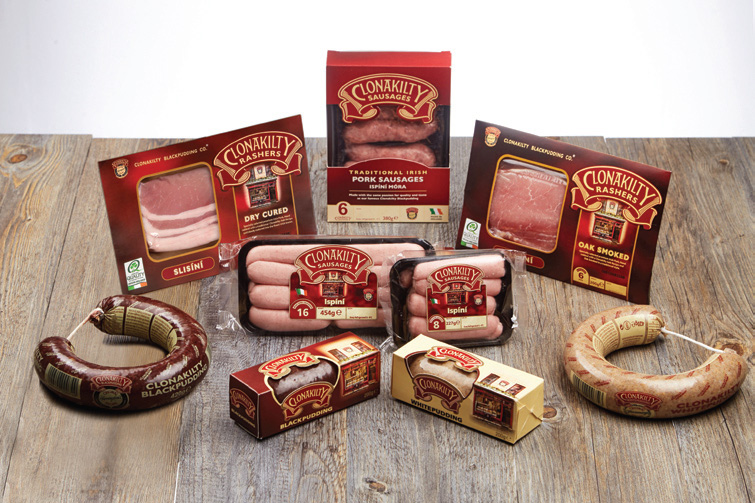 Pride of Ireland
From small beginnings, Clonakilty Food Company is responsible for making Ireland's favourite blackpudding and other meat products that are today enjoyed in international markets across Europe and as far away as Australia
It was roughly one year ago that FoodChain had the pleasure of detailing the storied history of the Irish market town of Clonakilty and arguably its most recognisable resident – Clonakilty Food
Company (Clonakilty). Using a blackpudding recipe that originated in the town in the 1880's, the Twomey family took responsibility for the business in the late 1970s and it has since gone from strength to strength. As the popularity of its blackpudding has grown, both in Ireland and internationally, the company has also added whitepudding, sausages, rashers and bacon to its collection of foods.
Catching up with Clonakilty Managing Director and owner Colette Twomey just prior to Christmas, she and her team were understandably busy, but more than happy to talk about how 2018 had been an extremely positive year for Clonakilty. "We have enjoyed a very successful 12 months here, with strong trading levels across the business," she reveals. "Our staple products of blackpudding and whitepudding continue to increase in sales across various markets, while in the UK we have doubled our distribution levels with Sainsbury's, we have secured new listings with Booker, and our much-loved Ispíní Irish pork sausages are now available online with Ocado. So, as you can see, we have definitely not taken our foot off of the pedal when it comes to sales in the UK and elsewhere, which has helped us greatly, and gives us a really good foundation to build upon in 2019."
When it comes to tastes and trends, purchasers of Clonakilty's blackpudding continue to be driven by a desire to discover new applications for the product and how it can transform even the simplest of recipes. "People are increasing coming up with new ways to cook with Clonakilty and we have had wonderful engagement with our customers who are more than happy to photograph and share their creations, which we then get permission to share on our social channels," Colette continues. "These don't even have to be complex recipes. For example, one lady showed us how she crumbles up the blackpudding into an omelette and she was thrilled with the results. It can be as simple as that, but the difference in taste can be outstanding."
It is these same customers, and many more like them, that are also showing an ever-greater degree of awareness of what goes into the food they eat. "People are definitely more conscious today about the provenance of food and what goes into the products they buy, and rightly so," Colette states. "Clonakilty puddings tick the boxes that consumers are looking for, in that they are made with no artificial elements whatsoever, just four or five pure quality ingredients that go together to create great tasting food."
As Colette herself admits, while Clonakilty products are today found in a number of international markets, until now the company has really only dipped its toes in the water of what it can potentially achieve when it comes to export sales. This is likely to change in 2019, with the company having appointed a new International salesperson, whose job it will be to proactively canvass sales opportunities. "Up to now, our European sales have been somewhat reactive to demand that we receive from others," Colette adds. "This has resulted in the company gaining some good
business in countries such as France, Spain, the Netherlands and Germany. Customers in these countries have already displayed great love for our blackpudding, blood sausages, frankfurters and the like, and we look forward to gaining a greater foothold on the continent in the coming months."
New product launches
The love of Clonakilty does in fact extend even further afield, as demonstrated in August 2018, when its blackpudding product secured the both a Gold Medal and a Best in Class – Smallgoods 2018 award from the judges at the Australian Food Awards, who praised it for its 'excellent flavour, texture and appearance'. "This award is special to us," Colette enthuses. "Our foothold in Australia is relatively small, but we benefit hugely from our relationship with our local producer Peter G. Bouchier and his team in Melbourne, who make our blackpudding to the same recipe we use in Ireland, with premium Australian beef and our secret spice blend, mixed by myself and sent all the way from Ireland. Like ourselves, Peter's biggest motivator is quality and he shares many of the same traits as we do, and it is down to relationships like those we have with him and his team that we are able to celebrate accolades like those achieved at the Australian Food Awards."
Back on home soil, the company also finds itself rapidly approaching the first anniversary of its production moving into its state-of-the-art manufacturing facility, Companywhich will be in March 2019. It is then in the weeks following that Colette hopes to see the site's Visitors Centre open its doors for the first time, allowing visitors to the town to witness first-hand how the company's famous products are made.
"These are exciting times for us," Colette concludes, before discussing some of the initiatives that the company is looking to bring to fruition in 2019. "One of the things we will be focusing on is bringing new products and meat solutions to market, all related to our standout lines such as blackpudding and whitepudding, with many being designed for ease of use in the kitchen. We will also be introducing more convenient packaging and more products in sliced form. So, while we are not going to diversify too far away from our main lines, we will be focused on providing our customers with more options and solutions so as to enjoy Clonakilty as often as possible."