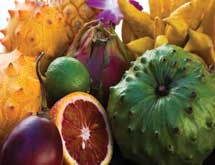 In 1992, Coastal Sunbelt Produce was born through a merger of Baltimore-based Coastal Produce Co. and Washington, D.C.-based Sunbelt Produce Co. In 2007, the company merged its operations with L&M Produce and became the leading foodservice distributor of produce and dairy in the Mid-Atlantic region. The Savage, Md.- based firm's success is mostly credited to its commitment to its customers.
Coastal's focus on quality and service has attracted leading national restaurant chains, hotels, institutions and foodservice establishments. It also has enabled the company to attract the area's leading independent restaurateurs. The company offers a full-line of produce and dairy products from its network of domestic and international growers. It also carries the area's largest selection of specialty produce, which includes items such as edible flowers, micro greens and peeled baby vegetables – which are used by the area's finest hotels, caterers, country clubs and restaurants. Recently, Coastal retrofitted the inside of one of its trucks as a specialty produce stand so busy chefs can browse an extensive offering of specialty products without having to travel to an open air market. The program has been very successful and has enabled the company to better serve existing accounts and secure new ones, as well.
Coastal operates from a 165,000- square-foot, state-of-the-art facility located between Baltimore, Md., and Washington, D.C. Through its fleet of 150 GPS-guided trucks, the company delivers six days a week from northern New Jersey to the Virginia/North Carolina border. The company also services Maryland, Washington, D.C., Delaware, eastern Pennsylvania and West Virginia.
"Our size enables us to offer our customers the largest array of products and services in the area," President John Corso says. "We marry our size with personal service to create real value."
The personal touch is one of the many factors that distinguish Coastal from its competitors. "When companies grow, they can lose touch with their customers and can often become impersonal," Corso says. "Our broad capabilities and our personal touch have made us a leader in our area and, for many, we have become the supplier of choice in our market. We believe that this is one of the main reasons we have continued to grow despite a soft economy."
Additionally, Coastal's dedication to food safety has translated into sales. "We are an established leader in food safety in the Mid-Atlantic region," Vice President of Sales Jim McWhorter notes. "Our rigorous standards go beyond those of the average fruit and vegetable company. We are certified by the U.S. Department of Agriculture and have been voluntarily enrolled in their Quality Through Verification Program for nine years. We are also one of a few produce processors to be SQF 2000 [Safe Quality Food] Level 3 certified, and have a dedicated Q/A team with testing labs on site. More than anything, poor food safety can jeopardize a restaurant's reputation or its franchise value. Customers and their patrons need to know their food is safe."
Creating Value
Coastal has continued to grow despite one of the toughest economic environments in recent memory. This speaks volumes of the company and its offering. "We take our growth as a sign that we are creating real value for our customers," Corso states. "Time is money and as our motto goes, 'We make it happen.'" With ever-tightening operating budgets, Coastal customers rely on the company to deliver great products, on time and to spec. The company's buying power enables Coastal to offer great value and consistency to its customers. Coastal's 15-person buying department has a collective 200-plus years of industry experience and contracts directly with leading growers and shippers domestically and abroad. The company works closely with its foodservice customers to source the right products in order to maximize product yield and lower food costs.
East Coast's Fresh Cuts – the sister company to Coastal's distribution business – has experienced robust growth in recent years. "East Coast Fresh Cuts is a leading regional processor of fresh-cut fruits and vegetables," Corso explains. "In addition to offering a full line of fresh- cut produce for the foodservice industry, we also offer an expanding line of products to the grocery channel, where consumers continue to seek convenience and ways to save time and money."
East Coast Fresh Cuts also manufactures a full-line of fresh-made salsas, which include regular, hot, fiesta and mango salsas. These salsas can be found at leading grocery stores from Maine to Georgia. In addition, Coastal's multi-unit operator business has continued to expand. "We cover a large and meaningful foodservice industry footprint," Corso says. "As such, we can help customers reach the greatest number of their units in the Mid-Atlantic. Our adherence to spec, our uncompromising quality standards, and our commitment to food safety have made us a supplier of choice for multi-unit operators in our served area."
"We have a broad customer base which includes QSRs, as well as the finest white tablecloth restaurants. Because of this, we have really been able to help our clients adjust their offering as they evolve in an ever changing marketplace," McWhorter adds. "Because of our scope, we have been able to navigate through shifting consumer preferences in the marketplace and have continued to grow."
Staying Strong
However, even successful companies have challenges. "Our products come from the ground and depend on Mother Nature," McWhorter notes. "Weather has a real impact on growing conditions and product availability." Coastal maintains strong relationships with the industry's leading growers. "When markets get tight, we shine," Corso emphasizes. "Our markets are very dynamic. You have to have strong relationships and you have to stay nimble. We must be certain that if a particular product is not available from Coastal, it will not be found anywhere at all."
Energy costs present another great challenge. "Most of what we sell comes from the West Coast or the southern states," McWhorter says. "Inbound freight is a major driver of the cost of produce in our area." Last year's fuel spike drove up food costs across the board. Coastal's scale enabled the company to mitigate these costs by purchasing full truckloads of product and when possible utilizing rail service, as well.
Coastal also has one of the largest local produce programs in the Mid-Atlantic. Working with the leading local farms and co-ops, the company delivers seasonal produce fresh from local farms. Always in high demand, these products more often than not, are also more cost effective.
Constant Investment
Coastal may offer quality products and services, but its success wouldn't be possible without the commitment of its people. Corso says the company invests heavily in its most valuable asset – its 800 employees. "At the end of the day, we are an execution-based business," he states. "It all comes down to our people, our values, our processes and our infrastructure. We are constantly investing in our business as we seek to expand our capabilities and our offering."
Coastal trains and mentors its employees and creates an environment that is incentive-driven. "This way, when the company succeeds, they succeed," he states. "We believe our business is a team sport. We are only as good as our players, so we focus on training, mentoring and developing people and creating ways for them to succeed both personally and professionally." The company's continuous improvement doesn't stop with its employees, however. "Finding efficiency and eliminating waste are essential to our long-term competitiveness," Corso says. "All too often, people equate a pursuit of efficiency with a reduction in service levels. We are a goal-driven company. Our operating goals are safety, service, growth, profitability and community involvement. While all our goals are important, none are more so than safety and service."
Like Family
Coastal's executives are all owners in the company. "In many ways, we are a family business because each of our executives has made a substantial personal and financial investment in the company," Corso says. "It's that ownership mentality that drives our passion for our business."
"Because of our company's size, some have tried to portray our company as 'corporate,'" Corso continues. "In reality, we are not. All decision making is made by the company's owner/executives. We all put our mobile phone numbers on our business cards and can be reached anytime. No multiple switchboard operators to go through here."
Sticking to Its Expertise
The team at Coastal is excited about the future. "We operate in a large and dynamic market and there is tremendous opportunity for us to grow," Corso says. "Our business comes down to people, process and infrastructure. By continuing to invest in all three, we believe we can continue to be successful. We will never lose sight of what got us here: great products, personal service and industry leading food safety standards."