Cole's Quality Foods celebrates 75 years of family-owned business baking bread products for the retail and foodservice markets.
Cole's Quality Foods was the first to introduce frozen garlic bread to grocery stores in 1973, creating a whole new category in the frozen food aisle. In 2003 the company launched the first freezer-to-table garlic bread, cutting prep time to only 10 minutes: a fraction of what it once was. Always on the cutting edge, Cole's launched the first twisted breadstick in 2010, which allowed the breadsticks to hold the garlic butter topping better than the traditional shape.
"[Cole's] has been family owned for more than 75 years," Vice President of Retail Sales Mike Neeley explains. "It was originally started by the Cole family who ran a traditional bakery in Muskegon, Mich., offering fresh donuts, pies, cakes and breads. The Vice President of Sales Wes Devon came up with the idea for frozen garlic bread in 1973, and eventually he bought the company from the Cole's family. Now Wes's son, Scott Devon, is president and CEO of the company and has taken Cole's to new heights."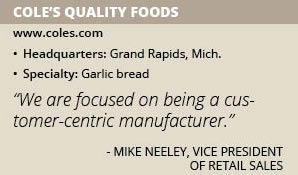 Maintaining the entrepreneurial and innovative mindset of his father, Scott is very involved in the development and testing of new products. Past examples include the twisted breadstick and mozzarella-filled cheesestick, but Cole's always has new products in the pipeline.
Headquartered in Grand Rapids, Mich., Cole's serves the retail, foodservice and K-12 school markets from its plants in Muskegon and North Liberty, Iowa. The company offers products in three key categories:
Frozen Breads – Original Garlic Bread, Zesty Garlic Bread, 5 Cheese Garlic Bread, Garlic Mini-Loaf and Bistro Garden Mini-Loaf
Frozen Toasts – Texas Toast, Garlic Mini-Toast, Garlic Toast and Cheese Toast
Frozen Breadsticks –Garlic Breadsticks, Pretzel Sticks with Pub Style Cheese, Asiago Cheesesticks, Ranch Cheesesticks, and Mozzarella Cheesesticks
A Personal Approach
As a family-owned operation, Cole's is more nimble than larger manufacturers, Neeley explains. The company receives a "tremendous amount" of requests from retail and foodservice customers to create new and customized products, and because of its size and structure, Cole's can respond quickly.
"We are focused on being a customer-centric manufacturer," Neeley says. "We pay attention to what customers want, for instance both of our bakeries are 100 percent peanut and treenut free. We are proud that families with nut allergies can confidently serve our products, not only knowing they taste good, but more importantly are safe for their whole family to enjoy." Cole's is also moving away from artificial flavors, colors and preservatives and got certified with the Roundtable on Sustainable Palm Oil (RSPO). "We went through the certification process because we value being a good corporate citizen," he notes. Both bakeries are RSPO and BRC certified, and Double-A rated, held to the highest standards of cleanliness and quality.
Continuing to Grow
"We offer several 51 percent whole grain items that are very popular in K-12 schools, which is a newer market for us," Neeley says. These products include garlic breadsticks, mini breadsticks, garlic toast and more. Cole's is also expanding into the Canadian market with retail and foodservice products. "We are always looking for ways to develop and become more efficient," Neeley says, "finding new things we can do to expand the category and make it more profitable for the retailer."
As an established company of 75 years, Cole's still holds the same values as its first retail bakery started by Caroll L. Cole in Muskegon, Mich. "Everybody has a direct line to our owner. It's important to us to maintain that family feel as we grow," Neeley says on the corporate culture at Cole's. "We want to execute as a large company, but act and think as a small company that can provide a more personal approach."