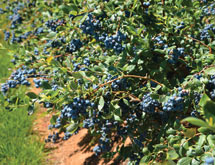 Columbia Fruit is located among rivers in Woodland, Wash., and the most significant is the Columbia River that runs adjacent to the land. The river helps cool the air and moisten the soil, creating an ideal spot to harvest a variety of berries.
"We have a very good climate," owner Marty Peterson says. "We have cool nights and our summertime is great. We don't get real hot and it makes the berries nice and tender and sweet. The Columbia River helps; it keeps us cooler." Extreme heat in the summertime can toughen the skins of the berries making them unsavory, he adds.
Columbia Fruit plants a variety of berries including blackberries, blueberries, cranberries, cherries, boysenberries, raspberries and strawberries. Planting begins in June and harvesting runs through early October.
Harvesting berries is unique because the crop ripens at different times. "Berries are ready for picking when they have the right flavor, color and sweetness," Peterson explains. "The whole crop doesn't harvest at one time, it's different than vegetables. We harvest five to 15 times a season depending on the year."
Farming Roots Run Deep
Peterson has farming in his blood. His father, Jerry, started a dairy farm on the current Columbia Farms property in 1959 with only 90 acres, one milk tank and 35 cows. Peterson is one of five children, who by the time they were four-years-old, all had jobs to do on the farm. "I grew up on a dairy farm and that's why I started farming – but with berries," he says.
In the 1980s, dairy farmers were in a bind because an oversupply in the country caused low market prices. The government held several buyouts of dairy farms and, in 1987, the Peterson family reluctantly sold its cows. At the end of the dairy farm's life, the family was milking 550 cows, Peterson remembers.
With acres of rich, fertile soil at their disposal, the Petersons started farming raspberries and harvested their first crop in 1988. In 1993, the family built a small processing plant that used the tray freezing technique to process the family's newly acquired 200 acres of raspberries. Peterson and his wife, Denise, bought out his father and brother and started Columbia Fruit in 1999. "We are celebrating our 15-year anniversary next year," he says. "Time goes faster than it feels like. It doesn't feel like it has been 15 years."
Berry Freezing
Columbia Fruit processes every berry on the farm before shipping. Peterson moved away from tray freezing because the berries were not getting fully clean. Today, Columbia Fruit uses a nitrogen immersion bath that washes the berries so they are clean for freezing. An individual quick freeze tunnel uses cryogenic liquid nitrogen at minus 365 F to freeze the berries. Peterson says this process freezes the outermost crust of the berry, locking in flavor, juice and aroma.
"Everything we do is done here on the farm," Peterson explains. "We sort them, grade them and then the berries go to retailers and into fruit blends we make here. We blend the fruit and sell the mixture in eight-ounce to five-pound packages to retailers."
Everything produced at Columbia Fruit meets United States' regulations and global food safety initiatives. "We are known for a better quality product," Peterson says. The USDA and the Washington State Department of Agriculture inspect Columbia Fruit annually. The company is also certified organic by Oregon Tilth Inc., the local certifying body for the USDA's organic program, Peterson explains. "We use the British Retail Consortium to come in and audit us, as well, to make sure we are doing everything right," he adds.
Berries and fruit blends are delivered in the United States and Canada. Columbia Fruit also ships overseas to Japan, Indonesia, Taiwan and Korea.