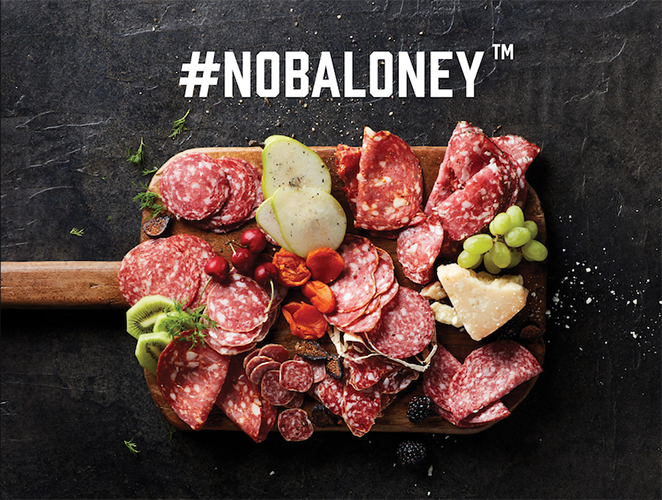 Columbus Craft Meats improves customer satisfaction by increasing transparency and collaboration in the supply chain.
Columbus Craft Meats is celebrating its 100th anniversary of providing authentic, premium Italian salami and deli meats in addition to finding a permanent home with Hormel Foods Corp. "We were founded by Italian immigrants who moved to San Francisco and began by producing salami in their apartment," Vice President of Supply Chain Cassandra Todd says. "From there, the business grew and continued to be a family-owned business until the early 2000s when it was sold to a private equity company."
Hormel Foods' acquisition of Columbus from Chicago-based Arbor Investments was announced in October. "What the acquisition means for Columbus is that we are now in a permanent home with a long-term owner," Todd says. "Hormel is a great partner and cultural fit and we are excited to have been brought into the business."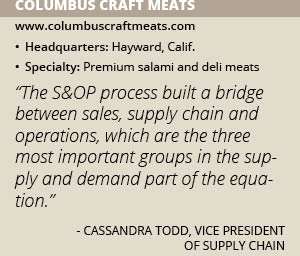 "We are pleased to add Columbus to the Hormel Foods family," Hormel Foods President and CEO Jim Snee said. "Columbus has an outstanding reputation in the food industry and is well-positioned in the advantaged retail deli category. Columbus is capitalizing on one of the fastest-growing areas in the retail grocery store with premium, authentic products that are on-trend with today's consumers who are looking for unique experiences, flavors and products."
The Hayward, Calif.-based company was a strategic acquisition for Hormel, positioning it as a total deli solutions provider and enhancing its other strong deli brands such as Hormel, Jennie-O, Applegate and Di Lusso. "We offer premium Italian salami and deli meats," Todd explains. "We only use whole muscle meats in our products and our meats are differentiated by their superior taste and their old-world artisan preparation. Columbus' products are on-trend and resonate with millennial consumers – the product portfolio is premium positioned, better-for-you/healthy and offers products across meal occasions, including extensive snacking offerings."
Columbus was named the No. 1 pre-packaged salami brand in the nation and one of the top five fastest-growing pre-packaged deli brands in the U.S. in 2016. "Salami is our heritage and we have expanded the Columbus craftsmanship and taste to a broad range of adjacent categories such as deli meats and snacking offerings." Todd says.
Improving Service
Todd came aboard Columbus as its vice president of supply chain two years ago and characterizes things back then as "chaotic." "The company didn't have great service rates to customers, and as a result, the sales team was fielding angry calls from customers," she remembers. "In short order, we have been able to improve that service level significantly. The case fill rate was in the low 80 percent range and today it's over 98 percent."
Columbus implemented a sales and operations planning (S&OP) process that Todd credits for the fill rate improvement. "Before, functional groups tended to operate in silos," she says. "The S&OP process built a bridge between sales, supply chain and operations, which are the three most important groups in the supply and demand part of the equation. We instituted that and improved relationships and transparency across the organization."
Before implementing the new S&OP process, one person created the demand plan with limited input from the sales department. "Recently we added headcount so we can work much more closely with the sales team," Todd says. "We have monthly calls with sales and regional managers to review the forecast and refine it. That helps us understand the demand better and contributes significantly to our improved service levels."
"The level of focus and reporting improved, each group took notice and the metrics improved," Todd notes. "This resulted in greater collaboration among the three groups."
Inventory Management
Columbus also completed two plant expansions – one in mid-2015 and the second in late 2017 to increase production, which also has helped with the customer service levels.
"There is seasonality to our business," Todd explains. "On the deli side of the business, it tends to pick up in January when people are dieting, in the summer when people are eating more sandwiches and in the late summer/early fall during back-to-school time. On the salami side, there is a seasonal spike linked to entertaining so we see a fairly significant uptick in September through December for entertaining during the holidays. We also experience an increase in sales around Mother's Day, graduation and the Fourth of July. With the recent plant expansions, we now have capacity available to react quickly to those seasonal spikes."
As Columbus continues to make changes in its supply chain, it has also improved communication with its suppliers and increased transparency with those suppliers. "Over the past few years, we've been able to improve some of the supplier relationships and quality levels by providing information and direction to our suppliers, with input from various functional areas including manufacturing, quality and marketing." Todd says.
Many of Columbus's suppliers have partnered with the company for more than 30 years. Although the company does not have formal vendor metrics, it does measure quality and service. "One of our major packaging suppliers was struggling with quality and service, so we had a very frank discussion with them," Todd remembers. "Their contract was up for bid, so we were up-front with them about the challenges we faced with their company and how that was going to impact the bid process. They took the feedback very seriously and implemented a number of changes that resulted in much better service and product quality improvement and they retained the business."
Building a Team
Over the past few years, Columbus has made a number of changes to its personnel and the result is "a really nice blend of people who have been with the company for a very long time and people who have come to the organization in the recent past," Todd says.
Changes in personnel and realignment of responsibilities has resulted in an upgrade to the skill set in Columbus's supply chain. "We are bringing in people with various backgrounds," Todd explains. "We brought on one person from a tech company, another from an ice cream manufacturer and one person came from The Kraft Heinz Co., for example. That has led to a diversity of talent, which combined with the folks who have been here for years, makes for a strong and diverse team."
Today, Columbus's high-performing supply chain team has great camaraderie. "Everyone pitches in and helps if someone is struggling or has a heavy workload," Todd says. "Our team also has great relationships with its cross-functional partners. I often hear that people love working with the supply chain team. As a team, we do a lot of things together and that has helped build that camaraderie."
Moving forward, the supply chain team at Columbus will focus on optimizing its warehouse and distribution network. In the past two years, the company's business has shifted from having a heavy focus on the West Coast to expanding throughout the country.
"We have one very small warehouse in Hayward and the volume of product that is distributed through the warehouse grew by about 20 percent last year," Todd says. "We are stretched to the rafters essentially. We are figuring out now what do we do going forward? Do we partner with a third-party logistics partner and move product to the Midwest? What products do we move out of this distribution center? We now have a high performing supply chain team and we can begin to make greater improvements and take the company to the next level of performance and service."