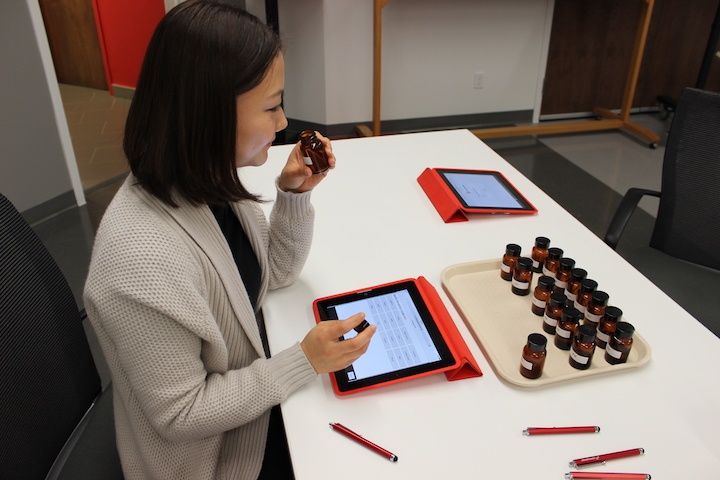 Compusense objectively analyzes new foods and beverages to increase the odds of success.
Globally, the food and beverage market is estimated to be worth $5.65 trillion. With that magnitude, there's no shortage of new product ideas.
Only about one in 1,000 ideas for a new food or beverage actually become a reality, according to Chris Findlay, founder of Compusense, a sensory evaluation software and services company located in Canada. Of those, only one in 10 make it past their first year. The most common reason that products fail is due to not understanding the consumer.
Compusense aims to increase those odds for its clients, among whom are some of the world's largest food and beverage manufacturers. They include General Mills, Coca-Cola, McDonald's, MillerCoors, Kellogg's, Molson-Coors, Ocean Spray and Red Robin.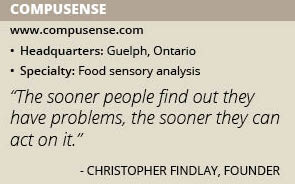 Compusense does two things for its clients. First, it measures the sensory properties of a food or beverage. "Those measurements are made with accuracy and precision," Findlay says. "It's calibrated and repeatable."
The company has about 50 trained panelists it uses to evaluate the sensory properties of food or beverages. "They are not expressing preference," Findlay explains. "They are expressing characteristics of a product. They can suspend their likes and dislikes and focus on the attributes of the product."
Beer analysis, for example, uses 25 attributes that the panelists are trained to evaluate. How does Compusense know that its results are reliable? "We work with trained panelists and we calibrate them," Findlay says. "We make sure the results have statistical robustness."
Driving Objective Standards
According to Findlay, the biggest challenge for sensory science is that "everyone who eats three meals a day is an expert on food. Everyone who has developed a company around a product they like assumes they are representative of [the tastes] of the public." Yet, as consumer data has proven, that is far from the case.
Employees of food and beverage companies can lack objectivity about their products, too. "Everyone wants a winner," Findlay says. "No one wants to be told they have an ugly baby."
Compusense's first client was Brown-Forman of Louisville, Ky., best known as the manufacturer of Jack Daniel's. Brown-Forman decided to sell barbecue sauce, cocktail mixes and other food products. "They were burdened by the amount of information they were trying to handle," Findlay says, adding that Brown Foreman remains a client more than 30 years later.
Once clients get feedback on their products, they can use it to refine them. That can be challenging.
"One of the curses we have in such a large consumer market is that products tend to go to the center of what's expected in that category," Findlay says. "Being able to differentiate a product is really important."
Testing at Scale
When a potential client comes to Compusense, the company screens its panelists for those who are acceptors of the product concept. Compusense then identifies the most similar products already in the marketplace and maps the new product into product categories.
Next, it studies a sample group of about 100 consumers on how much they like the product. Compusense uses a nine-point scale. "If you are going to launch a product, you want it to be better than seven on that scale," Findlay says. "If it's a luxury product, it should be better than an eight. You also have to work with real consumers."
Compusense's biggest contribution to the field of food sensory science has been to develop software that allows clients to survey consumers online. "We moved from collecting all this information on paper to being able to collect it directly on computers," Findlay says. "Having it on computer means you can analyze it immediately."
Consumer-Focused Quality Testing
With the introduction of their newest product, CtrlTaste, companies of any size can scale their operations while preserving the integrity of their product. CtrlTaste is a cloud-based, subscription software designed for consumer-focused quality testing in a production environment. It is designed to be ruthlessly simple, making sophisticated testing easy and accessible and allowing startups to enter the market with confidence.
While the giants of the food and beverage industry can afford to hire Ph.D.s to objectively evaluate their new offerings, Compusense software provides small and mid-sized companies with the same services. "It's not about putting a bunch of ingredients together and hoping it turns out right," Findlay says. "Sensory properties are really important."
While no one can guarantee the success of a new food or beverage, Findlay says, Compusense and CtrlTaste can greatly cut down the chance of failure.
"The sooner people find out they have problems, the sooner they can act on it," he says. "It's the development of evidence rather than going on opinion."