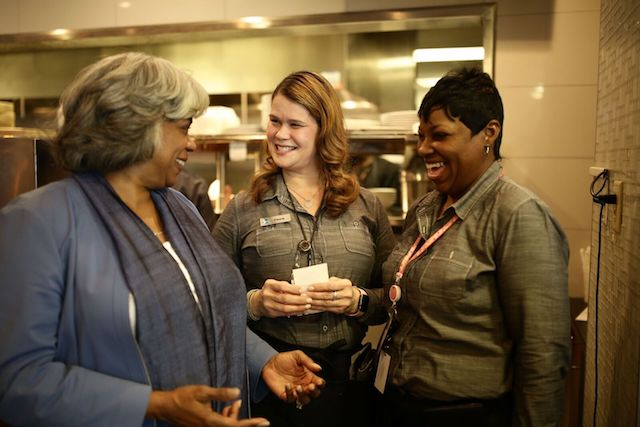 Concessions International
Concessions International of Atlanta has grown for 40 years and plans to continue.
Concessions International began in 1979 as a disadvantaged business enterprise, a type of government affirmative action plan aimed at encouraging minority-owned businesses.
Forty years later, Concessions International has a presence in eight airports: Atlanta, Seattle, Denver, Dallas-Fort Worth, Miami, Dulles in Virginia, Reagan in Washington D.C. and St. Thomas in the U.S. Virgin Islands. It operates national brands such as Chick Fil A and Einstein Brothers Bagels along with regional brands such as Paschal's in Atlanta and Heidi's Brooklyn Deli in Denver.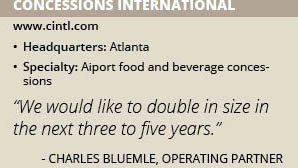 Concessions International got its start when HMS Host had a need for a minority-owned business and reached out to Herman J. Russell of HJ Russell & Company in Atlanta. "They said 'Hey, would you be interested in doing this airport thing, in Los Angeles?" Operating Partner Charles Bluemle says. "Russell [was] an entrepreneur. He is really about bringing where he's from and people of his color and life situation into the business. He said, 'I'll come out there and take a look but I'm not just going to do it as an investor. You have to teach my team and I the business.'"
HMS Host agreed and Russell went to Los Angeles and opened a restaurant at LAX that his company operated for 20 years.
Over the years, Concessions International went from a disadvantaged business enterprise to a prime contractor. That means it gained a contract that brought in annual revenue of $60 million for three years. "Its difficult to sustain that level of revenue when you come in as a small disadvantaged business enterprise," Bluemle says. In 1999 Russell bought out his two partners and turned Concessions International into a family-owned business.
Local and National Brands
When airports want to bring in new restaurants and beverage retailers, they have a competitive bidding process. A request for proposals (RFP) will detail the categories it is seeking – a national coffee brand, a regional burger brand, a local restaurant brand, and so forth. "We will find the best brands that we think the airport and passengers will like," Bluemle says. "[Because its federally regulated,] the airport cannot tell us the brand but they can say the categories."
The business development section of Concessions International will research different food and beverage retailers that might fit the bid and put together a proposal. Sometimes it proposes established entities with a long track record. Other times it suggests newer operations. The business development section has a knack for picking winners.
"We were the first group to bring Panda Express into an airport back when they only had four restaurants," Bluemle says. "Now it's a multi-million dollar enterprise." If Concessions International wins the RFP, it designs the food or beverage space, renovates and rebuilds. It then hires staff and operates the food or beverage retailer as a franchisee of its brand(s). The contract usually runs for seven to 10 years, Bluemle says.
Daily Paychecks and Pet Insurance
Finding employees to work in its restaurants and beverage retailers is a challenge. First, operating food and beverage retailers in an airport is more complicated than running a street location, Bluemle says. For example, employees in an airport have to go through three federal and one local background check that includes being fingerprinted.
The checks cost Concessions International $250 to $350 per employee. Then it can be challenging finding employees who will work unusual shifts like those that start at 4 a.m.
Concessions International responds by understanding what's important to its employees and being flexible enough to offer it. These steps include "paying people every day versus a traditional paycheck," Bluemle says. "When I first brought it up, people looked at me like I was crazy."
Concessions International also offers such benefits as pet insurance and an option for employees to sell back their vacation to the company. "These are the ways we have to challenge ourselves," Bluemle says.
Double in Size
"Business is great," Bluemle says. "In November we were just awarded the largest single location concession at Sea-Tac Airport. It's $20 million annually for one restaurant, Salty's, an iconic restaurant in the Pacific Northwest. That's a huge win for our company."
Concessions International also opened a Shake Shack at Dallas-Fort Worth International Airport and a Bobby's Burger Palace inspired by Chef Bobby Flay at Hartsfield-Jackson Airport.
Concessions International also is ambitious. "We will continue to focus on growth," Bluemle says. "There will be a few new markets but we are [mostly] looking at our current partnerships for airports. We would like to double in size in the next three to five years."