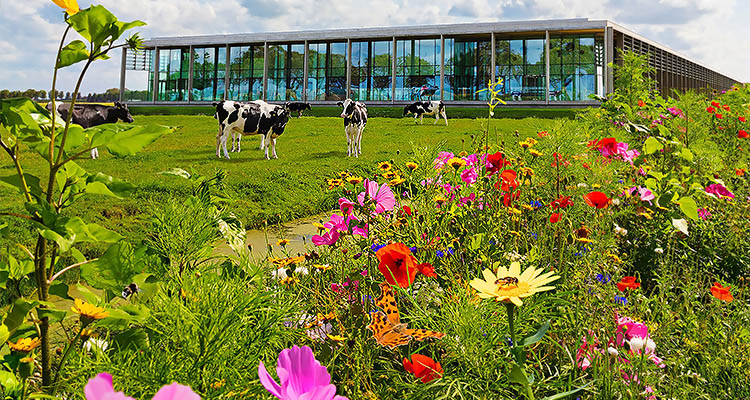 CONO Kaasmakers is on a mission to become more sustainable across its entire operation
Up until the early 17th century, the Beemster Polder in the Netherlands had been submerged underwater for a few hundred years. The region had previously been synonymous with peat-digging, which combined with storm floods, had led to a small river that ran through the area bursting its banks, and becoming an inland sea of sorts.
By 1612, the area had been fully drained, using a network of dykes that was powered by windmills. The city of Amsterdam was growing rapidly at the time and the initiative had been established to secure more farmland to grow crops and vegetables. Today, Beemster Polder is registered as a UNESCO heritage site and home to CONO Kaasmakers (CONO), one of the country's leading dairy cooperatives known for its Beemster Cheese.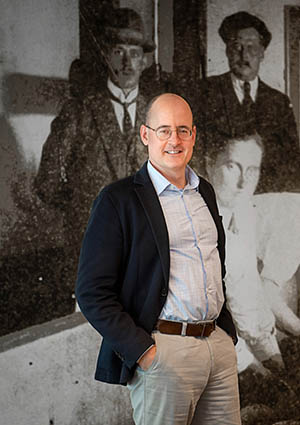 "Unfortunately for those who committed years of time and effort to successfully draining the Beemster region, grass was the only thing that could grow on the land," explains Jerry Griep, CEO. "So, cows were introduced, and the rest is history! Our location on the Polder facilitates one of the driving factors behind the incredible quality of our cheese – our cows graze outside as long as nature allows them to, and the grass itself is rooted in salty sea clay.
"We sell our cheese in more than 50 countries across the globe, and, although we're always looking for new opportunities, volume is not our main driver. We are only interested in partnerships that focus on win-win outcomes for both parties and that are based on added value. If we're approached by somebody who is merely looking for the lowest price going, we kindly suggest that they search elsewhere."
CONO has a long history of caring for the earth from which its products evolve. As early as 2008, the business introduced a sustainability program by the name of Caring Dairy, which was orchestrated alongside Ben & Jerrys. To this day, CONO is the main supplier of the cream that the ice cream giant uses for its products sold in western Europe.
"The premiums that we offer farmers, once they achieve a certain standard with regards to our predetermined sustainability goals, are one of the cornerstones of this initiative," he continues. "Our production site was certified climate neutral in 2020, and our new cheese dairy was constructed using sustainable materials and with a focus on the reduction and reusage of heat and water. Our current ambition is to become carbon negative by 2030 throughout the entire cheese value chain, from farm to fork. We don't quite have all the answers yet, but if you don't try, you'll never get there!
"CONO never compromises on quality, and I'm not just talking about the intrinsic quality of our products either, but regarding everything that we do and that makes us who we are. Besides ensuring that our cows graze outside as much as nature allows, we still produce our cheeses traditionally by hand-stirring the curds. The cheese master alone decides when it's time to move onto the next phase of production, as time is a central quality to our products. Taste takes time, and if our packaging says 24 months, it means 24 months of real aging on wooden boards.
"Sustainability is in our DNA," Jerry adds. "We were the first dairy company in the Netherlands to offer premiums to farmers who could match our environmental guidelines. Our farmers don't always look at the world in the same way, but everything they do is always focused on caring for their animals and land, and the overall environment. It feels great to be recognized for these achievements by Dutch consumers in the sustainable brand index where Beemster cheese has been ranked as the most sustainable cheese brand for four years in a row now.
Reducing energy consumption
"The business relies entirely on green renewable electricity, which our farmers partially provide through wind and solar. Besides water and heat, however, energy is a major focus of ours, as we still use a large volume of natural gas. We are currently deciding whether to replace this by completely electrifying our processes or switching to hydrogen, but unfortunately, these things don't happen overnight. For the time being, we are putting our efforts into reducing our energy consumption as much as possible, reusing energy, and encouraging our employees and peers to switch to electric solutions."
Sustainability strategy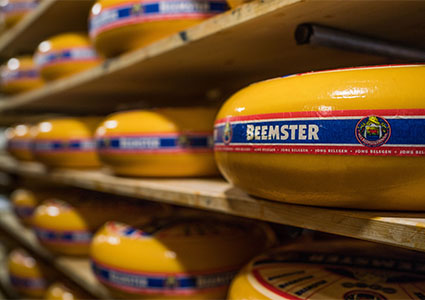 Somewhat echoing the evolution of CONO, Jerry's career has been through some developments of its own. After a brief stint of working in logistics management, he decided to study for his MBA in Hull, UK, before moving back to Rotterdam to join Van Rees, a tea-trading company. He moved from tea to coffee, by joining Douwe Egberts where he remained for eight years, before coming to CONO in 2012 as a sales manager.
"I was immediately attracted to CONO's ethics and structure," he says. "I love how we're simultaneously financially secure and small enough to move quickly when it comes to decision making. I'm hugely excited to have the opportunity to lead us into the future, regardless of the uncertainties that it may present us in terms of unclear government policies and the changes within consumer behavior and sentiments towards dairy products. There is no farmer within our cooperative that doesn't wish to be more sustainable, but most of them are going to require clear policies that span the next ten to 15 years to fully commit.
"We have addressed every step of the process, in our support for decarbonizing the entire cheese chain. From the animal feed for our farmers' cows to the transportation of milk and whole cheeses, cheese production, slicing, and packaging too. We recently introduced the first electrical milk truck that collects milk from each of the farms, where the owners are continuously on the lookout for ways to improve their best practices. Like I say, our main issue is our usage of natural gas, but we'll get there.
"At CONO we all share the mentality that humans have created the problems that we now face, so it's up to all of us to put them right," Jerry states. "Our farmers are the owners of our company and have been since its establishment in 1901, it's as true a coop as you'll ever find. They founded it to ensure that they received the best prices possible given any market circumstances, it's just unfortunate that those of late haven't been particularly favorable. We've faced a lot of challenges together over the last 122 years, and there will forever be issues that require our attention.
"I am confident though, that we will be able to provide our farmers with a bright future regardless, one that will certainly allow for them to pass their livelihoods onto the next generation. I would argue that one of the key problems that goes against this, is how consistently low consumer prices have been in recent years. It makes it incredibly difficult for members of the industry to secure sustainable incomes. Thus far, however, by focusing on our branded cheese strategy, we have been able to come out on top for many of the last 15 years though, as compared to the other Dutch dairy companies."
Product leader
As the conversation turns to Jerry's vision as the new CEO of CONO, he looks to the future. "A few years ago, we developed a strong strategic compass that is still guiding the company's future, today. Our goals are very clear, but that's not to say we can't turn direction at short notice if needs be. We all know now how quickly the world can change. In remaining flexible enough to facilitate this approach, we've identified three key phases.
"The first is to optimize the current business. Although it needs to pay the bills that are coming in each month and reward our farmers appropriately, it's also our lifeline in generating sufficient revenue to fund the next two phases. These involve transforming CONO as we know it, to better serve our customers by introducing direct-to-consumer strategies, for example, and protecting the business from what may be around the corner. You can never be 100 percent sure as to which future changes could post existential threats to our business.
"Within the next three to five years," he concludes, "I see the organization performing either close to or at the top of dairy business. It's only a matter of time before we reclaim and cement our position as the product leader in the branded cheese category. All the while, we can continue our focus on supporting innovative sustainability programs that improve animal welfare, the climate, biodiversity, and the position of our farmers."