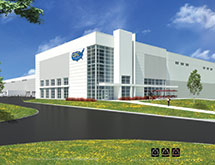 Consolidated Distribution Corporation, LLC
A focus on customizing supply chain solutions for its quick-service restaurant and foodservice customers is a hallmark of Consolidated Distribution Corporation, LLC (CDC), which marks its 25th anniversary this year.
Says CDC Chairman and CEO J. Mitchell Rader, "Our employees have an ingrained culture of customer service. If we are doing our job, the customer feels as though we are a seamless part of their organization."
Based in Lemont, Ill., CDC serves the quick-serve, fast-casual and casual-dining restaurant markets with supply chain, redistribution, warehousing and storage, promotion, premiums fulfillment, logistics and transportation services.
Today, CDC is the largest independent multi-concept redistributor in the United States. CDC's customer roster reads like a who's-who of the quick service restaurant industry, with such legendary names as Dairy Queen, Popeye's, Arby's, Checkers, Denny's, Yum! Brands, Burger King, A&W Restaurants Inc., Long John Silver's, Cinnabon Inc., Moe's, Auntie Anne's Inc. and Schlotzsky's.
CDC has established its niche by providing a unique level of service and high transparency to these firms, ensuring the most efficient operation possible.
The Perfect Place
CDC's sales grew more than 55 percent between 2010 and 2014, due to expanding business with current customers as well as with new ones, Rader notes.
The company has no plans to slow down. In response to customer requests, CDC is investing in a significant new distribution facilities, adding new capabilities for refrigerated products in addition to expanding its ambient and frozen capacity, by this fall.
"We will be increasing our combined warehouse capacity to nearly 400,000 square feet, with 40-foot clear ceiling heights, along with the flexibility to expand to even more space," Rader says. The new location includes two new facilities at RidgePort Logistics Center, an industrial office park in Wilmington, Ill.
One of the new buildings will house refrigerated and frozen products, and the other will focus on ambient products. Both would permit CDC to continue to expand and support its current customers' growth needs.
The refrigerated and frozen goods center will cover approximately 111,000 square feet and feature 16 dock doors and five rail-served dock doors. This facility has the ability to expand to 200,000 square feet.
The first phase of the second building will cover 578,000 square feet, and CDC will lease 287,000 square feet as the anchor tenant. It will have 45 dock doors and five potential rail-served dock doors. This building has the ability to expand to more than 1 million square feet.
"By expanding our capacity and creating our warehouse super center, we are making a commitment to continually serve our customers with the highest level of service," Rader says. "These new buildings will be our home for many years to come."
CDC also will benefit from RidgePort's location, which is 32 miles from its current location in Lemont, right off of Interstate 55 and Lorenzo Road. This places it close to the future Illiana Expressway, a toll road that will connect Interstates 55 and 65.
The site is served by BNSF Railway. Additionally, there is an intermodal yard six miles north in Joliet, "so it is going to be a strategically perfect location for us," Rader says.
Managing It All
This summer, CDC will launch its most exciting and innovative approach to a customer's supply chain solution. "We call it 'Genesis,' since it is the beginning of a new era for us and our customers," Rader says.
Instead of a third-party logistics (3PL) solution, where a customer hires a group to manage its freight solutions, Genesis is more of a fourth-party logistics (4PL) solution. CDC will manage its customer's entire supply chain, utilizing best-in-class processes.
For example, CDC will use a combination of multiple 3PLs, dedicated carriers and asset-based carriers to determine how to best ship the product.
"We'll determine whether it goes through redistribution, cross dock, third-party warehouse, and whether it goes direct from the supplier, backhauled by the distributor or managed direct by CDC," Rader says. "We'll manage all of the components."
Customer Collaboration
Each CDC customer is different in terms of its needs and how its particular company works. This makes CDC's custom approach all the more important.
CDC actively works with customers to find solutions to their toughest supply chain issues. "Our customers are continually fighting for market share and cost reduction," CDC President Scott Pearson says. "We make sure to listen to our customers' needs and then develop collaborative solutions."
CDC also has designed specific services to help improve the supply chain around limited-time offers (LTOs), new product introductions and items being phased in and out.
"The nature of these programs requires attention to timing, inventory quantities being in the right geographic location and the ability to react quickly to changes in promotional programs," Pearson says.
Another example is a customer that has different products, but wants to market them together. According to Pearson, "They'll ask us if we can take two particular products, mix them together in a kit and help get that to the distributor through the supply chain."
If a manufacturer does not have warehousing space for a promotion and needs to gear up production because demand is rising, "They'll work with us to warehouse their product here because they don't have the room," Pearson says. "We'll work with the vendor and our customer to warehouse the product to gear up for promotional events."
CDC also ensures that its services seamlessly interface with its customers' systems, allowing them to help manage difficult logistics areas and reduce overall costs. So far, CDC has been able to reduce its transportation costs, inventory obsolescence, expedited freight and out-of-stock as it relates to these programs.
The Genesis product will also help drive down costs. "With Genesis, we can build a customized supply chain, re-engineer it and even help manage it, if so desired," Rader says.
Opportunity to Share
CDC recently hosted its third Redistribution (Re-Di) Summit, which was held from June 10 to 12 at the Eaglewood Resort & Spa in Itasca, Ill. The event was an opportunity for forward-thinking distribution leaders within the restaurant industry to exchange best practices in a small-scale forum.
The event's guest speaker was Technomic Inc. Senior Principal Barry Friends. He also serves as the executive director of the Technomic Foodservice Category Management Institute, working with manufacturers, distributors and operators to evolve commonality of language, metrics and processes while propagating best practices throughout the value chain.
Executives and top decision-makers met at the event to discuss topics in the industry, including redistribution, transportation and logistics, LTOs/RMOs, industry updates and trends.
In 2015, the enthusiastic responses and turnout of 56 supply chain attendees representing 48 restaurant concepts illustrated the continued need and great appetite for establishing relationships and partnerships to help address key topics surrounding today's challenging economic and competitive environment.
An Experienced Team
CDC enjoys minimal employee turnover. "We have been able to develop our employees to continually take on responsibilities that allow us to promote from within," Rader says.
The company has retained this veteran team through a customer service culture that gives employees autonomy.
"We have very experienced colleagues who know not only how to satisfy our customers' needs, but resolve customer problems in a timely manner," Rader says. "We also are recruiting talent from our nation's top business schools. Recent graduates see the ability to come in and be a part of a growing forward thinking organization."
Doing the Right Things
Rader joined CDC in 2008, when its management team and two private equity groups, BrightPath Capital and Marquette Capital, purchased and recapitalized the company. In April 2009, he moved into the role of CEO and Chairman of the board for CDC, from his position of Principal of BrightPath Capital, headquartered in Indianapolis.
Rader's experience with KPMG and in senior level financial and operational positions at food manufacturing and distribution businesses, combined with its senior management team, give CDC a terrific opportunity to build the business to higher levels. "It is the experience of our senior management team that bolsters CDC to roll out the Genesis consultative approach to be a total supply chain transportation solution," Rader notes.
When it comes to leadership, there are three characteristics that Rader himself says that he strives to model.
First, he says a leader must do the right thing. A recent example was when CDC recognized that moving office locations would create travel issues for some employees. "Though it was a tough short-term decision to make, it was the right solution because it will ensure long-term job security for our employees, and provide the best opportunity for growth," Rader says.
Second, a leader must be able to manage the meaning of his vision, mission and messages so they are clear and actionable. In Rader's view, a company is only as good as its people.
"As a leader, our senior managers must recognize that this statement is common sense, but it is not always common practice," he explains. "Each of us has to model the behavior that we really do care about each and every one of you."
Third, a leader must manage the bond of trust by doing what he/she says they will do.
The future of CDC is bright, especially given its new expansion and major move into Genesis. "Everyone wins in this scenario – our customers, our people and CDC as a company," Rader concludes.