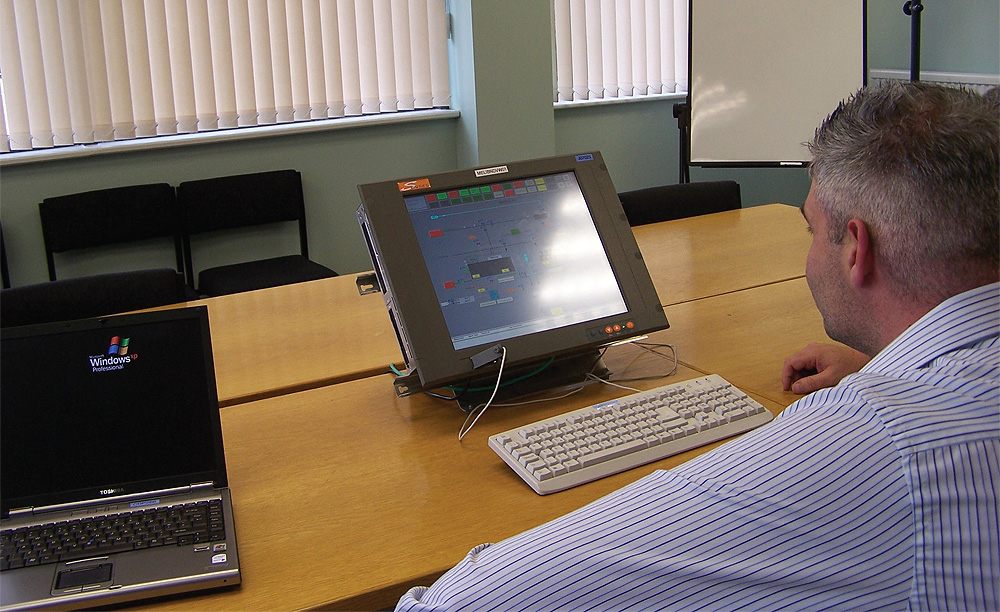 Control Design and Development Limited
The right solution
Control Design and Development Limited is confident of future growth, as Roman Strotz highlights
Control Design and Development Limited (CDD) is a wholly owned subsidiary of Bühler AG, a global technology group and system partner for plant, equipment and process expertise in the fields of food processing, chemical engineering, and die casting. CDD provides a comprehensive range of products and services for the food and pet food industries, ranging from software integration solutions to complete packages for control systems including backup services such as 24/7 support – the company's capabilities are extensive.
Roman Strotz, managing director of CDD explains: "I have been with the company for 13 years, it was originally founded in 1981 and in 1991 it was bought by Bühler. In the UK we have one site in Peterborough, and though we provide services all over the UK, we also export to the EU and further afield. As a company we provide solutions mainly for the food and pet food industries.
"We offer complete turnkey solutions for the process automation of these industries, from electrical installation, PLC and SCADA (supervisory control and data acquisition) software, to business management systems. Our main customers are blue chip companies mainly established in the cereals, snack, flour milling and pet food industries. Approximately 15 to 20 per cent of our business is export, distributing software and panels to a number of countries in the EU, and through the Bühler group we are able to supply software all over the world."
The company prides itself on its deliverance of superior production management, business system integration and process control, providing a complete solution for a customer's production needs. Its after-care facility is a further example of the company's focus on quality provision, with emphasis on employee training, documentation that reduces maintenance, down time and round the clock support.


CDD is currently engaged in a number of large contracts, and Roman outlines its main ventures: "We have recently had a very big contract in the pet food industry where we supplied the control system for a complete pouch production facility for pet food products. This is an example of our complete turnkey solution, providing installation, panels and software so the customer can operate the plant automatically. We had to tackle a number of new technologies, safety PLCs and Rockwell Automation products such as FTBatch, as well as implementing quite a sophisticated network architecture. However, I think we have been successful because of our reputation and professional approach, the quality we provide in our range of services, and most importantly we have the experience in the industry that customers trust. It's the largest contract we have ever had and is worth £2.5 million – it is now in its finishing stages.
"At the moment we are also looking at developing and providing more installation consultancy services, the use of distributed, intelligent installations, and energy saving measures, all designed to alleviate the stresses of the current economic situation and to reduce energy costs for our customers. We are actively working on these new product services and though it will take a bit of time and money on our part, I believe there is a lot of potential for us in the long run and the market will benefit as a whole."
He adds: "Our parent company Bühler has launched a new product for automation – WinCos.r2. It is based on the latest technology and embodies features like KPIs (key performance indicators), audit logging, product traceability and energy monitoring. We are looking to launch its cutting edge characteristics into the UK once we have trained up our employees to appreciate its full range of functions."
CDD is made up of a 50 strong team of multi-disciplined employees with skills encompassing high level IT, SCADA, PLC, hardware design/build and electrical installation.
The company's internal quality system Developmentis ISO 9001:2000 and TickIT accredited, its emphasis on quality training can be recognised as its key strength in the industry. However Roman notes the strain the lack of skilled workers in the industry has had on the company: "At the moment we are heavily loaded with work and we are struggling to find skilled labour. It is a real challenge and so we are engaged in encouraging and training up younger people in the company. We are also recruiting people on a more worldwide basis; we have a mixture of people from a range of different cultures working for us, which has positive effects for our operations abroad. In addition we try to ensure we retain employees once they are working for us; we do a lot of training and coaching, as well as giving employees roles of responsibility. We are always interested in long-term relationships not just with current clients but also with our employees. We will not just engage a few people and then hire and fire. We value our employees and so we will grow in a gradual, controlled manner appreciating the partnerships we have with our existing clients."
Having the support of such an established company as Bühler, is an advantage in stabilising CDD's future within these difficult industry conditions. He states: "Probably the most influential factor customers see is that we have the backing of a large organisation like Bühler. Obviously we have our own credentials and we compete in the market for work, but having the financial backing and the access to Bühler's purchasing power will benefit us over the next few months. Over the next two to five years, though it will be challenging, I think there will be continued growth. We would really like to maintain the successful, established culture and management style of the company, consequently we are looking for controlled growth.
"On the whole, industry activity seems to be decreasing, but on the other hand we have good prospects. It is hard to say how the business will be for us as projects can get delayed or cancelled, especially in the current climate, but I am convinced we will at least maintain our position in the market," Roman concludes.