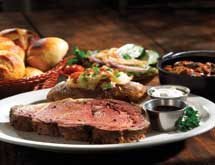 Cool Hand Luke's Steakhouse
Randy Brooks, president and CEO of Cool Hand Luke's Steakhouse, calls himself a "restaurant brat" since he grew up in the restaurant business. His father, Chick, developed more than 20 concept restaurants. "I've worked in restaurants since I was 10," Brooks says. "I've been a busboy, manager and driven delivery trucks. I've done it all."
Brooks has since followed in his father's footsteps and, in 2004, opened Cool Hand Luke's Steakhouse. The western-themed restaurant actually has nothing to do with the famous Paul Newman movie. "Ever since he was little, we called my son 'Cool Hand Luke,'" he explains. "My uncle Dee was a ranch hand; everybody called him 'Cool Hand.' So, it's kind of a tribute to both of them."
The restaurant specializes in grilled steaks. "Some of our signature items include the bacon-wrapped sirloin, Santa Maria tri-tip and skirt steak finished with A1 butter," Brooks says.
Don't let the steakhouse tag fool you, he adds. The restaurant also offers chicken, seafood, pasta and decadent desserts. The bar features saloon-style swinging doors and comfortable couches. "It's filled with elements that take you back to a great time in our country's history," Brooks says.
Old West, New Ideas
Thanks to the down economy, people have become more value-conscious, Brooks says. "When people spend $20, they want to know they're getting the best value for that money," he says. "We're in tune with that, and we want to make sure the experience they're getting is memorable. We're known for our portions, and our dinners include a salad, rolls and ranch beans. Our Old West theme is more carried out than other chain restaurants. When you're [at Cool Hand Luke's], you feel like you're in the Old West."
Cool Hand Luke's also is reformatting its menus to offer multiple portion sizes of the food its customers love. Brooks adds that the company is offering more of a selection of entrées and has even begun to offer take-out items and catering.
"We're now doing small and large versions of our popular dishes," Brooks explains. "We have an everyday special steak and baked potato for $9.98, five of our appetizers for $5 each and a steak and salad offering."
Brooks says he likes to promote the mantra, "If you give, you will receive." He encourages all 11 locations of Cool Hand Luke's to be a part of their respective communities by donating to local charities. "If people see you out there donating your time and food, it creates a synergy with the community," Brooks says. "They'll recognize us and come and eat with us — maybe not today or tomorrow, but somewhere down the road."
Cool Hand People
Not only is Cool Hand Luke's named after a family member, it's run by the Brooks family too. Brooks' wife, Deborah, is the company's vice president and their daughter, Jenny, is a design specialist. Other key people involved with the success of Cool Hand Luke's include Kelly Allred, vice president of operations; Scott Allred, meat plant director; Matt Wyrick, operations director; Jesse Villacana, corporate chef; and Nichole D'Ambrosia, marketing director.
He says that almost all of the people at the company's corporate level have worked in the restaurant business all their lives, and that makes a difference. "We all know what the customer expects and try to make their experience with us the best it can possibly be," Brooks notes. "Everyone at the corporate level still goes to training seminars. We need to stay up to date to make sure we're in tune with what customers want."
When it comes to distinguishing Cool Hand Luke's from it competitors, Brooks says it's all about the people. "I look for that underlying layer of quality in people," he states. "When you have quality people, you get quality service."
As for training those quality people, if it's a new location, Brooks likes to provide four weeks of training before the restaurant opens. He even brings in mock customers. "We want our servers to be able to make decisions without the manager," Brooks explains. "We want them to take ownership.
"We like to promote from within," he says. "I always tell my managers to train their replacements. I want to make sure the good people get to the top."