Cooper's Hawk Winery & Restaurants continues to grow its wine club membership while expanding its lifestyle concept in new ways.
Tim McEnery's dreams of pairing signature menu items with exceptional wines made in their self-owned winery and bringing experiential retail into the restaurant space were realized in 2006 when the first Cooper's Hawk Winery & Restaurant opened in his hometown of Orland Park, Ill. His passion for food, wine, hospitality and people has fostered a community-based culture in each of the company's 27 locations.
"The most powerful parts of our community-based philosophy are the relationships that are formed through the Cooper's Hawk Wine Club," McEnery says. "Individuals who sign up to be part of the club share a common interest and passion for wine with a desire to learn more. They like to have fun, travel and share food and wine experiences with like-minded people. I've seen so many meaningful and lasting friendships develop over a glass of wine."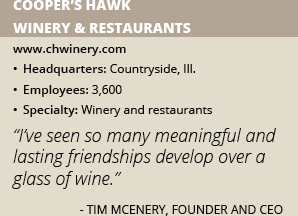 The Cooper's Hawk Wine Club began immediately, offering a bottle of wine every month and discounts to its 500 members at the time. In addition to its 47 different wines, the company creates 12 unique wines annually for its wine club members. Over the past decade, the Cooper's Hawk Wine Club has grown to more than 250,000 members nationwide. "We realize how integral the wine club community is to the success of Cooper's Hawk and how experiential it has become," McEnery says.
On the wine club's first international trip to Paris, for example, McEnery remembers everyone was exhausted after traveling, but he introduced himself and thought everyone should do the same. "I said, 'I know you are tired, but let's go around the bus and say your name and where you are from,'" he remembers. "As we started going around, people said 'My name is Allen and I'm from the Orland Park Cooper's Hawk.' The question was: 'Where are you from?' But club members identified themselves with the Cooper's Hawk location they go to. It's so much more than a loyalty club."
Club Benefits
Members come to their Cooper's Hawk on a monthly basis to pick up their bottle of wine. The members do not see it as an inconvenience because it gives them a reason to come into the restaurant, McEnery says. "It's a reason to celebrate and get out," he adds. "If they don't come in every month it's no problem. We keep the bottle of wine here for them and that gives them flexibility. Everyone uses the club in a different way."
The wine club also hosts exclusive events throughout the year. At the beginning of May in Chicago, Cooper's Hawk Wine Club hosted Food Network Chef Tyler Florence, an award-winning chef and winemaker known for his Blending Sessions wine label. The Cooper's Hawk winemaking team partnered with Florence to develop a refreshing, food-friendly pinot noir rosé that was offered exclusively to wine club members. "We are always keeping it exciting, unique, special and fun," McEnery says.
In June, Cooper's Hawk Waterford Lakes in Orlando is hosting Jeremy Ford, Top Chef winner and chef de cuisine at Matador Room by Jean-Georges in Miami. The event is exclusive to its wine club members who will get an opportunity to see Ford demonstrate his signature dishes and pairing each with award-winning Cooper's Hawk wines.
To develop award-winning wines, McEnery says inspiration comes from traveling to wine regions, visiting new wine shops monthly and taking in new concepts or ideas. "I was studying for the master sommelier program, but now I study on my own," he adds. "Really I take in everything and go anywhere to stay relevant. The more good wine I get to drink the more everyone benefits."
Expanding the Brand
Cooper's Hawk continues to expand throughout the country with plans to open five locations this year and six in 2018. "We continue to work on making the concept more innovative, more lifestyle-focused and interesting," McEnery says. "It would be very easy right now to do cookie-cutter roll outs, but that's not what we do. We are growing, but in innovative ways."
Cooper's Hawk is committed to inclusionary winemaking quests with food and wine trailblazers like Florence. McEnery firmly believes that collaboration not only elevates the industry, it enables Cooper's Hawk to provide exclusive wine experiences to members and guests. Cooper's Hawk continues to push the boundaries of experiential branding by sharing the excitement that comes from collaborating with culinary luminaries like Florence, Jean Charles Boisset, Fabio Viviani and Gail Simmons.