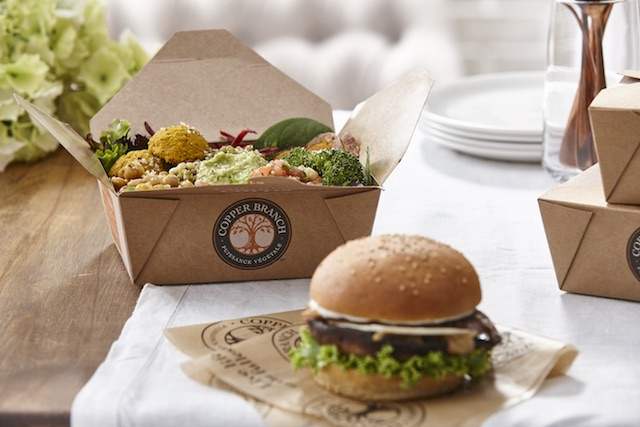 After achieving success, Copper Branch wants to take itself to the next level.
Some restaurants say they offer healthy food, but have not made the commitment that Copper Branch has. "Copper Branch was founded on the idea that food that empowers our body and planet should always be made accessible and delicious, and expanded to a mainstream consumer," Director of Marketing Andrew Infantino says.
Based in Dorval, Québec, Copper Branch operates a chain of fast-casual restaurants that feature a 100 percent plant-based menu. His father and the founder of the company, Rio Infantino, had a passion for healthy foods in his daily routine and felt the market lacked a chain that offered such a menu that was easily accessible to consumers.
"Our intention was to be a global chain," Andrew Infantino says, adding that Copper Branch today has 40 locations across Canada, as well as several locations in the United States and France.
Copper Branch also sets itself apart from competitors by the way it communicates its brand. "We're vegan, but we tend to not even use the word 'vegan,'" he says, noting that its locations "attract more of a mainstream consumer simply looking to eat more of a wholesome diet."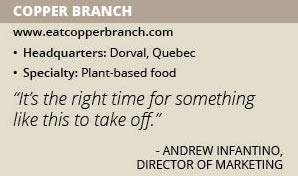 Well-Rounded Cuisine
As part of Copper Branch's commitment to being healthy, "We work with nutritionists and culinary chefs," Infantino says, noting that its cuisine features micronutrients and superfood, organic and non-GMO ingredients as well.
"We have a well-rounded menu," he continues, adding that some of its popular items include its Aztec power bowl, which features non-GMO basil olive oil dressing, oven-baked sweet potato, corn and mango salsa, spiced non-GMO black beans, guacamole, vegan sour cream, lettuce, beets and carrots.
He also highlights its burgers and sandwiches, including a Shiitake Teriyaki sandwich, made with Shiitake mushrooms. "The way we prepare it makes it very meaty, almost like chicken," he says.
Copper Branch also serves all-natural beverages such as organic kombuchas, flavored waters, organic coffees and teas, as well as sides that include oven-baked potatoes, and buffalo tofu wings. "The way we prepare them is incredible in their taste and texture," he says.
The restaurant also introduces new products every quarter. "Most recently, we had a Burrito Branchero," Infantino says, adding that the product is wrapped in organic spelt.
The Next Level
Although Copper Branch has enjoyed substantial growth, "There is a lot of work to be done," Infantino says. "It feels like we're just getting started in terms of the real challenges ahead." These include improving its evaluation methods for locations and franchisees. "We have to continue to find great people to join our corporation," he says, noting that this will help take the company to the next level. "We really just want to progress forward and have better technology in the system."
When evaluating franchisees, Copper Branch looks for "a passion for the food, the brand and this plant-based movement," Infantino says, adding that they also need to be present within their operations. "We're looking for owner/operators."
The Right Time
Infantino is proud of Copper Branch and how it has grown. "I get a lot of complements on the branding, the mission and timing," he says. "People say, 'It's the right time for something like this to take off.' But we still have a lot to do in terms of who we want to be."
This will see the company grow the number of stores it has across the United States and Canada. "It is incredibly exciting," he says, adding that Copper Branch plans to have 60 locations by end of 2019. "We'll definitely achieve that and probably even more."