Corner Bakery Cafe has spent the past decade developing and evolving its supply chain model to ensure its innovative menu ideas reach the consumer with speed and accuracy.
Corner Bakery Cafe is consistently working on its next great idea and leans heavily on its ability to quickly follow through with it when it comes to menu development. Although most restaurants' culinary developments and supply chain departments are separated, Corner Bakery decided to merge the two over a decade ago and it's been a very effective game plan.
Executive Vice President of Food and Supply Chain Ric Scicchitano has been with the company since 1991 after graduating from New York's Culinary Institute of America and is Corner Bakery's original employee. Scicchitano has been with Corner Bakery Cafe through different ownerships and took on more responsibilities beyond his culinary and baking worlds as the years went by. In 2006, a private equity group acquired Corner Bakery and at that point Scicchitano absorbed all the supply chain and risk management responsibilities. It was a role Scicchitano was happy to take on.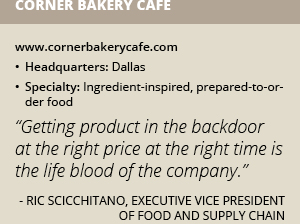 "I was the likely candidate to oversee our supply chain to prepare the brand for growth," he says. "I'm probably unique in that I work on the culinary side and am also responsible for the supply chain side of the business. Therein lies the unique relationship of Corner Bakery; I don't know many others in the industry who are responsible for developing menu items in addition to all the purchasing work that ultimately gets new items in our cafes."
Corner Bakery Cafe's culinary and menu strategy committee is made up of team members from every corporate department and a few franchise operators who help develop ideas and see them come to fruition. Scicchitano is a member of the committee, playing his role to ensure menu concepts get from ideation to commercialization. "It's terrible if a great idea hits a road block on the supply chain side and it can't get delivered to the guest," he says. "I didn't want to see great ideas with potential die and we felt we could avoid some of the normal pitfalls if I was controlling the process from ideation to launch. I simply wanted to remove some friction and eliminate one more step in the process before 'handing off' to the team responsible to communicate and train operations. By doing so, that let me control more elements and hopefully get to market quicker with a great degree of success."
Making it Happen
Corner Bakery Cafe's spend is about $140 million in food and non-food, which means stakeholders and franchisees need to feel confident the supply chain team is looking out for its dollars. Over the past decade, Scicchitano says the supply chain team has become more successful every year in getting product where it needs to be, bringing down costs and helping combat inflation.
Technology is a driver of its successes as the team leans on a sophisticated system to manage inventory across 38 broad line and produce distribution centers, analyze purchases at the cafe level and has the ability to audit contract pricing of every invoice. The latter is of special importance to Scicchitano as he says, "overcharging on food and packaging coming in our back door is a nuisance for our operators and something that plagues our industry, but doesn't keep us awake at night anymore."
To become the widely successful supply chain department it is today, Scicchitano says it has been a team effort. "I know what I don't know, and strived to complete the team with people who do," he says. "We need to surround ourselves with people that make us better. When Corner Bakery carved out of Brinker International in 2006 and became a standalone company, I started managing distribution – something I didn't have much experience with, but I knew what I wanted I just wasn't sure how to get it done."
Knowing he didn't know everything, Scicchitano quickly realized he needed someone on his team that had extensive experience in broad line distribution. One of his first hires ultimately put together a distribution network that today is humming along and the backbone of the entire supply chain platform. That person is now the company's director of purchasing and manages a system that Scicchitano likens to plumbing in the walls, "Something that is so important to us every day but hidden behind the scene and we take for granted. It's just working and rarely springs a leak."
Getting Corner Bakery Cafe's 200 proprietary products across the country is not a top-of-mind concern for the organization, making distribution one less thing to worry about. "Getting product in the backdoor at the right price at the right time is the life blood of the company," he adds. "I knew what I wanted, to not let our operators down, and fortunately found the right people to help the company accomplish what we needed."
Having the right people on the team is vital for Corner Bakery Cafe's operations, and that includes having the right suppliers. "We have a really powerful and wonderful community of suppliers," Scicchitano says. "Some are true partners that look out for our cafes every day and some are functional relationships, but collectively we have a network that I'm proud of and will defend."
Improved Technology
Having the right data has been the key to executing Corner Bakery Cafe's supply chain, Scicchitano says. "But you are only as good as the data you have, receive and actually study," he adds. "Supply chain data in the restaurant industry is at a slight disadvantage with technology because it doesn't move at the speed of consumer packaged goods or other retail companies. Sometimes feels like we're in the 17th century when it comes to smart actionable data and we worked to improve that."
In 2012, Corner Bakery Cafe implemented new supply chain management software that consolidates all the necessary data into reports for the company to have visibility on any of the four million boxes of food and packaging it buys each year. "For example, if we have a new product promotion and I want to know when the new ingredients will hit each distribution center and ultimately be delivered to the cafes, we can see all of this so we know we're ready for a new product launch on a specific date," Scicchitano explains. "Or if we're phasing out a product, we can see the movement on a daily basis and we can allocate inventory across the system to rebalance it and not have excessive inventory when the promotion is over. That's only possible because of this piece of technology we put into place."
The supply chain management technology also informs the company when loads are about to ship, arrive, how the product is flowing, which cafes are getting more or less, and what price they are being charged. "The three biggest fears in supply chain are: Is the distributor is overcharging me? Do we have the right amount of product? And are they shipping the right product?" Scicchitano says. "None of that was efficiently possible or feasible to know without a really slick piece of software. Thankfully, we found one. That was the tipping point for us going from a good team to exceptional team."
Corner Bakery Cafe is now able to get a behind the scenes look at all activity, which allows it to watch for efficiencies and take out any extra cost to become more profitable. In late July, Corner Bakery launched a new LTO menu and the supply chain team watched in real-time how the product moved.
"I can tell you every three hours how it's moving," Scicchitano notes. "There's nothing more important than when we are about to go live and making sure we are all headed in the same direction. Even though you had the best laid plan, something's going to go wonky. Just deal with it. We can take the pulse before and after launch week and then let it go on autopilot after that."
Fresh and Innovative
Corner Bakery Cafe has always prided itself on staying innovative and fulfilling its guests' demands for new menu items. "'What the consumer wants we do' has been the company's mindset since inception," Scicchitano says. "Whatever the consumer wants and makes sense for us to do we will try. It can't be a hindrance or get in the way, yet we don't want to see a great idea die."
The company's mission is to keep the menu evolving and focusing heavily on sandwiches, salads and soups for lunch and breakfast, offerings worth waking up early for. When developing new items, Scicchitano says, a member from every department is involved to make sure there are no hurdles and great ideas have every chance to succeed. "We talk and we eat," he says. "Every Monday, we have lunch with the CEO to talk about new items, what's working and what's not. We get paid to work and eat food. That's why I'm in the industry and innovating is the best part of the job. That's how the brand got started in Chicago 25 years ago with a food first mentality and everyone is still pulling in this direction."
Team Spirit
Corner Bakery Cafe focuses on finding the right people who will add value and their strengths will make the company better than it was before they joined. "It's plug and play," Scicchitano explains. "I want to find people who are training the organization just as much as the organization trains them. Train us to make us smarter and better."
For example, the company hired a new member on the food and beverage team who has a nutritional background. It also hired a new purchasing manager who previously worked at Sysco. "They know how the industry works and we work with Sysco regularly," Scicchitano says. "They have been on the inside and now they are on the other side."
Moving forward, Corner Bakery Cafe plans to continue innovating and finding the most efficient ways to bring consumers it products. "This is all a team effort," Scicchitano adds. "There is appreciation for skill and experienced people in the supply chain. It's a more strategic position than it has been in the past and we are succeeding because I have great people around me."