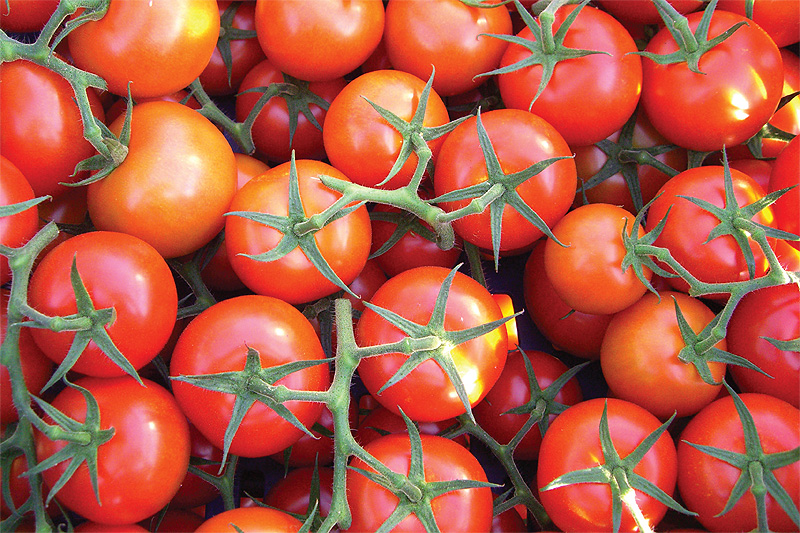 Growing success
Cornerways Nursery is an exemplary demonstration of achieving a successful balance between sustainable practice and commercial growth
Cornerways Nursery was born 15 years ago out of an initiative by parent company, British Sugar, to reuse the waste heat and CO2 produced from its factory in Wissington, Norfolk. It was quickly decided that a greenhouse used to grow the CO2 hungry tomato crop would be an ideal solution and thereby a five-hectare greenhouse was erected. Over the years the site has grown and two periods of investment in 2007 and 2011, of additional 5.5-hectare and 7.5-hectare expansion, respectively, has seen the site grow to 18 hectares. What results is the largest single-site tomato facility in the UK, which currently houses 180,000 plants, producing around 140 million tomatoes every year. Initially starting out selling a single variety of tomato, today Cornerways grows and supplies a range of ten for retailers across the country.


"We have taken this strategy of reusing heat and CO2 as the core business philosophy and as such we have a really healthy sustainability policy here," begins General Manager, Patrick Harte. "As part of this we have invested into the site over the years in order to capture all of the water that falls onto the roof, and when you have 18 hectares of roof that equates to a lot." Stored in lagoons located on site, the facility is able to harvest 115 million litres of water a year from this method, enough, on average, to make the company 98 per cent self-sufficient on water. "We continue this philosophy further in the way that we grow as well, and therefore don't use any synthetic chemical sprays on site – only things that have derived from the plants," continues Patrick. "We have also taken the initiative to use natural predators, so we employ macrolophus to eat all of the whitefly pests. On top of this we have 8500 British bumblebees to pollinate the plants, as we find these can be far harder workers than people when it comes to pollination."
Quality focus
The harvest season for tomatoes at Cornerways runs from March to November, in which time the company directly employs a peak of 400 people to hand tender all 720,000 plant heads and pick all 140 million tomatoes, in a labour intensive procedure that is near impossible to mechanise. During this time, the plants grow from 30cm to 36ft, and Patrick points out the quite staggering statistic that laid end-to-end the fully-grown plants at Cornerways would stretch from Norfolk to California. "We can attribute this consistent and healthy growth to the amount of controllable excess heat, CO2 and water we can pump into the greenhouse," he adds.
Its sustainability model is the core of Cornerways operations and Patrick explains that this has its advantages in assisting customers with their own CSR objectives, but also notes that to be truly sustainable requires economic sustainability as well. "Our model is designed so that it hits both the environmental and economic points, because otherwise this would never be able to work as a business and has been vital to us growing to this size in just 15 years," he says.
"Part of being able to achieve this is by producing some really good quality produce. We don't just look at yield to determine our quality, but the actual quality of the end product in terms of appearance, taste and freshness because we believe this is what is really important to the consumer. Part of the investment in 2007 involved setting up a pack house, which means that we pack all our products in-house as a key part of our end-to-end operations and then ship them directly to retailers, meaning that the customers are getting the freshest possible product from a short supply chain."


Patrick notes that this is a really important advantage over imported produce, which, as a result of better climates, no greenhouses and cheaper labour, are impossible to compete with on price, but also spend up to a week travelling to the UK. "We are also starting to see a bit of a food revolution in the UK where people are realising that British food is often much better quality," he highlights.
Award wins
Patrick is positive that if the business continues to produce quality products, looks after its staff and ultimately makes the most of what it has at its disposal then it can maintain an advantage in the market. Over the last couple of years, Cornerways has started to supply into local retailers under its own brand where consumers appreciate the local provenance of their food. As a result, the company has won Supplier of the Year award for both Co-Op East of England and Budgens.
"To have gone from starting this to receiving these awards so quickly is a big achievement for us and has made a big difference," says Patrick. "Firstly, it lets everyone here know their efforts are being recognised, which is great for our internal morale, and secondly the media attention has been excellent, resulting in fresh publicity, increased sales and a platform to diversify for the first time." The company's chutney, which uses any waste tomatoes that aren't suitable for retailers, but are still perfectly fine to eat, has only been on the market for a couple of months, but will be a key focus as the business moves forward.
Build on success
In terms of the future, it is clear that Cornerways will continue building on its success by remaining true to its core values of sustainability, quality and responsible employment. A £1 million investment over the winter will double the size of the pack house and introduce a redesigned operational flow within the greenhouse, including elements of automation that can lead to a better quality end product. It will also continue implementing its health and safety policy, which rests heavily on improving the culture within the business and has had a positive impact over the last 18 months. "Essentially, we're looking to expand the business, which we have built on the basis of these values, further," concludes Patrick. "The market conditions need to be right, but we are confident we can achieve our ambitions."