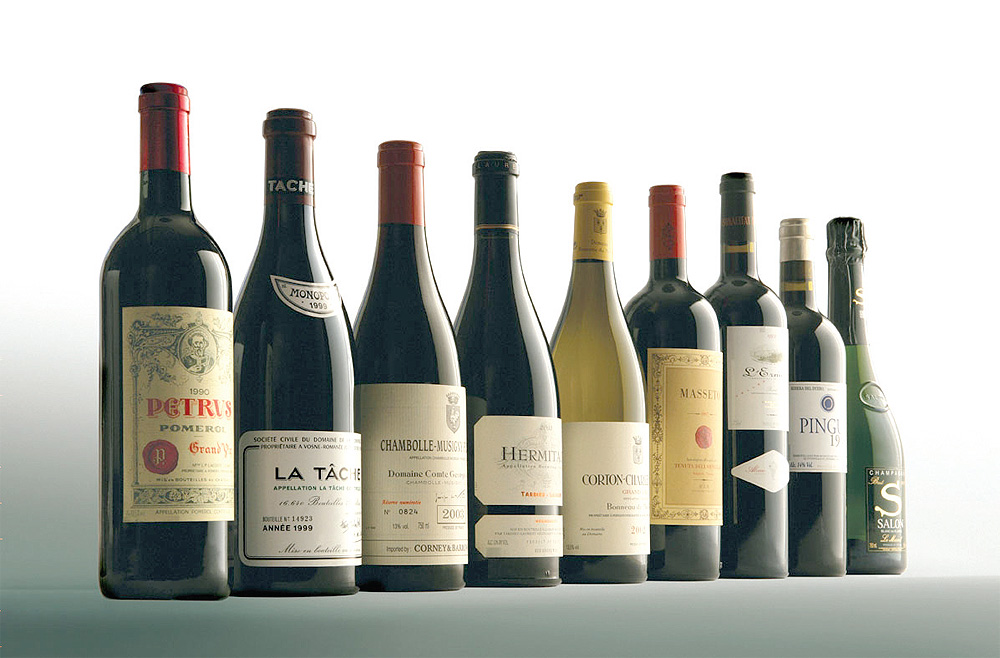 Fine wine
Whether you are a beginner or a connoisseur in wine, Corney & Barrow can help you find the perfect wine for any occasion
Corney & Barrow is an independent wine merchant representing over 200 exclusive wines from around the world. In addition, the company offers a wine broking service, which is an excellent source for older vintages. Furthermore, a growing and important asset to the organisation is its business with top restaurants, hotels and other independent wine merchants.
Corney & Barrow was founded in 1780 by Edward Bland Corney when he opened a shop in London's Old Broad Street. Back then the business was very different from that of today. The company had a limited selection of Port, Sherry and Bordeaux but these were obviously appreciated by its customers, as the business flourished. In 1838, Edward's son, Thomas, introduced his cousin, Robert Barrow, and the company name became Corney & Barrow.
The core business of buying and selling a wide range of wines nationwide, many of them exclusive to the business, has grown substantially in recent years. The organisation is particularly proud to be an exclusive agent for, amongst others, the incomparable Burgundy wines from Domaine de la Romanée-Conti and the extraordinary Champagne Salon, perhaps the finest and certainly the most coveted champagne in the world.
Furthermore, in recent years the company has developed its own wine bar business under the Corney & Barrow Wine Bars Limited name. It now has a City of London estate of 13 units stretching from Canary Wharf to Fleet Place. The organisation opened its first bar in London's West End in the summer of 1998. Modern and sophisticated, these bars offer a huge range of quality wines and an imaginative and unusual paired menu of appropriate bar food.
Overall, Corney & Barrow is not just another wine merchant. With over 200 years of experience, the company's service is defined by the quality of its people and the quality of its wines. Oliver Hartley, sales director for the business comments: "Our whole philosophy revolves around exclusivity for the UK. For example, we are the UK exclusive agents for wines such as Chateau Pétrus and other Grands Vins belonging to the Moueix family, and Domaine Comte Georges de Vogue. These are probably the most exclusive relationships we have."
He continues: "Through this buying philosophy we have grown substantially over the years. Today, our head office is still located in London, and we now have offices in Newmarket, Edinburgh, County Durham, Ayr and a warehouse in East Kilbride. We also have regional sales representatives in Hampshire, Gloucestershire, Wiltshire, Northumberland and in the northern Home Counties."
The company is continuing to grow and has recently opened a new office in Egglestone Hall in the north east of England. Oliver explains: "We originally had one person working in this area as a sales representative – he was extremely successful, therefore we saw an opportunity to increase our sales there. Consequently, we now have our own office and have invested in more high quality sales representatives."
Another area the business is looking to expand is its export market. Corney & Barrow currently exports between 15 and 20 per cent of its wine overseas. Oliver explains: "We have some interesting plans to increase our export business. The main countries we are looking at are India and China, and we are also planning to increase our shares in the markets we are already operating in. Asia is a very promising sector for us as the culture is open to drinking high quality wine and this is exactly what we supply."
Corney & Barrow was the first traditional wine merchant to establish a wine broking operation, matching buyers' and sellers' requirements. This division operates internationally with particular emphasis on Europe, the US and the Far East and is now a priority source of the best châteaux and domaines in France, vintage ports and fine and rare wines from around the world. Corney & Barrow (Broker Services) was granted the Queen's Award for Export in Barrow1998 and 1999, a unique achievement for an importing wine company.
In addition to this, the business is extremely proud to be one of two wine companies to hold two Royal Warrants as suppliers to HM Queen Elizabeth II and HRH The Prince of Wales. "We are enormously proud to have these warrants and they are a very important part of our business' heritage and culture. In addition, they affirm the quality of both the products and services that we offer our customers," Oliver comments.
The organisation's reputation for high quality is a result of the business' focus on sourcing only the best wines available. Oliver continues: "We source wines from all over the world and approximately 95 per cent of our products come directly from the vineyard owners. One of the key words both in our sales and purchasing areas is 'relationships'. We think long and hard before we actually buy from a new supplier and they have to pass certain criteria before we form a relationship with them."
He adds: "Firstly, the wine has to be of extremely high quality. The competition is so fierce now that our New Zealand Sauvignon Blanc at £10 has got to be the very best we can find. Secondly, availability and commercial quantities is another issue. It is no use having the best Sauvignon Blanc in the market if you can only buy 20 cases a year. Lastly, we look at the vineyard itself. We want to understand their long-term ambitions to make sure that the relationship will be mutually beneficial and, therefore, a lasting one."
With over 220 years of experience, Corney & Barrow started life as a small independent company and although it has grown significantly over time, the business is still in private hands today and happy to be so. It views the future with confidence and excitement, constantly looking for ways to improve the company to the advantage of its customers on whom it relies on for its future prosperity.
Oliver concludes: "One of the key reasons behind our success has been our independence. We are fiercely independent – we are not afraid to go out on a limb and do what we think is right despite what our competitors are doing. In addition, we never lose sight of our customers' needs. If you do all of this and also run the business as if it were your own then I don't think you can go far wrong."