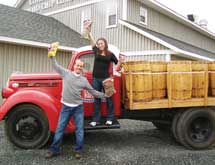 Covered Bridge Potato Chip Co.
Hartland, New Brunswick, is home to the world's longest covered bridge; measuring 1,282 feet, the bridge was built in 1901 and crosses the St. John River. Named a national and provincial historic site, nearly 100,000 people visit the bridge each year, particularly in the summer. Visitors come to see the bridge and enjoy the lush scenery of the St. John River Valley, but while they are in the area, they also can check out one of the newest brands in the snack market – Covered Bridge Potato Chip Co.
The Covered Bridge brand of potato chips first appeared on retail shelves in 2009, but the operation behind the brand got started in the 1920s. Aubrey Albright began running a farm in Jacksonville, New Brunswick, in 1929, and in 1949, his son Lorne joined the business. In 1954, Lorne Albright built the farm's first potato house, which held 4,000 barrels of potatoes. Eventually, Lorne's sons, Robert and Wayne, got involved, and helped the operation grow a little each year.
In 2004, the fourth generation of the Albright family started taking the business in a new direction. Wayne Albright's sons, Ryan and Matthew, partnered with Shaun Albright, who was Robert's son, to form Carleton County Spud Distributors Co. and sell their locally grown potatoes to potato chip companies throughout Canada and the United States. Ryan, Matthew and Shaun bought the family farm from Lorne, Robert and Wayne in 2006, the same time that they formed the Covered Bridge Potato Chip Co.
"This is still a family operation," co-owner and President Ryan Albright explains. "My father still works on the farm, and my uncle comes out to help during harvest season. Even my grandfather helps out, and he is 87 years old."
A Natural Choice
With 500 acres of potatoes and 550 acres of grain and oil seeds, as well as its own production facility, most of the Covered Bridge Potato Chip operation is completed in-house. The company has five varieties of russet potato chips – Sea Salt, Creamy Dill, Sea Salt and Vinegar, Sea Salt and Cracked Pepper, and Smokin' Sweet Barbecue – as well as the Cinnamon and Brown Sugar variety that is made from sweet potatoes. It also sells three varieties of tortilla chips – Sea Salt, Lime and Chipotle.
"We always have our six core flavors of potato chips, as well as one seasonal flavor," Albright says. "We plan to introduce three new flavors this summer."
Covered Bridge Potato Chip Co. is one of the few producers of kettle-cooked potato chips in North America. The company's chips are "100 percent natural," according to Albright.
"We don't use any artificial colors or flavors, preservatives or trans fats," he says. "We only use sea salt, so our chips are lower in sodium than most other potato chips. Also, our chips are certified as being 100 percent gluten-free, so they are appropriate for people with celiac disease."
The chips may be low in sodium, but they don't skimp on flavor. "We are known for our bold seasoning – some of our varieties have 18 to 20 percent seasoning," he says. "We use one variety of russet potatoes and sweet potatoes, and that, combined with the canola oil, produces a great-tasting chip."
Attention to Detail
Covered Bridge Potato Chip Co. grows all of the potatoes it uses and has a HACCP program in place at its facility. Additionally, Albright notes, retailers gain assurance in the brand because each bag of chips can be traced back to the potatoes that were used.
The brand is available in all of the provinces and territories in Canada and the southern region of the United States, but it also is "scattered about" in other regions, Albright says.
"We are gaining new customers every day – people love our product," he stresses.
"We literally built this company from the ground up, and it's great that we've been able to launch a brand from scratch and develop it in a competitive market, and we are still here after two years. We're excited to keep going."