Covered Bridge Potato Chips embraces its customers by investing in its manufacturing facility and giving on-site tours.
Nova Scotia is a tough place to live during the winter. The Canadian province is almost entirely surrounded by the Atlantic Ocean so it takes the brunt of every snowstorm that makes landfall in eastern part of the country. Residents know how to prepare and hunker down.
During a particularly bad winter in 2014, a local television host tweeted that she was buying #stormchips to snack on while she waited out that weekend's storm. The hashtag quickly took off and became a national phenomenon.
The folks at Covered Bridge Potato Chip Co., located in New Brunswick, the province just west of Nova Scotia, were paying attention as the hashtag caught fire. The company trademarked the term "storm chips" and set out to develop a bag that would live up to the name.
By the time next winter rolled around, Covered Bridge had introduced its Storm Chips product, a bag that blended four of its most popular chip flavors, Creamy Dill Pickle, Smokin' Sweet BBQ, Ketchup and Sea Salt & Vinegar. Storm Chips comes in a 10-ounce bag, larger than the traditional 6 ounce, making it the perfect size to last through a rough winter weekend.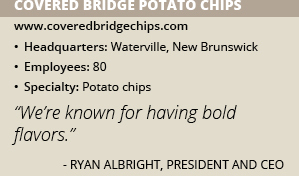 Pursuit of Quality
Covered Bridge President and CEO Ryan Albright and his brother, Matt, purchased the family's 500-acre potato farm in 2006. From the start, the brothers knew they wanted to enter the potato chip-making business, but it took three years to gather all the necessary equipment and build a manufacturing facility on the property.
Covered Bridge prides itself on making high-quality, wholesome snacks for consumers. Every product is certified gluten free, kosher certified with no artificial colors, preservatives or trans fat. Those values have made Covered Bridge an appealing product for grocery stores and retailers such as Sobeys and DollarTree.
"Our factory is the only one in North America that runs everything with dark russet potatoes," Albright says. Dark russet potatoes have higher sugar content and develop a dark golden color when fried. They are the preferred breed of potato for french fries at many fast-food restaurants, but Covered Bridge is the only chip maker to use dark russet almost exclusively – the only exception is its sweet potato chips. All of its potatoes come from its own farm, which has been in the Albright family since the early 1920s.
It's difficult to know what tastes will capture consumers so Covered Bridge constantly developing new flavors. Albright's own favorite flavors frequently change – his current preference is the sweet and spicy jalapeno. The pursuit of the next hit product requires that Covered Bridge not be afraid to fail. An idea can go through a year of testing and refinement before the company finally decides it won't work.
Even the chip flavors that make it to market typically undergo two years of development before being bagged and sent to retailers. "We're known for having bold flavors," Albright says. "We put a lot of seasoning on the chips."
Chips that make it to production are introduced as part of a temporary batch. In this way, Covered Bridge can test consumer response to flavors such as sloppy joe or seasonal items such as red, white and blue chips for Independence Day. The items that find an audience can become staples of the Covered Bridge lineup, as was the case with the company's Loaded Hot Dog, a hot dog-flavored chip.
Expanding Brand
A working farm and chip manufacturing facility is a great way to see the entire food production process at work. It's no surprise then that Covered Bridge is a favorite destination for New Brunswick visitors. More than 300 tour buses came to Covered Bridge last summer, not to mention all the single carloads of people who wanted to see how their favorite snacks are produced and pose with a giant 8-foot-tall chip bag.
The company embraces its opportunity to educate consumers. Employees giving tours dress in overalls, plaid shirts and straw hats. Visitors learn about the history of potatoes and chips and can view a video comparing how potatoes were grown in 1955 to how it is done today.
At the end of the tour, guests get to enjoy unique chip flavors such as milk chocolate, blue raspberry and cappuccino applied to fresh chips right out of the fryer. "It's to help build our brand and build awareness of our brand," Albright says. "We like to show off the facility to people that are end-consumers so they cans see how they are made."
The tourism plays into Covered Bridge's strategy to become a better-known company. Although the chip manufacturer has its own brand, much of the company's work is in private labels for grocery stores. Albright wants to build Covered Bridge's recognition with consumers. "We're putting a big focus in Canada again," he says. "We're trying to build our brand more here."
Part of that brand growth will come through the addition of new products. This April, the company will launch a new like of kettle corn called Covered Bridge Pop-It. "Quality comes first," Albright says. "We make sure that we don't squeeze on the price of quality ingredients so we end up with an amazing finished product.
"The popcorn I've been wanting to do for about four years but we didn't have space," he adds. "With the addition to the facility we now have room."
Covered Bridge's facility has grown significantly in recent years to accommodate not only the addition of kettle corn, but also the rising demand for potato chips. When production began in 2009, the company had two employees and one kettle fryer. It now has four kettle fryers and 80 workers.
The facility itself has grown to about three times its original size and now boasts a 20,000-square-foot footprint. The technology inside the production area also advanced as Covered Bridge added high-speed packaging equipment and a centrifuge that spins excess oil off the chips.
On the distribution end, the company is implementing platforms that will tie together its IT systems to better handle accounting and the management of its 18 trucks. "We have a lot of systems but they don't talk together," Albright says. "Now we're merging them all together to make more efficiencies in distribution."
The investments in production and its product lines have positioned Covered Bridge to reach its goal of becoming a household name. "We have great branding, great packaging and the product inside is phenomenal," Albright says.