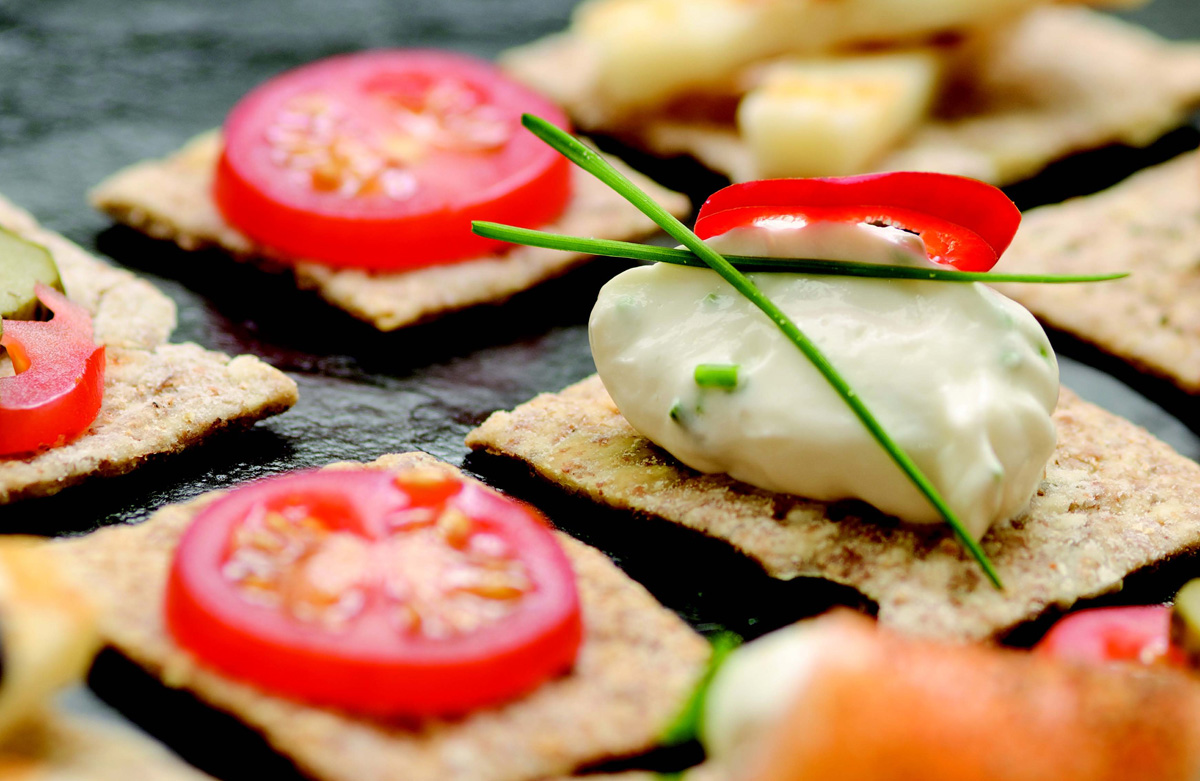 Cradoc's Savoury Biscuits
A culinary delight
Passion is the driving force behind family biscuit producer Cradoc's Savoury Biscuits as it establishes itself in the ever popular and trending fine food market
Founded in 2010 after months of experimentation with flavours and textures, mother and daughter Allie and Ella Thomas are now experiencing extraordinary growth with Cradoc's Savoury Biscuits. Producing savoury biscuits to be eaten with 'deli counter deliciousness', the company is bringing something new to the market and hitting trends. After three years of hard work from kitchen table to an approved converted garage in their back garden, the company partnered with established biscuit distributor Arden's and is well on its way to a successful future.
Talking to FoodChain, Allie and Ella explain what makes Cradoc's biscuits different: "The thing that sets us apart from anyone else is that we make our biscuits with a very high vegetable content. We're not quite like other biscuits because we have developed the process to include/ mashed up vegetables, which no one else does," says Allie.
"We've gone for quirky flavour combinations and we're really pushing on the trends, really looking at what people like to eat now," adds Ella. "We absolutely love food, so it's important for us to create something delicious, and then try to get that out for our customers as well."
The biscuits are marketed by Cradoc's as 'culinary alchemy' denoting the amount of experimentation that goes into creating the biscuits. "We are very passionate about our food," expresses Allie, "and that reflects in the product. Although we've only got six lines out, we've got 36 recipes." From this comes an attention to matching flavours with particular foods, in particular artisan cheeses. As Ella explains: "We really have tailored these crackers to suit particular cheeses. For instance, we make a cracker called Pear and Earl Grey Tea, which is fantastic with goat's cheese. We've put in a couple of bags of blitzed up pears, so there is about 30 per cent fresh ingredients per box, and then brewed a teapot of Earl Grey. The sweetness of the pear with the tea and the cheese is a perfect combination."


However, as Allie continues, the biscuits will go with a range of things such as charcuterie, fruit and vegetables, and they actively encourage their customers to continue experimenting. Other flavours produced are a vegan, fat free celery and spinach cracker, which Allie informs goes really well with hummus and salsa; beetroot and garlic; leek and Caerphilly; walnut and Perl Las cheese and chilli, garlic and ginger. With a love of superfoods, ingredients such as turmeric, beetroot and spinach are prominent throughout the range.
The company's main market is gourmet, high-end food halls and delis, and it is to these independent customers that it attributes its current success: "The independent delis have supported us from day one and we have a really good relationship with pretty much all of them," highlights Ella. The company has also established strong relationships with British distributors such as Cotswold Fayre, Hider Foods and Castell Howell. "These are brilliant people," notes Allie. "When you start a business with a good idea, the best thing in the world is to have the right wholesalers to take your product to market. The secret to life as a producer is listening to what the customer wants and responding in the best way."
It is a secret that appears to have paid off as well, with the company now supplying biscuits to 177 Waitrose stores across the country. To cope with this increase in demand the duo set out to find a suitable partner to facilitate the company's expansion plans, and in September last year it moved its production to Arden's Fine Food's stateof- the-art, part solar-powered bakery in Coventry. Allie notes: "We worked phenomenally hard to get through Christmas, but during that time not only did Arden's produce the rush – which was massive – but also implemented systems to achieve BRC, which we were awarded in Grade A in April 2015. They recognised our passion and how much we had put into it, but also the quality of everything we do."
In terms of the future, Allie and Ella are very enthusiastic but remain clear about what they need to do. "There are a lot of opportunities in exports, catching new trends across Europe, but also still in the UK," highlights Ella. "It feels like we need to get more products out, we haven't reached everybody in the UK. Hopefully Waitrose will give us a good boost in terms of this, but we also now have the time to really get behind the existing products and market the brand to get it out there." The company would also like to improve its supply chain, something that it hasn't had a chance to do up until now, moving from British wholesalers straight to British producers.
What is obvious is that the mother and daughter company will continue doing what they do with the same level of passion and enjoyment. "We approach our ingredients not simply as cooks or bakers, but as people who love to experiment with food and who can't help but do things differently," concludes Allie. Whilst they have plans to take part in food shows across the country, including the BBC Good Food market, they remain loyal to their roots and still use the local Brecon farmer's market to trial new products and engage with customers. With a unique product and a commitment to quality, the passion contained within the company looks set to continue and so does the success it has so far enjoyed.