CraftWorks Restaurants & Breweries' brands lead the crowded craft beer pack.
CraftWorks Restaurants & Breweries Inc.'s restaurant brands have long been ahead of the curve when it comes to offering unique and great-tasting beer. Beer has been at the core of CraftWorks' operations since the first of its 10 brands, Old Chicago Pizza & Taproom, opened in 1976.
"Our founders loved the idea of bringing better beer to people instead of just the mass-market American light lagers that were out there," says Stuart Melia, vice president of beverage for the Broomfield, Colo.-based company. "They were the first to have a commitment, vision and passion for better beer."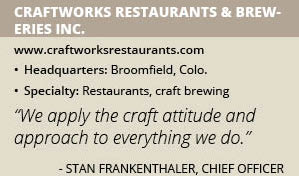 CraftWorks today is the nation's leading operator and franchisor of brewery and craft beer-focused casual-dining restaurants. Old Chicago is one of the company's three largest brands, along with Gordon Biersch Brewery Restaurant and Rock Bottom Restaurants and Breweries. The company operates a combined total of more than 200 restaurants, brewery restaurants and entertainment venues in 40 states and Taiwan.
Over time, the commitment of the company's brands to serve better beer evolved from offering import beers on tap to brewing its own beer, Manager of Beer Operations Jonny Stringer says.
On-site brewing is performed at all Gordon Biersch and Rock Bottom locations, as well as at three of Craftworks' regional brands. "While you can get good craft beer at just about any restaurant now you can only get the unique and varied styles we produce at our breweries," Vice President of Brewing Operations Tom Dargen says. "Each restaurant has a skilled creative brewer who concocts his own recipes and maintains a wide array of distinctively flavorful beers made with the finest ingredients available. And because the beer never leaves the building we can guarantee freshness and quality from grain to the guest's glass."
Loyalty Leaders
Old Chicago's early embrace of import and craft beer is not the only way it has led its industry. The restaurant's locations more than 30 years ago introduced a loyalty program, originally known as The World Beer Tour.
Initially, customers participating in the program used a punch card to record the different types of beer they tried, with rewards being offered based on the number of beers purchased. "This was a major differentiator for us that got us well-known in the beer world," Stringer says.
Today, the World Beer Tour is the central component of Old Chicago's OC Rewards loyalty program. Instead of a punch card, program members use an electronic card and smartphone app. "The program has always given people a reason to really explore beer and try things they haven't before," Melia says. CraftWorks' other brands offer similar programs.
Old Chicago locations regularly host month-long "mini-tours" spotlighting styles of beer that coincide with events such as St. Patrick's Day or Cinco de Mayo. Participants will get a prize for trying eight beers during each event, which include well-known brands such as Corona and Guinness alongside other imported and craft American beers of a similar style, he adds.
The Old Chicago and other CraftWorks brands also collaborate with local or regional breweries. Each brand and location features more than 90 beers regularly, Stringer says.
A Craft Approach
Although beer is one of the main attractions at CraftWorks' brands, the company believes in offering wine, spirits and signature menu items of a similar high quality. "We put quite a bit of emphasis on both parts of our menu," says Stan Frankenthaler, chief officer of food, beverage, brewing and strategic supply. "We apply the craft attitude and approach to everything to do."
The Gordon Biersch and Rock Bottom brands both offer wine menus that include well-known as well as smaller, seasonal varietals. CraftWorks' brands also offer signature seasonal cocktails.
Old Chicago and Rock Bottom locations specialize in signature pizza and burgers, respectively, with several offerings that are unique to the brand. CraftWorks' ongoing menu-related efforts include expanding its shareable appetizer offerings and adding new desserts.
All of the craft beers and signature items in CraftWorks' brands are the result of the work of its brewers and kitchen staff. The company prides itself on employing seasoned and knowledgeable bartenders and servers who are well versed in the beer and menu items offered in its restaurants. "You can't craft something without craftspeople," Frankenthaler says.