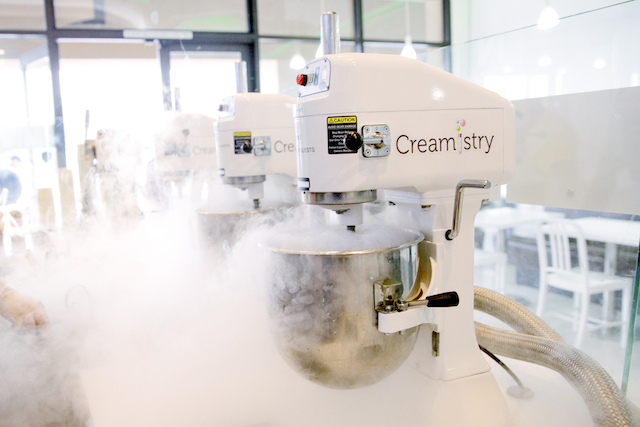 Creamistry's fast-growing franchise empire is expanding within the United States and entering the international market.
One of the fastest growing liquid nitrogen ice cream franchises, Creamistry will be opening 12 new locations in the United States this year and entering the international market with its first location in Shanghai, China.
Unlike regular ice cream that is typically pumped and churned with air, Creamistry uses liquid nitrogen to instantly freeze each ice cream order in front of the customer.
"Liquid nitrogen really adds to the taste and texture of the ice cream," says Kenny Cho, marketing director. "Because it is so cold it freezes the cream mixture in a matter of seconds and prevents the formation of any large ice crystals, making it creamy and very dense with virtually no overrun. You really get what you pay for."
The company's relatively unique ice cream-making methods have allowed it to expand into a fast-growing ice cream franchise empire. Founded in 2013 by husband/wife team Jay and Katie Yim, the company started with a single location in Irvine, Calif.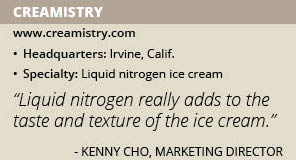 "Jay comes from a family of bakers so he grew up with a good understanding of restaurant equipment and operations," Cho says. "In 2003, they were visiting Korea where they saw a street vendor pouring liquid nitrogen into a bowl and hand mixing a mixture that quickly turned into ice cream. Seeing its potential, they brought the idea back to the United States. When Creamistry first opened, we were one of the first concepts to offer liquid nitrogen ice cream. Business has exploded since then."
After seeing the success of their first shop, the couple decided to start franchising in 2014. Today, Creamistry has a total of roughly 60 locations throughout California, Texas, Louisiana, Georgia, Arizona and Nevada. All of them are franchises with the exception of the first store in Irvine.
By the end of this year, Creamistry plans to open 12 additional locations. They include three more locations in California, six in Texas, one in Arizona, one in Louisiana and another one in Georgia.
"As a concept and brand founded on innovation and creativity, we attribute a lot of our growth to the constant development of new flavors and forms of ice cream," Cho says.
In the past year, Creamistry introduced a new Vegan Cashew ice cream base, cereal ice cream sandwiches and ice cream cakes. It also introduced 10 new "creations," which are the company's signature combinations of ice cream flavors, mix-ins, toppings and sauces. That includes the Cookie Monster, Mangonada, Campfire S'mores, Party Animal and Unicorn.
"The Southern California market is currently pretty saturated," Cho says. "But the concept of liquid nitrogen ice cream is still new to a lot of other regions. Even if customers have already experienced liquid nitro ice cream before, it's usually not of the same high quality and standards that we apply to our menu offerings."
Entering China
Aside from Creamistry's expansion throughout the United States, the franchisor is entering the international market with plans to open a new ice cream shop in Shanghai, China.
"This will be our corporate-owned flagship store in China," Cho says. "Once we establish the Shanghai concept, we will look at opening additional stores throughout China."
Set to open later this year, the new location will be tailored for the Shanghai market. "The main difference between the Shanghai store and our stores here is that we will expand and introduce new menu offerings to cater specifically to that market," Cho adds. "For example, right now in the U.S., we currently serve brownies, waffles and cereal treats to enhance the ice cream experience. In China, we anticipate featuring more than 30 different pastries, 100 different flavors of ice cream, and a full espresso, coffee and tea bar."
Although nothing is concrete yet, Creamistry wants to expand into other international markets in the future. "We're currently working on a number of development deals in other international markets," Cho says.
Investing in Creamistry
Entrepreneurs wishing to open a Creamistry franchise must have at least $300,000 in liquid assets and a net worth of $500,000. The company charges a franchise fee of $40,000 per location with a second store for $30,000 and all subsequent stores at $20,000. It also collects an ongoing royalty fee of 6 percent and a 1.5 percent marketing fee.
An average Creamistry shop is between 1,200 to 1,500 square feet. The company also offers a kiosk model and is very flexible with store layout.
"We provide our franchisees with all the support they need, from construction to onsite training and marketing," Cho says. "There are other franchisors out there but we are among the top. I consider us to be the premier liquid nitrogen ice cream concept."
Customized Ice Cream
Creamistry's decadently rich and luxuriously creamy ice cream is handcrafted one scoop at a time. Not only does that guarantee freshness, it allows the customer to customize.
Customers can choose their size, base, flavor, toppings and upgrades for a personalized dessert experience. Bases include Creamistry's rich and creamy signature base or an organic base that is Kosher and non-GMO. There's also plant-based vegan bases that are all natural, gluten-free and made from cashews and coconuts.
Customers will choose from an assortment of flavors that fall in a variety of categories such as cereal, coffee and teas, fruits, nuts and the classics like chocolate and vanilla.
A typical Creamistry ice cream shop offers between 20 to 25 flavors – depending on location. The company also launches at least four seasonal limited-time-offer flavors each year.
"Chocolate is definitely one of our top sellers," Cho says. "Other customer favorites include Captain Crunch, Cookies and Cream and Cookie Butter. Because we can freeze the product so quickly, any cereals and cookies in the ice cream stay crunchy and fresh. It's one of the best cookies and cream ice cream you'll ever have."
Depending on location, other menu items include premium ice cream cakes, ice cream sandwiches, to-go pints and freshly whipped up NitroShakes. Most locations also offer "Affogato," freshly brewed espresso poured over made-to-order Madagascar Vanilla Bean ice cream, topped with whipped cream and mini chocolate chips.