Create-A-Pack began in a 1,500-square-foot facility making icing pouches, and since has expanded into four individual buildings totaling 190,000 square feet to accommodate its diverse and growing processing and packaging services.
Founder and president Glenn Cochrane, an entrepreneur and food scientist, worked for some of the biggest names in the food industry. Identifying a need for a competitive, Midwest-based co-packer, Cochrane started out on his own. Beginning with only icing pouches, Create-A-Pack quickly grew and began specializing in all liquid food products, Director of Sales Todd Loepfe says. Expanding with their customers has initiated growth into dry food packaging and confections, as well as packing for athletic performance products and the supplements industry. "We are a customer-driven company," Loepfe says. "What that means is we don't compete with our customers for sales on the shelf or production time in the facility."
Create-A-Pack credits its success to its ability to support its customers by quickly managing a project's speed to the market along with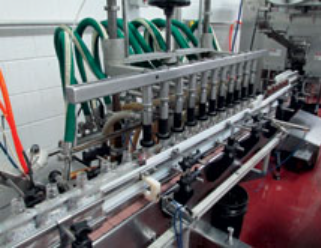 customizing its processing and packaging flexibility. The company is a one-stop shop for all its customers' needs. Customers range from small-scale food manufacturers to Fortune 500 major consumer brands. "I believe we have a niche in which we partner with Fortune 500 companies, as well as work with mid-sized companies," Loepfe says.
Breaking into Four
In 2005, Create-A-Pack built a new state-of-the-art facility, but quickly outgrew it when demands rose. The company has since expanded into four individual buildings to house each of its manufacturing services. The liquid, dry, confections and athletic performance and supplement goods are all manufactured and packaged apart from one another. The company has grown organically and its facilities now encompass 190,000 square feet. "We have plans on expanding our liquid facility by 60,000 square feet, but we have to plan strategically," Loepfe says. "We grow when our business grows."
Its plants are available to operate 24 hours per day, five days per week and Saturdays, as needed, to provide highly responsive scheduling and turnaround times. Each food product is packed and processed following the FDA guidelines and the company is GFSI certified SQF Level III. Create-A-Pack produces shelf-stable, refrigerated, frozen, natural, organic and kosher goods.
Create-A-Pack's liquid blending department is equipped with six kettles, three liquefiers, two mixers, a double-barrel cooler and spiral freezer. Dry food products are processed with ribbon blenders or simply repackaged. The company packages liquid or dry products into glass or plastic bottles, cups and pouches. Its newest development is stand-up, spouted pouches, Loepfe says. "It's similar packaging to baby food," he explains. "It can be used for sauces, marinades and dressings. Right now, we have one customer using it for icing." The benefit of this packaging is that it is environmentally friendly, less expensive and takes up less space on store shelves.
Create-A-Pack has begun packaging nut-containing products out of its confection facility. Nuts can be a headache for manufacturers because of allergy concerns. "We operate three nut-free facilities – other than the confection plant," Loepfe explains. He expects once the word spreads that the company is producing products with nuts, this new niche business will increase. Create-A-Pack is a versatile company offering companies a multitude of processing and packaging capabilities.