That's a wrap
Having earnt its presence in more than 6000 stores, Crepini is encouraging customers to 'leave the carbs' with the help of its popular, healthy, versatile wraps
At age ten, Paula Rimer and her family emigrated from Russia to the United States. Before they embarked on a fresh start in New York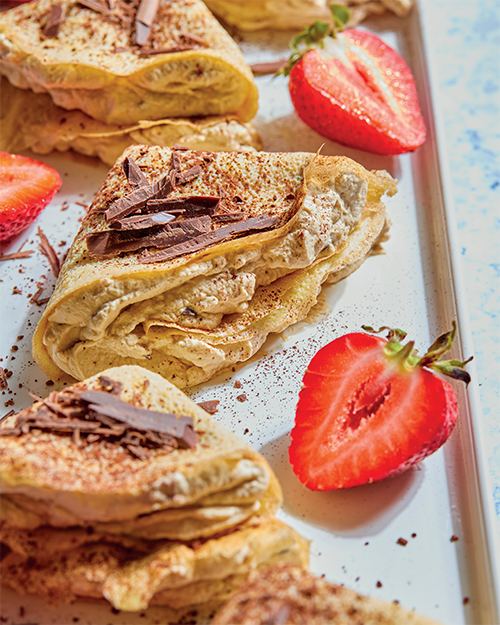 however, the travelling party took a detour to Paris in order to visit relatives. It would turn out to be a fateful decision. Whilst in France, Paula fell in love with the French crêpe. In her mind, the light, airy, pancake could only be equaled by a similar treat from their youth – the Russian blini.
Years later, even as Paula and her husband Eric Shkolnik forged successful careers for themselves in the American tech industry, the pair could not rid themselves of a desire to introduce crêpes and blinis to a US audience. Finally, in 2007, that dream became a reality and Crepini, an innovative new addition to the food industry, was born.
"It was truly a love of food that brought us to the creation of Crepini," Paula declares. "The name is a fusion of the French crêpe and the
Russian Blini – although the final product is a more Americanized crêpe, and a healthy, better-for-you wrap alternative, which is zero carb, low-calorie, gluten-free, dairy-free, kosher (parve), versatile and durable, yet very thin and delicate.
"Like all true entrepreneurs, we had a flexible plan and a can-do attitude. While we knew nothing about the food industry, and didn't have any contacts in sales, marketing or manufacturing, we were passionate and determined to make Crepini happen."
Incredible versatility
Today, in 2021, Paula and Eric retain their long-standing enthusiasm for the perfect crêpe. Since the couple launched Crepini 14 years ago, their sons, Ari and Sam, along with Sam's wife, Lisa, have all helped it become a fast-growing brand, sold in over 6000 stores worldwide.
Always expanding and developing its product range, Crepini continues to add new recipes and innovative concepts to its portfolio. On a mission to deliver easy, delicious, and healthy products for the entire family, the business has, as of October 2021, sold over 500 million wraps and counting.
"Our core product range, Crepini Egg Wraps, has been created by family members with the intention and purpose of serving every individual, either for an at-home meal or an on-the-go snack. The possibilities, really, are endless," Paula asserts.
"Our present range includes a host of different versions of the Egg Wrap, including one type with gluten-free grains and another variety made with cauliflower. Usable straight from the packet, our wraps can be eaten cold, warm, or even crisped up for a crunchier snack. You can make a bacon, egg and cheese wrap for breakfast, you can fold it and grill it like a panini, or just fill it with peanut butter and jelly. You can even use Crepini wraps to replace lasagna noodles for a low-carb, tasty alternative for dinner!"
Adopting automation
Originally, all Crepini Egg Wraps were made by hand, but as demand has grown, the company has availed itself of the latest machinery and a
100,000-square-foot facility. With ten production lines set to be operational by the end of 2021, Crepini will soon be able to produce up to two million of the industry's lightest, thinnest, most healthy wraps every day.
"We started automation in 2011 and it has been a great success. We look at efficiency as an opportunity to provide our consumers with great value for their hard-earned money, but equally, we will never sacrifice quality," Paula says. "Nevertheless, there is much more to Crepini than machinery. We are a family-run business, and as well as training our staff in areas like food safety, we also treat them, and our suppliers, like family. We want long-term relationships and we like to keep things in the community. For example, over 96 percent of our ingredients are local to New York State, all our packaging is from the USA and, as a proud American manufacturer, we pride ourselves on a US-based supply chain."
Healthy alternatives
As we head towards the end of the year, Crepini has recently launched its latest new product – Sweet Crepes with Cinnamon to spice up the Holiday Season. Containing only two carbs, the new festive crepes are another sign that Crepini will continue to be innovative in order to stay ahead of its competitors in the future.
"We have several items in the pipeline right now," Paula reveals. "It's important for any company to stay attentive to the market and we are always reading comments and feedback from our customers and consumers. Most importantly, we take pride in challenging the category and broadening the possibilities for enjoyable, healthy snacks."
Nimble and responsive in its growth – the company deftly handled the challenges of Covid-19 – Crepini hopes to continue expanding its distribution at retail, revolutionizing the bread category in the process, and providing more customers with the opportunity to enjoy fun, healthy alternatives to their traditional diet.
"Going forward, we want to carry on supporting efforts to democratize and distribute our products so that everyone can enjoy the experience of living fully and indulging in the joy of eating healthier with no concession," Paula states. "Our vision is to bring fun and creativity to food in a carb-less way. Our culture, and our long-term ambitions, reflect this idea."
www.crepini.com