Critchfield Meats attributes its success to quality products and loyal employees and customers.
Since its start in 1969, Critchfield Meats has specialized in fresh meat and poultry products, seafood, along with frozen appetizers, french fries, flour and cooking oil. Critchfield Meats is now a full-line food service distributor.
Amos Critchfield, along with his wife, Opal, founded the Lexington, Ky.-based company now led by several members of the Critchfield family, including President Mark Critchfield, who co-manages its wholesale operation; and his brother, co-owner Mike Critchfield, who co- manages the retail butcher shop alongside Anthony Critchfield, son of retired former co-owner, Larry Critchfield.
Co-owner and CEO Larry McMillan says the company prides itself on selling fresh, quality products at an affordable price to its 600 loyal customers. Those include regional chains, as well as local caterers, country clubs, white tablecloth restaurants, and other foodservice distributors in Kentucky and Ohio.
"I came in as a partner [in 2006], and we're now selling approximately $25 million at the wholesale level and more than $2 million in our retail operation," McMillan says. "We have a very diverse group of customers and they are loyal because of our service and the quality of our products."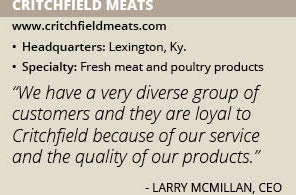 As a USDA-inspected plant, Critchfield has the only butchery in Lexington and McMillan notes that the company's products are processed fresh daily, made from scratch or are "'Kentucky Proud.'" Since 2011, Critchfield Meats has been a certified distributor for the "Kentucky Proud" program, part of a Kentucky Department of Agriculture initiative to promote the purchase of local goods.
Critchfield Meats also is third-party inspected by SAI Global for "Good Manufacturing Practices," allowing it to distribute products to foodservice companies such as Sodexo, Aramark and Entegra.
Exceeding Expectations
Most of Critchfield Meats' competition at the retail level is from big-box and national chains, including Kroger's, Whole Foods and Trader Joe's. "Every other small butcher has gone out of business, but our retail butcher shop has been in the same location for 33 years," McMillan notes. "We just renovated the retail butcher shop and implemented a quarter-of-a-million-dollars' worth of new equipment, including new freezers and coolers. We already renovated our wholesale processing plant and have ordered seven new trucks."
With its store and products, the company aims to exceed every customer's expectations. "We really enjoy our reputation here in Kentucky, and many of our customers are our friends," McMillan says. He adds that the company has hosted its annual Kentucky Proud Cookout, which is open to the public, for nearly 15 years.
"Everyone can attend for free, but they pay for the food that we sell," he says. "People come to have a good time at the cookout with live entertainment and enjoy fresh-from-the-grill homemade products like brats, ribeye sandwiches and sausages." He adds that many of the company's customers come for its made-from-scratch pies, cakes, quiches, salads, and heat-and-serve meals.
McMillan notes that it might be hard for some companies to compete against major companies, but not Critchfield Meats because it has a niche customer base. "These big-box companies cannot handle fresh products like we do," he explains. "They cannot process or custom-cut products for restaurants like we do either.
For example, the big-box distributors may require a minimum of $500 to $750 per order, while Critchfield Meats only requires $300 or less. "We have seven trucks and deliver to our customers three times a week, but we have trucks in their area six days per week so we can cover them if needed," McMillan says. "So we enjoy our customers and what we provide them, and continue to grow."
McMillan attributes some of Critchfield's success to the Kentucky Proud program and third-party "Good Manufacturing Practices" certification. Additionally, being a family-owned company is a key differentiator because Critchfield Meats is nimble and can make changes immediately.
"We also don't have to meet certain profit goals for stakeholders," McMillan says. "We're financially secure and other independent distributors can buy from us because of the great wholesale prices and the quality of our products and resell them for a reasonable profit."
A Critical Role
Critchfield Meats has long-standing relationships with many of its independent distributor customers. McMillan notes these relationships have been successful because the company is able to meet their needs from costs through to product and delivery.
"We sell over 1.5 million pounds of fresh chicken per month because we have many small distributors, regional chains, and local multi-unit restaurants who buy from us consistently," he says.
Critchfield Meats' employees are also critical to its success. The company has employees who have been with it for 30 years or more. "We have a lot of family working here, but our co-workers are family, too," McMillan says. "Most of our supervisors have been with us for at least 20 years. We have several drivers who have been here for 15 years, and sales representatives who have been with us for many years.
"We have some co-workers retiring in the next few years, so we're now training new people to help us run the company," McMillan continues. "The son of Mark Critchfield, Nicholas Critchfield, is our newest butcher apprentice. Nicholas will be working in the Critchfield butcher shop during his college tenure."
Some of Critchfield Meats' employees even serve on the board. "They know more about the business than we do," McMillan says. "We just bought a new operating system and we're running smooth as silk because of our co-workers. They work as a team and continue to train and look out for each other."
As Critchfield Meats looks ahead, McMillan wants the company's name and operations to thrive for another 50 years. That is why he is researching and evaluating the options for the future.
"I not only want to ensure Critchfield Meats will remain in business and its name will stand, but also that our co-workers are able to continue working here," he says. "We have some pretty important people working here that not only mean a lot to us, but also have been a big reason for our success. I just want to ensure that they are taken care of because they deserve it."