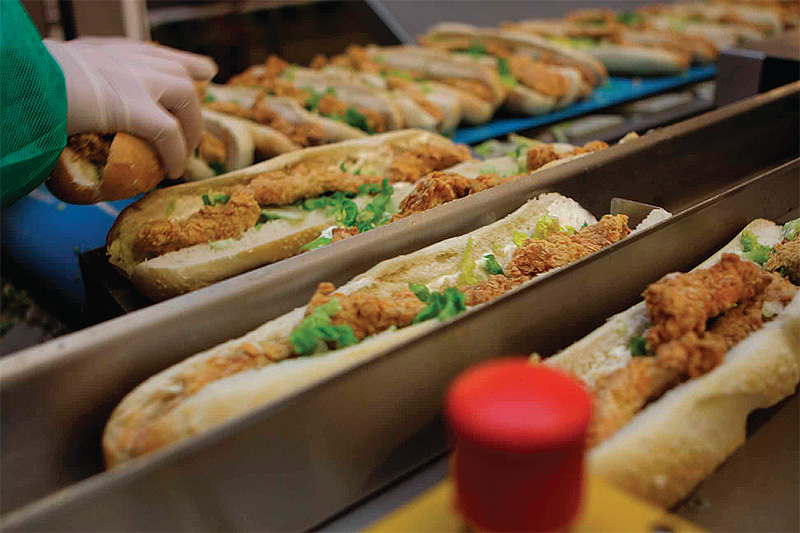 A bite to eat
Having made a big splash in its current markets, the Crocodille sandwich company is looking to take its fresh approach to new waters
Over its 20-year existence, Crocodille has gained a strong reputation in the fast food market, and now ranks among the most renowned producers and sellers of sandwich baguettes and sandwiches in the Czech Republic and Hungary. Its distribution centres in Prague, which is also the company's headquarters, Brno, Vienna and Budapest ensure daily distribution of fresh goods to more than 2500 customers. These goods can be found in a variety of different locations from the supermarkets and grocery stores of the retail sector, to bars and take-away outlets, where they are always on hand for consumers. Today Crocodille employs more than 330 employees across its plants, achieving an annual turnover of approx 700 million Czech koruna (CZK) in 2010.


In terms of achieving this substantial success in such a competitive industry, Daniel Hauser, marketing manager, describes Crocodille's key strategy: "We are different to other companies on the market because we are focused on the taste of our products – 'Everything we do must taste great', this is our motto and key attribute. Alongside this we have a unique distribution network and closed distribution chain. This ensures that our customers get the best product in perfect quality every time, which is at the core of our success." This distribution chain extends from the inhouse bakeries, through product manufacture to delivery to vendors, where these products are sold from Crocodille's own green refrigerators or wooden baskets. Any unsold products are then repurchased by Crocodille and passed onto agricultural processors for further processing.
Complementary items
Crocodille's aim is to extend the selection of traditional refrigerator snack products with the introduction of complementary items such as smoothies and sweet snacks, which can be purchased together to form more of a substantial meal, or enjoyed separately. Additionally the company has introduced new sandwich flavours such as grilled pork joint with egg, and a turkey ham baguette to its product range. Daniel highlights how Crocodille identifies these niche gaps in consumer tastes: "The development of new products and regular updating of our range is at the core of the business. We look at trends from across the world and try to incorporate these into new products for our market, as well as creating seasonal flavours. Most of the invention of new flavours is done in-house, or in co-operation with our suppliers, but we do also sometime carry out customer surveys and develop products in line with popular requests."
Alongside quality raw materials, hygiene and efficient production processes are key concerns of the food industry. In keeping with this focus, Crocodille's main production plant in Zizelice nad Cidlinou is currently one of the most modern food processing plants in the Czech Republic, enabling it to gain a EU export licence in 2003. The plant was also certified in 2003 by the CSQCERT certification authority, and has been under its regular supervision ever since. In fact Crocodille's production
facilities currently meet and often exceed the strictest criteria of the European hygiene standards. One of the most prominent approvals the business has gained is the certification for the British Retail Consortium (BRC) Standard Food regulation, which is an internationally acknowledged product safety and quality standard approved by the World Food Safety Organisation (WFSO).


Within its production facilities Crocodille also runs a bakery with a state-of-the-art automatic line for baking bread, wheat and wholemeal baguettes, and other small bakery products. With market demand increasing, and expected to continue to rise with the launch of new products, Crocodille is continuing to implement technology, which enables it to cater to market trends. "Recently we have invested in a unique and very efficient machine that allows us to prepare the best ciabatta pastry on the
market," explains Daniel. "As with all of our machinery investments, we looked at particular specifications such as productivity, economy, and value prior to purchasing. In terms of other investment projects, our factory is situated in the grounds of a 100-year-old facility, so we regularly undertake renovation programmes. Recently we finished the renovation of the central warehouse, and our next investment will be to tackle the rest of the site."
Nationally recognised brand
This year marks the 20-year anniversary of Crocodille, and with this period having seen the company turn a little-known food concept into a nationally recognised brand, Crocodille has plenty of reasons to celebrate. Having carved out a dominant position in its market sector in the Czech Republic and surrounding countries of Austria and Hungary, Crocodille is looking to translate its business model to other countries across Europe. "We plan to grow into other countries where the fast food sandwich market is not as developed as in the Czech Republic. Most of the countries in Western Europe are not familiar with the idea of long-life packaged sandwiches, so we are looking to bring the complete Crocodille concept to these potential markets," concludes Daniel.