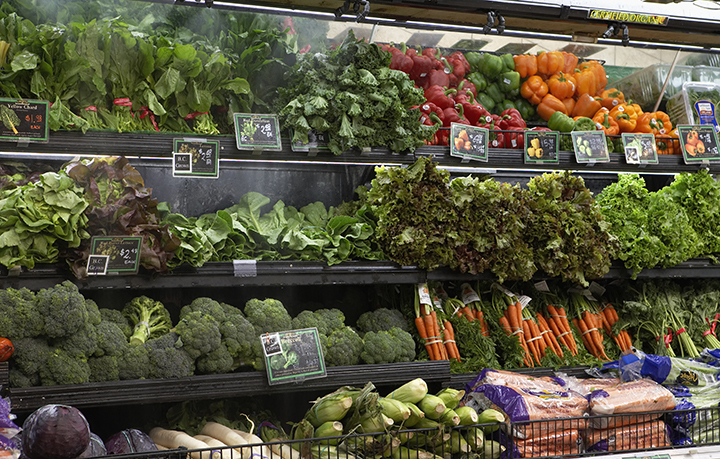 Crosset Company is dedicated to helping customers grow their businesses by delivering the freshest produce and floral east of the Mississippi.
Crosset Company LLC got its start in 1905 as a wholesale produce business in Cincinnati. It started small with a few commodities and only serving the greater Cincinnati area, but by expanding its product line and geographic reach, the company has seen steady growth. And now Crosset is the leading distributor of organic fresh produce and a premier, full-line, full-service wholesaler of fresh produce and floral products to customers in the eastern half of the United States.
"We are passionate produce professionals, steadfast in our commitment to the produce industry, customer-first focus, service excellence and culture of family, community and opportunity," the company says. "As the premier distributor of certified organic produce, we deliver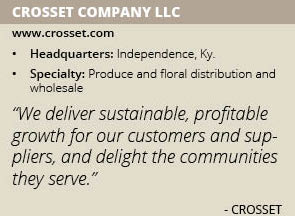 sustainable, profitable growth for our customers and suppliers, and delight the communities they serve."
Based in Independence, Ky., Crosset offers more than 400 certified organic and more than 1,200 conventional items, as well as an extensive locally grown program that brings together growers and customers in the Southeast and Midwest. The company is part of the Castellini Group of Companies, and with its own facilities and its parent's network, Crosset also can provide clients with ripening, packaging and fresh-cut fruits and vegetables "while optimizing assortment, quality and freshness," it says. Its floral business offers fresh-cut flowers, potted blooming plants, foliage plants, hanging baskets and floral supplies.
Throughout every part of its business, the company notes its focus remains on:
* Delivering fresher products;
* Delighting clients' shoppers;
* Simplifying customers' supply chains; and
* Driving profitable growth.
"We partner with the best growers at home and around the world to supply our customers with a complete range of the highest-quality organic, local, conventional, fresh-cut and value-added fruits and vegetables, along with a broad floral selection, year-round," Crosset says. "We serve traditional and natural/organic grocery retailers, wholesalers and foodservice operators of all sizes, with deliveries both direct-to-store and to distribution centers.
"Crosset Company brings you generations of produce experience, a network of growers, customers and facilities that are second-to-none, unparalleled merchandising expertise, customized supply chain solutions and an unmatched passion for customer service, as with a singular focus: to differentiate your stores, delight your shoppers and grow your business."
Fresh Delivery
Crosset has achieved ongoing success with a focus on fresh, quality products and unparalleled service. For example, the company has a 3 million-cubic-foot, state-of-the-art warehousing and distribution facility to keep produce and floral at peak quality while en route to retail and foodservice clients. Crosset has the capacity for more than 155 truckloads of product per week, and its team is focused on moving product in and out what maintaining cold- chain integrity. The company notes its inventory turns over 150 times each year, which means fresher products and higher sales for its customers.
The Crosset warehouse has multiple storage zones for freshness and quality, including:
* Dedicated organic zones certified to QAI standards;
* Eight climate zones;
* State-of-the-art banana-ripening rooms;
* Ethylene-free lettuce and floral zones; and
* Wet box with galvanized steel racking and stainless-steel drip pans.
A dedication to service is also apparent in its distribution operation, where it aims to simplify customers' supply chains. "Our network, resources, relationships and expertise allow us to procure, receive, store, build and redistribute loads with unsurpassed precision, care and efficiency," Crosset says. "From our Independence, Ky., distribution hub, we provide next-day direct-store delivery and distribution center replenishment to grocery, retail, wholesale and foodservice customers. As part of the Castellini Group of Companies, we leverage the entire Castellini footprint to solve your toughest supply chain challenges."
Additionally, Crosset works directly with customers' in-store personnel to assist with produce and floral merchandising. It says its team of "talented, knowledgeable and highly experienced merchandisers" bring proven merchandising strategies and tactics to each client. To further serve retail clients, Crosset sends out a weekly newsletter, Produce Talk, which features timely merchandising tips, product availability updates, new item introductions, organic trends and other useful information. The company also offers training sessions on best practices in areas such as:
* Maintaining organic produce integrity through the supply chain;
* Maximizing seasonal and holiday opportunities;
* Produce department basics;
* Floral department basics; and
* Professional development.
"Crosset Company delivers more than just the best produce," the company says. "We provide generations of produce experience in the form of insight, tools, training and resources you need to delight your shoppers and drive profitable growth. Think of us as your merchandising, marketing and education partner. In addition to the on-the-ground, in-the-store merchandising support, we help our growers and customers get ahead and stay ahead."