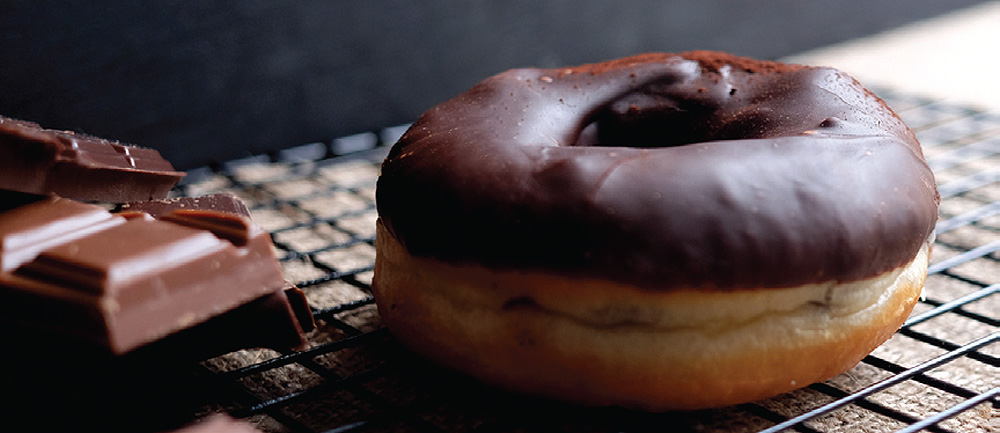 Sweet spot
It has taken Crosstown Doughnuts just four years to become a recognisable brand on London's food scene, as complete focus on quality and customer service has won the hearts of thousands in the capital
What Adam Wills and JP Then envisioned when they were establishing Crosstown Doughnuts, was the creation of a premium brand and retail experience that would allow London's
knowledgeable and discerning consumers to enjoy a 'moment away from the madness' of the big city. Putting quality at the core of its philosophy, the bakery strives to use only the best ingredients to craft its hand-made doughnuts, sourcing vanilla from as far as Tonga and chocolate from California to ensure that its treats have a memorable flavour that will get the customers to return again and again.
"Most big producers of doughnuts are not focused on flavour and appearance. Crosstown, on the other hand, is taking its time to build a lasting relationship with its customers by providing the best treat possible," comments Adam. "The fact that many of our doughnuts are sent as gifts or used in celebrations, demonstrate that people have great faith in the quality of our product and they feel comfortable with the premium positioning of our brand. At the same time, we feel a great deal of responsibility to repay that faith by making doughnuts that produce a smile on people's faces. Our customers look to us to keep pushing the boundaries with interesting flavours, specialty drinks, and a warm retail experience. In order to meet their expectations, we make all of the topping, jams, glazes, and fillings in-house to make sure we have complete control over the quality and output, and to keep the authenticity of our offering," he discusses.
It was through understanding customer needs that Crosstown launched a special vegan selection to please people who were unable to consume the bakery's original sourdough flavours, but were nevertheless willing to try the Crosstown experience. Adam adds: "In fact, our vegan customers are among our biggest fans and I can observe that this segment is an ever-growing part of our company.
"While changes to our menu are frequent, due to us producing everything from our own bakery in London and having a nimble development team, chocolate always wins as our most popular
flavour. For example, our chocolate truffle doughnut has always been a great seller for us, and we now offer an original sourdough, as well as a vegan sourdough version," he introduces some of the most sought-after items on Crosstown's menu. "We also use lots of seasonal fruit and we love to create flavours that follow the specific time of the year. Similarly, we are always keen on celebrating special days such as St Patrick's Day or Australia Day, so we often freshen up our offering around these dates."
Nearly five years after Crosstown began as a market stall on Leather Lane, the company now operates 15 locations across London, including the capital's premier markets, as well as its own shops. "Our market roots are important to us and recently, we opened a food truck just outside Waterloo station making use of an empty space," Adam reveals. "As to our stores, we always try to tailor ourselves to the environment of the local area where we want to establish a shop. Each site has a different personality, yet remains true to being Crosstown. Part of our strength is that we can attract a diverse customer base, which, however, is united in one aspect – that everyone and anyone can happily sit down and enjoy the unique Crosstown experience."
Serving the customer
The company is set to open its tenth London store in January 2019, but its aspirations do not end here. "We are certainly considering the possibilities of opening additional stores throughout the year and we are currently in discussions with various landlords and companies about working with them to bring Crosstown to their customers. However, like most retail operators, we are being very careful in the current climate, so if the deal is not right for us, we will not do it. We have grown organically at our own pace, as we want to realise our vision strategically, and this has proven crucial in maintaining the health of the business," Adam analyses.
His business partner and co-founder of Crosstown, JP Then is also the creator of SLERP – an internal ordering platform that links up to their shop network, allowing customers to transact with the company through its website selling live shop stock. JP explains: "Due to the strength of our brand and following, we have established sizable organic traffic to our website, many of which are customers wanting to purchase directly from us. Because we believe that we are best at serving our customers and not someone else, we have developed SLERP to allow this process to happen seamlessly, at an acceptable price to us. We are 47just making the effort to manage an end-to-end customer relationship, which is not easy, but is essential if you want to have a long-term sustainable business."
Impressed with its success, multiple organisations have approached Crosstown with offers to expand the brand outside of the UK. "These are interesting opportunities and we think that we are well-suited to super cities like New York, Shanghai, or Paris. Our more immediate goals, however, will be to build additional infrastructure at our bakery to allow ourselves to meet the needs that our growth will require. Admittedly, we are closely monitoring the situation with Brexit, but we are not going to worry about factors we cannot control. Instead, we will continue focusing on strengthening our customer service and the quality of our proposition," Adam concludes.