Crown Meat takes a brand-specific approach to provide consistent quality to southern California's finest restaurants and resorts.
Food costs are a concern across the entire restaurant industry. Protein is often one of the most expensive components of any dish and distributors feel the pressure to keep prices down.
Some achieve that by constantly shifting their products to the cheapest brand. It's an effective strategy, but one that can carry long-term harmful effects for the customer. Although a restaurant gains in price its chefs lose on consistency.
Chefs crave familiarity when it comes to product quality. When the source of their beef or seafood changes every week, it can alter the flavor in their dishes and turn off customers. "It's a delayed reaction and you won't see it for maybe weeks or months down the road when your business just dwindles away," says Glenn Olivier, the owner and vice president of Crown Meat Co., a premier meat supplier in southern California.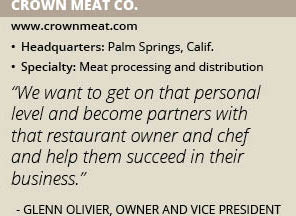 Crown Meat's strategy is to stick with the same brands even when the price is higher. Providing restaurants with the same high-quality products from companies such as Broadleaf Game, Creekstone Farms and Cargill Beef Packing gives chefs comfort that the dishes they are producing will taste the same a month from now as they do today. "We're brand specific so the customers is getting the most consistent quality 52 weeks a year," Olivier says.
Quality Focused
Crown Meat and Provisions Inc. was formed in 1992 when industry veterans Joseph Eckfeld, president and CEO; Jerry White; Ralph Willhide; and Glenn Olivier, vice president and director of sales and marketing, came together to purchase a 5,000-square-foot building in Palm Springs, Calif. The partners have a combined 120 years of experience in all facets of the food industry. Aside from its principals, the company hired an additional two employees and had only two vans when it started, but during the past 25 years, it has grown to a staff of 40 people, a fleet of 18 trucks and an 18,000-square-foot USDA-inspected meat-processing facility.
The company supplies white tablecloth restaurants, resorts, country clubs and hotels in southern California. "We consider ourselves the center-of-the-plate specialists," Olivier says. "Our primary goal is to provide a customer with the highest-quality protein available." Forty percent of Crown Meat's sales are prime beef and it also carries USDA-certified Angus beef, choice beef, select beef and grass-fed beef, as well as lamb, veal, poultry and frozen seafood items.
The bulk of Crown Meat's customers are found in Coachella Valley with a strong growth in Los Angeles, San Diego, Orange County and the Inland Empire region – California areas known for fine tastes and high-quality dining. "We're in a high-end resort area," Olivier explains. "We cater to the customers with a distinct palette for the quest for great food. Our seasonal residence, which will increase by more than 300,000 for the winter months, are a crucial part of our success."
As it looks to grow, Crown Meat ensures that it matches its high-quality meats with equally strong service to its existing customers. That means constantly investing back into its capabilities and equipment.
Take, for example, the company's fleet of 18 trucks that deliver daily to customers throughout the region. Those miles put a hefty toll on the fleet, and if a vehicle goes out of commission it can lead to delayed or missed deliveries – an unacceptable outcome for customers that depend on access to fresh proteins.
To avoid such problems, an on-site mechanic performs daily maintenance and Crown Meat replaces two trucks annually at $100,000 each. "It's a significant investment back into the company, but it's an important tool in our trade," Olivier says.
Likewise, as a USDA facility, Crown Meat's processing plant meets the strictest food safety and quality standards. Because it both processes and distributes meat, Crown Meat is required to have a USDA inspector in the facility every day. However, Olivier says the company strives to exceed government and industry standards with better trims that waste less meat.
Having its own processing facility also enables Crown Meat to better accommodate customer requests. If a chef wants a steak cut a certain way, they can come to Crown Meat's cutting room and demonstrate exactly how they want the product prepared for the restaurant. "We'll cut steak to the specifications of a specific customer," Olivier says.
Because it's a privately owned company, Olivier notes that Crown meat has the flexibility to design custom product programs for individual customers. Larger businesses often have too much volume and too many customers to offer a personal approach, but Crown Meat prides itself on working directly with clients to develop products that fit their specifications and save them time in the kitchen. "We want to get on that personal level and become partners with that restaurant owner and chef and help them succeed in their business," Olivier says.
Steady Growth
Just as it wants to be a partner to its customers, Crown Meat also works to serve its communities. "Being active in the community and supporting local charities is important to us," Olivier says. The company donates to the American Youth Soccer Organization (AYSO), the La Quinta High School Culinary Arts program, local law enforcement agencies and the United States Marine Corps. Well in the Desert, a local charity, benefits from Crown's by-products in an effort to help feed the homeless.
It makes sense for Crown Meat to invest in its community because the company sees the Coachella Valley as an integral part of its future. The company has no plans to expand outside the southern California market; however, it still has plenty of room to grow within the region. Crown Meat recently purchased a Beef Master's distribution center in Burbank and Becker Foods in Westminster, Calif., another small distributor.
Its plans include finding a facility somewhere in the San Diego market. "We're doing some expansion through acquisition," Olivier says. "Small, independently owned companies where we can absorb their customer base. And we look at companies that fit the needs of what we can provide as well."
Finding acquisition targets that will be the right culture fit takes time, but ultimately will lead to more sustainable growth and happier customers. "As we increase our business, it's done on a slow growth process," Olivier says. "We don't try to take on more than we can handle. In that slow growth we're creating a much more solid foundation.
"We're most proud of the consistency of the business that we conduct," he adds. "The honesty, the integrity and being able to provide good livings to 40 families."