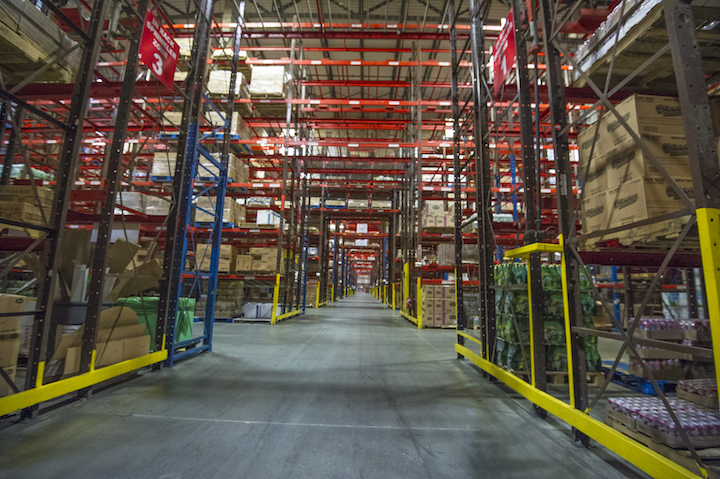 C&S Wholesale Grocers continuously transforms to meet the ever-changing needs of U.S. consumers while providing customers with industry leading services and solutions.
C&S Wholesale Grocers is the premier wholesale grocery supply company with more than a century's worth of experience in being able to rapidly adapt to the ever-evolving food industry. "How many 100-year-old companies are still around today?" CEO Mike Duffy asks. "C&S has been able to not only survive but thrive in a challenging industry because we have a strong legacy of driving innovation. This foundation enables us to not rest on our past success but work to continuously challenge ourselves to provide better solutions and services. It's our heritage but it's also our future for the next 100 years."
Israel Cohen and Abraham Siegel founded C&S in 1918 when they bought a small, three-story brick building in Worcester, Mass., and began making grocery deliveries to stores. With just three employees, they stocked and delivered 1,200 products to stores and markets throughout the city. In 1958, C&S won the Big D supermarket account and serving the eight-store chain started the company's transition from a supplier of small independent stores to a large wholesale company serving supermarket chains.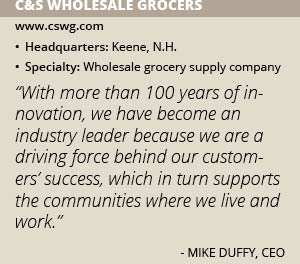 In 1981, C&S built a facility in Brattleboro, Vt., to service chain stores more competitively and sales exploded, reaching $14 million in 1984. Just three years later, sales reached $540 million when it acquired the dry grocery business for Waldbaum's Food Mart. The company continued to add national and regional customers, including A&P, Pathmark, SuperFresh, Grand Union, Shaw's, Safeway, Big Y, Giant Foods and many more.
Today, C&S is a $27 billion, Top-10 privately held company and the leading wholesale grocer in the industry. The company serves about 14,000 stores from more than 50 locations in 15 states with its headquarters in Keene, N.H. C&S operates regional distribution centers where it receives products from food and grocery companies and ships them to supermarkets and other retailers.
In addition to its 50 warehouses, C&S also has nine regional offices that include sales, marketing and procurement. "We bring world-class supply chain capabilities and deep consumer insights, which help our customers serve their localized needs," Duffy says. "Food varieties and interests are very locally based and we make sure that we are there – in every community – understanding these trends and buying behaviors."
C&S will open a new 750,000-square-foot warehouse in Houston this fall that will be a showcase in the market. "This is truly another investment in our future – we will be local in our Southwest market while also creating a cost, quality and service advantage," Duffy adds. "Our new site is a state-of-the-art campus, which will allow us to consolidate into a more dynamic grocery site in order to better serve our Southwest customers."
Staying Relevant
"At C&S, our purpose continues to be serving our country's most important infrastructure. With 100 years of innovation, we have become an industry leader because we are a driving force behind our customers' success, which in turn supports the communities where we live and work. It's more than a job to us – we are feeding our families, our neighbors and our communities," Duffy says. "Our legacy of continuously improving to evolve with our customer's needs has been vital to our growth."
As consumer preferences continue to change and dictate the market, C&S ensures it stays relevant by focusing on the perimeter, organic and specialty foods, which continue to outpace the rest of the grocery store while home meal replacement and convenience soars, as well. "We are reinventing our value proposition from being center store centric to focused on solutions for helping our customers win in the perimeter, which includes expanding our organic produce, fresh meat and deli home meal replacement offers, and with private label," Duffy says. "Private label is of growing importance for our customers and we are investing behind this important business."
C&S has a number of customers who have been with the company for many years, but for new customers who may see C&S only as a traditional box mover, the company is focused on showing them how it is a true solutions provider by bringing new ideas to market. "We have great employees who spend time listening to our customers and providing them with strategic solutions to their challenges," Duffy says. "I've been out there with Joe Cavaliere – our chief commercial officer – talking to new customers and really getting to understand their challenges and opportunities. We are a team that is gritty and really tenacious about solving problems for our customers. We talk them through different options to accelerate their growth and it has been very successful."
Life at C&S
C&S attributes its success to its dedicated employees and the great customer relationships they build. "We are constantly evolving to support our customers in succeeding in the changing marketplace. It's an exciting business and every day brings new experiences, which attracts some of the best leaders to C&S and keeps them here," Duffy notes.
To stay at the forefront of innovation for its customers, C&S takes pride on working every day to build an inclusive culture. "I firmly believe that diversity and inclusion are critical to our success as an organization. It is also core to who we are, as reflected in our core value 'Every person matters.' Diverse workforces are stronger and more resilient, while inclusion drives empowerment and fosters innovative collaboration by unlocking the unique contributions of each person in our organization. Together, diversity and inclusion create a competitive advantage," Duffy adds.
C&S Cares
C&S Wholesale Grocers is also very much focused on giving back. "That's the core of who we are – our legacy is being an important part of the community, giving back and paying it forward," CEO Mike Duffy says. "A lot of what we do is community based, which is part of our core values and purpose." C&S supports initiatives to stop hunger and promote the health and enrichment of communities. The company developed a corporate social responsibility strategic plan in 2008 that upholds its long heritage of engaging employees to take action on behalf of others, investing in local community groups and leveraging its strategic nonprofit partnerships to drive change nationally.
C&S community involvement programs support initiatives to fight hunger and to promote the health and enrichment of communities that are homes to the company's employees and facilities. To learn more, visit http://community.cswg.com.