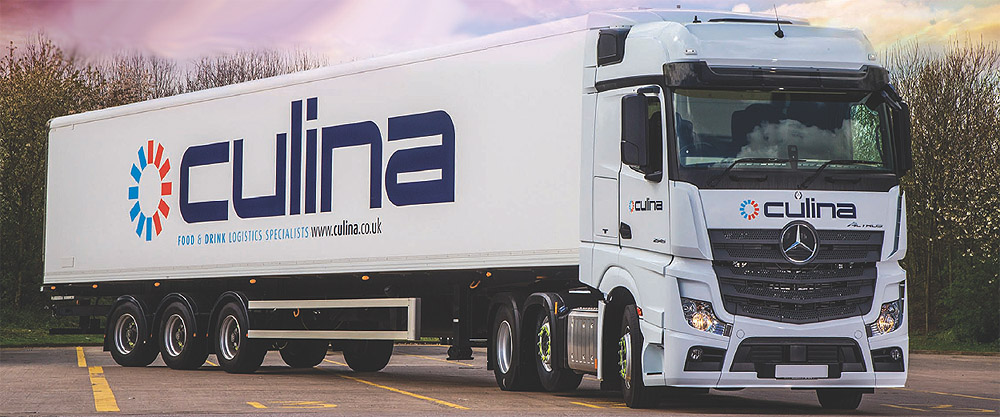 Cool runnings
A market-leading food and drinks logistics provider across the chilled and ambient temperature arenas, Culina Group provides warehousing, distribution, contract packing and value added solutions to deliver a total logistics offering to its broad customer base
Having entered the food and drinks market in 1994, the company began with one single site, a sole customer in the form of Müller Dairy and a turnover of £7.5 million in its first year; since then it has grown significantly through strategic expansion and acquisition to achieve an impressive turnover of more than £500 million.
Discussing this stratospheric growth is Thomas van Mourik, CEO at Culina Group: "I founded the business in 1994 on the back of Müller Dairy's volume at the time – the company was a national player but not number one. The way we got ourselves on the map so quickly was two-fold: we decided to adhere to the wish of retailers by operating 24/7, which was rare in the 90s and gave us a competitive advantage. While 24/7 operations were resisted by our competitors at the time, we began to attract new customers on board.
"Secondly, the fact we had an automated warehouse and transport facility, which was far too large for us at the time, gave comfort to other third party food suppliers such as Kraft and Tropicana to come on board. This helped build up our brand and enabled us to compete against major names in the market. We then outgrew this facility in Market Drayton and came to the decision to use customers such as Tropicana and Kraft as a springboard for our new facility; this led to the opening of a new third party chilled warehouse in Milton Keynes while Müller Dairy continued to grow in Market Drayton. We have gone onto repeat this exercise ever since."
Acquisitions trail
in 2007 the company developed further with a purchase of Wincanton's chilled business and the merger of Culina Group with Bristol-based ambient specialist Baylis Distribution. Following this, the company has undergone further acquisitions such as CERT Octavian and Great Bear, now the Group's ambient operation, that give the company the presence in the ambient market that is currently has.
Providing complete coverage of the UK via a comprehensive network of strategically located ambient warehouses, with full connectivity to key delivery points, Great Bear provides high quality, integrated logistics solutions for a broad range of food and drink firms. With advanced processes and resources, Great Bear is able to ensure demanding ambient standards are met. To further cement its reliability and provide customers with comfort that their products are in safe hands, the company ensures transparency via nationwide GPS vehicle tracking, while a real-time client web portal provides easy access to key data. Highly flexible, the company is able to provide a 'day one for day two' service while offering customers a series of total supply chain solutions – this includes in-house contract packing and bonded expertise – as well as integrated transport-only services.
Integrated expert
Today Great Bear is one of the two major companies within Culina Group to specialise in the food and drink business; the other business is Culina Logistics, which is an award-winning, integrated supply chain expert for a range of food and drink products that require strict refrigerated temperatures. Providing complete coverage of the UK and Ireland via eight strategically located chilled warehouses, which have space for more than 100,000 pallets, the company has a whopping 1.5 million cases delivered daily. Much like Great Bear, Culina Logistics offers 'day one for day two'
picking capability and the same total supply chain solutions. Moreover, the company uses advanced processes and resources that enable demanding chilled standards to be met while also ensuring transparency via nationwide GPS vehicle tracking and a real-time web portal.
"I never imagined in my life time with Culina Group that I would end up with an ambient business that is larger than the business I founded in 1994," says Thomas. "Great Bear now has a turnover of £230 million, while Culina Logistics is around £140 million; Culina Logistics is a market leader in shared user chilled operations, while Great Bear is a key player in the ambient market. The reasons for this is because the food and drink ambient market is so much larger and competitive.
"Alongside these two businesses, we own CML Fulfilment in Telford, which specialises in the relationship between food manufacturers and German discounters. We began this part of the business in the infancy of these discounters; I am a Dutch man and have known for a long time what happens when a discounter enters a market, and particularly the UK market. CML concentrates solely on the needs of these businesses and now has a turnover in excess of £50 million; it continues to grow by approximately 15 per cent to 20 per cent year-on-year."
Open book model
Becoming part of Culina Group in October 2014 as part of a joint venture agreement, CML operates 24/7, 365 days a year, providing the know-how and flexibility to manage a multitude of client requests in a quick and efficient manner. With a firm belief in transparency, the company has an open book costing model, with no hidden charges or costs and ensures customers get the fairest possible deal. Able to tailor a logistics package that suits each customer's needs, whether the products are ambient or chilled, the company's services include the collection of pallets, full loads, or containers of products from the supplier's site in the UK or Europe and deliver to CML warehouse; custom built scanning that allows full traceability of all products received into the warehouse; storage of pallets, provision of daily or weekly stock reports, pallets or case picking, pallet labelling, provision of delivery paperwork and delivery.
"We saw a real need to add valueadded services across these three businesses, such as co-packing, and instead of having one person in a warehouse doing two jobs we teamed up with a business in Featherstone called IPS. This company was quite frustrated and restricted as it had one site at the time, which made it difficult for it to attract manufacturers to pick up their product from warehouses like ours and then bring it back to Featherstone for reconfiguration then back to a facility like Culina's once again. In response to this, we suggest a joint venture where IPS could work with our customers and use our sites as copacking facilities. Following the success of this joint venture, we reached a deal where we fully acquired IPS four years ago. This company is a key part of our business model and has a turnover in excess of £50 million," explains Thomas.
Strong opportunities
To further strengthen operations and remain competitive, In May 2017, Culina Group entered into a joint venture with Morgan McLernon, a Northern Ireland based operator of 200 trucks and 500 trailers that caters for the transport of frozen, chilled and ambient food and drink products as well as machinery, building supplies and other dry freight. Benefiting from a strong relationship with CML already, Morgan McLernon is viewed as an excellent fit within Culina Group, with the joint venture anticipated to provide strong opportunities in both the UK and Ireland.
"Morgan McLernon specialises in food and drink, both ambient, chilled and frozen, which gives us an offering to our customer base that we didn't have before thanks to its location in Northern Ireland. We have been able to maintain the services of the managing director, who is also still the shareholder, within Morgan McLernon so he now has full access to the companies we own and is stimulating the Irish lag that is currently not being covered by ourselves. Thanks to these strategic acquisitions, we now have a turnover in excess of £500 million, 6500 employees, 850 vehicles and 2000 trailers."
Having opened a new facility in Markham Vale in April 2017, the company is currently in the process of expanding its network with a new chilled site; due for completion in 2018, this new facility will further strengthen Culina Group's foothold as a market leader in the chilled segment. "We want to ensure that we are the undisputed number one when it comes to shared user chilled services in the UK and the next facility will be the icing on the cake. On top of this, we will focus on ensuring our recent acquisitions work for us and bring another acquisition to fruition in 2017," Thomas concludes.