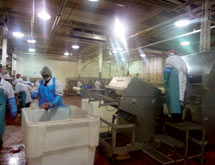 Consumers frequently follow trends in food types and styles, but not every company does. "We don't really follow trends," President David Pederson maintains. "We set them ourselves. We are one of just a few natural brands that processes their own products.
"Since we do our own processing, we have the ability to monitor the product first-hand to ensure it meets our standards."
Pederson began producing natural deli products in 1990 when consumer awareness of the health effects of artificially cured meat was lower. Now as president of DaBecca Natural Foods – which he founded in 1998 – he guides the company towards new food safety techniques while maintaining old-fashioned quality.
"I'd been a hog farmer, and we figured out a way to raise them without the use of antibiotics ever," Pederson recalls. "We checked out Whole Foods in Dallas, and they said, 'You've got what we're looking for.' We started this back when Whole Foods had four stores only in Texas, probably back in 1995 or '96."
Pederson expanded his business to Whole Foods stores in Southern and Northern California, Seattle and hotels on the West Coast from San Diego to San Francisco. "I was out there producing for about 10 years," Pederson remembers. "I did sales, marketing and production, and at the same time, all of our R&D work."
Located on the South Side of Chicago since 2008, Pederson estimates that DaBecca Natural Foods' production averages 200,000 pounds of bacon a week and 100,000 pounds weekly of deli and whole meats in a single 100,000-square-foot facility. Meats include a variety of turkeys and hams, pastrami, roast beef and bacon, and all of them are natural.
Among the company's retail customers are Whole Foods, HEB Central Markets and Bristol Farms. Pederson estimates that approximately 80 to 85 percent of the company's production is for products sold at retail, and the rest is for upscale hotels and commercial foodservice nationwide. DaBecca Natural Foods produces private label products for up to six companies.
DaBecca obtains its all-natural meat products from a variety of sources that have never given the animals antibiotics or growth hormones. In the processing of the meat, no artificial nitrites or nitrates, preservatives, genetically modified organisms or artificial flavorings are added or used.
Take Your Time
The speed of cooking influences the quality of the product, Pederson says. "Ours is a very slow cooking process," he explains. "It makes deli lunch meat more tender and gives it more flavor and aroma." No liquid smoke is used in the company's products. "We use real woodchips to make real smoke," Pederson says.
To retain the texture of his company's meat products, DaBecca does not use high-pressure pasteurization (HPP), which puts several thousand pounds per square inch of pressure into packaging to kill any bacteria that are present.
"You're putting a lot of pressure on your meats, and it makes them a different texture," Pederson maintains. "We choose not to compromise the quality of our products by using this method. We use the same natural antimicrobials that our ancestors did to ensure our products are safe. The method may not be the most high-tech; however, it has been proven throughout history."
Another difficulty with HPP is that it loses its effectiveness once the package is opened. "Once you open the package, your meat is now exposed to all of the bacteria that surrounds you," Pederson points out. "I'd rather have the additional safety of antimicrobials in the meats, especially deli meats, which go right on a sandwich. To me, it's imperative. We work hard there. We conduct research with others who are concerned with food safety, and as a team we find new, innovative solutions. So it's a big-time advantage for the customer and the retailer."
Production Increases
Pederson is looking to expand the production plant's cooking and slicing capacity over the next several months through the addition of new equipment and personnel. DaBecca has several competitors that sell natural meats.
The company has a hazard analysis and critical control plan that is reassessed with regard to listeria monocytogenes. The company's listeria and environmental monitoring programs are in full compliance with 430.4 control of Listeria monocytogenes in post-lethality exposed ready-to-eat products.
DaBecca Natural Foods' sanitation standard operating procedure program meets all requirements of the United States Department of Agriculture. The company also has a good manufacturing procedure program and an extensive environmental program. This helps the company monitor the status of its equipment, along with its air and water quality. Potential raw products suppliers go through rigid reviews and must meet requirements before becoming regular suppliers.