Damian's Wholesale Ice Cream takes pride in a team that strives to exceed customer expectations.
After 40 successful years of running Damian's Frozen Lemonade with his partners, Tony Jacobs acquired an ice cream business and rebranded it as Damian's Wholesale Ice Cream in 2001. Sixteen years later, the acquisition has turned out to be "extraordinary," and the Pensacola, Fla.-based company has seen significant growth of at least 15 percent annually, according to President and CEO Jacobs.
"Our business expanded rapidly when we took on better products," Jacobs recalls. "Once we established a relationship with Good Humor, Ben & Jerry's and Breyers that opened the door to an array of high quality national retail accounts such as Walgreens, Tom Thumb, Circle K, Family Dollar and CVS. As an ice cream and frozen desserts distributor, Damian's Wholesale Ice Cream is also proud to work with many regional and independent businesses."
Jacobs credits the company's success to his "tremendous" team. "We have about 48 people who work with us now," he says. "We followed in the footsteps of large national companies by using their technique of pre-selling products, which is now our claim to fame. When we got into the ice cream industry, the typical delivery process was a "pack and peddle" system. The problem we had with this system was many times we would run out of our best selling products before completing all deliveries."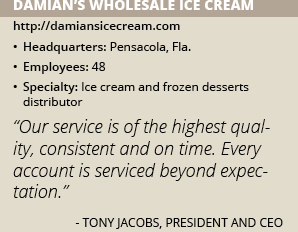 Max Effort
By pre-selling products, Damian's Wholesale can deliver exactly what each account needs and do it in a timely manner. Damian's Wholesale has become a full-service company, which means its customers do not "touch the ice cream," Jacobs notes.
"We prefer that we do it all," he says. "It's not just about selling ice cream; we take care of the freezer equipment. We coordinate equipment delivery, merchandise and do total store resets, which means we're restocking all product and arranging it to the assigned location in each freezer."
That also includes the company's pre-salesmen defrosting and cleaning freezers to ensure they are neat and visually appealing. "Our pre-salesman goes into stores, takes an order and the following day that exact order comes in by a driver that then fills the freezer," Jacobs says. "It is just a better system for us and our pre-sale system is second to none."
Excellent customer service and correctly merchandising products are key for Damian's Wholesale. "It's critical that when a customer goes into a store that they see everything in its proper place," Jacobs explains. "We are not doing our job if the product isn't set up to where a customer can easily see the labels or look into the freezer and see everything properly merchandised. That's something that is a must as far as we are concerned. Our service is of the highest quality, consistent and on time. Every account we have is serviced beyond expectation.
"That is something that our primary manufacturer Unilever, who is the parent company of Ben & Jerry's and Good Humor, likes about our company," he continues. "They like the emphasis we put on service and the way the freezers look. Damian's Wholesale is a preferred distributor for Unilever and have exclusive territory rights from Pensacola to Gainesville, Florida."
Damian's Wholesale also sells all of Walgreens' ice cream, and is now the national chain's largest multi-brand ice cream distributor. "We service them from Baton Rouge, La., to Orlando and Tampa Bay here in Florida," Jacobs says proudly.
The Best Available
To ensure it ships products quickly when needed, Damian's Wholesale has five cold storage facilities.
"We have a warehouse here in Pensacola, Orlando and three other warehouses in Tallahassee, Jacksonville and New Orleans," Jacobs says. "Recently, I partnered with a friend, who is also in the ice cream business, to purchase a 67,000-square-foot cold storage facility. All our warehouses are placed in areas to allow us to ship on time and move product efficiently.
"We use the best technology available, including iPad mini's for pre-sale orders, to manage our inventory," he continues. "Unilever also helps us with that by allowing us to use their resources for the best technology available. They are a tremendous partner and support us in every way they can."
Ultimately, Jacobs says he is most proud of the company's people and the service. "We have the excellent service that we have because of our employees," he says. "We have won Distributor of the Year twice, which is the highest honor you can receive from Unilever. I attribute that tremendous honor to our employees. I let everyone know that it's because of them that we're winning awards like this. We are only as good as our people. And our people understand that what they do and how they look, impacts us all as a company, and that sets us apart from our competition."